Illinois: Small Town Values/Global Reach
15 Oct, 2018
The Prairie State's $693 billion economy makes it an international center for global commerce. Foreign Direct Investment accounts for nearly 251,000 jobs in the state, making up more than 5 percent of the private-sector workforce and ranking Illinois fifth among states. Its major industry sectors include clean energy, information technology, advanced manufacturing and financial services. The state is home to 32 Fortune 500 companies and global brands, including Boeing, McDonald's, Allstate, Caterpillar and Kraft Foods.
Illinois offers an extremely competitive energy marketplace that allows businesses to choose their own energy provider. "There are over 50 certified alternative retail electric suppliers in Illinois that compete for business energy supply. Since Illinois restructured the electric utility industry in 1999, we lead the nation in having the lowest average increase in rates over that time period at only 20 percent," says Ed Sitar, economic development manager for ComEd, an Exelon company and the largest utility serving the state.
Film and music have long been an integral part of the Illinois entertainment scene, and both industries are growing in the state. Ferris Bueller took his day off in Chicago. The Blues Brothers sang their way across the city and throughout Illinois after being sprung from prison in Joilet. And Buddy Guy and countless other blues and jazz musicians have considered Chicago home.
Arlington Heights
Illinois has produced 96 Nobel Prize winners, created 200 institutions of higher education and is home to the premier national laboratory for particle physics and accelerator research. There are 13 technology parks and 87 incubators and accelerators to help grow businesses. Like all major economies Illinois has had significant growth challenges but those issues continue to be vigorously addressed.
At the crest of Chicago's northside suburbs, America's largest village promises great things. With three interstates, a modern rail system and two nearby airports, Arlington Heights has the whole world within reach.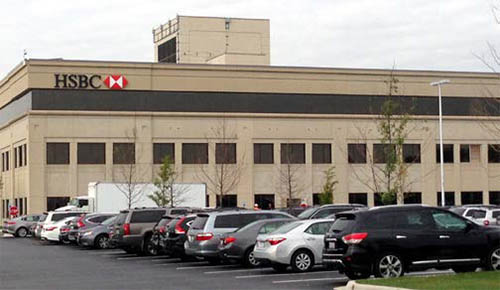 From the heart of downtown, it's a quick commute to the Windy City. But the Village holds up quite well on its own. Every day 40,000 people report to work at 3,000 Arlington Heights companies. With healthcare as the leading local industry, other prominent sectors include retail, restaurant, professional, technological, manufacturing and warehousing.
"We offer an incredibly diverse economy," says Michael Mertes, Business Development Coordinator for the Department of Planning and Community Development. "It's a great mix, and we make proactive efforts to increase our presence in all these fields."
And it's a substantial presence. Annual revenue from these Village industries tops $1.2 billion.
Arlington Heights' commercial success largely stems from strong community – and municipal – support. An aspiring workforce draws from the rich resources of Harper College's pioneer apprenticeship program and free vocational training classes offered at Arlington Heights Memorial Library and other area schools.
Additionally, both new and expanding businesses can benefit from the Village's sizeable financial incentives, including Cook County's Class 6 and Class 7 programs, offering reduced commercial property taxes (for up to 12 years) to encourage property revitalization. The Zero-Interest Loan offers businesses an interest-free commercial loan (up to $20,000) for qualified expenses. Finally, the Arlington Heights Small Business Sales Tax Rebate program offers retailers an annual rebate of local sales taxes (up to 50 percent for five years).
Award-winning schools, trendy boutiques, Saturday farmers markets, a nationally ranked library, and a picturesque Park District are among the town's many enduring charms. And every year Arlington International Racecourse earns its distinction as one of the nation's most beautiful thoroughbred horse-racing venues.
"We have a great quality of life here, delightful neighborhoods, and a thriving business community," says Mertes. "Many residents who are born here, stay here – a recurring story among Arlington Heights families. Our residents genuinely love our community. And when you need the 'big city,' Chicago is just a train ride away."
Highland
Highland wasn't built in the Alps, but it's steeped in homeland nostalgia. Founded by pioneers from Switzerland in 1831, this picturesque Midwestern town is home to 10,000 citizens who are uniquely Swiss and resoundingly American.
Centrally located in our nation's heartland, Highland, Ill., is clearly the best of us. It's small-town America at its finest, but more than that, it's progressive, vigorously focused on forward progress. A historically industrial innovator that still staunchly believes in tradition, God and country.
"Residents love our sense of community here, and our citizens are very civically minded," says Mallord Hubbard, Highland's Economic and Business Recruitment Coordinator. "We're especially proud of our veterans and their service. And our town square is the ideal place for business meetings downtown."
One of the oldest Swiss settlements in the country, Highlanders honor their heritage with food, festivals and architecture. It's the birthplace of condensed milk, and the headquarters of corporate trailblazers like Basler Electric, Cooper B-Line, Wicks Organ Company, and Korte Construction.
For industry newcomers, Highland has the power to make things happen. As owner of its own public utilities, the City is in the unique position to negotiate specific inducements for companies bringing new jobs and revenue to the community. Among Highland's economic development incentives are targeted energy credits, tax increment financing (TIF), low-interest business loans, interest rate reductions, and certain tax exemptions. Companies that choose to locate within Madison County Discovery Enterprise Zones could also qualify for special tax incentives for expanding and maintaining their operations within these zones.
In 2012 the City, frustrated with inadequate service providers, made the bold decision to establish its own Internet, TV and phone company. With this new installment, residents are enjoying an even broader range of benefits offered by the City, which now includes a dedicated, high-speed fiber network, fast and reliable Internet service, and prices among the lowest in the country. In fact, the total cost of living in Highland is 10 percent below the national average.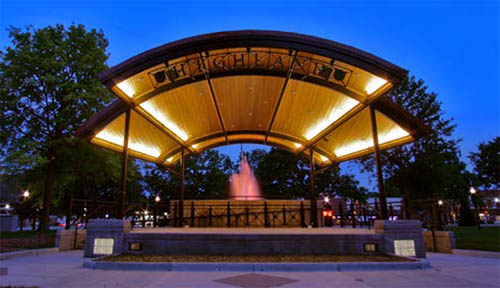 On July 4th this year, to commence its annual Independence Day celebration, the City dedicated a newly erected Veterans Memorial Wall honoring Highland servicemen and -women, a project two years in the making. In the works for next year is a happily anticipated, all-abilities (ADA-compliant) playground in Rinderer Park. Partially funded by the Walt Disney Company, the entire play area will be wheelchair-accessible, and children with special needs will be able to join in all the fun activities, making it a great place for kids and families to be.
"We're right off the interstate, without seeing the interstate," adds Hubbard. "Our location is one of our biggest advantages. We have the luxury of rustic life, just 30 miles east of The Mississippi, and we also have daily transit that runs straight to St. Louis for our many commuters. So at the end of the day, all Highlanders have a great place to come home to."
Litchfield
Litchfield is the most accessible and strategic commercial and industrial location between the St. Louis metropolitan area and Springfield, Illinois for manufacturing, distribution/logistics, processing, retail and hospitality businesses. Interstate 55 and Illinois Route 16 intersect at our industrial parks and commercial districts, providing direct transportation access and connections to all major U.S. markets. It also provides access to a multi-modal transportation network, and our proximity to two metropolitan areas puts businesses in Litchfield within easy reach of regional markets and national connections.
The location is truly a crossroads of opportunity with regional influence. Litchfield offers an affordable environment for businesses that want to easily access the large number of end users, consumers, transportation links and potential visitors found in large markets. Development is underway for a third business/industrial park for companies seeking interstate highway access and customized facilities to support their operations. In addition, the business tax rate is highly competitive, and utilities are cost-effective compared to larger markets.
Manufacturers and distributors already in Litchfield are diverse. Some businesses included in that list are Worksaver, a company that manufactures agricultural equipment; and Schutt, manufacturing sports gear; including NFL football helmets and MLB base pads. Midwest Powersource remanufactures diesel engine components and rebuilds locomotive engines; Pittsburgh Pipe not only distributes steel casing pipe but also manufactures and fabricates it as well. SeaStar Solutions is the leading global provider of OEM and aftermarket products and accessories for the recreational marine and related markets.
Litchfield has already begun to add a technology sector to its successful manufacturing and warehousing sectors, home to Allscripts. Litchfield's fiber optic internet network is in place and running.
Litchfield's location, size and immediate proximity to two large metropolitan areas equates to an exceptional value for businesses. Value that is backed by a quality community and an established workforce of two million plus within a sixty-mile radius. Our new and expanding retail developments include a growing presence of national brands that continue to attract additional traffic. Our municipal airport features a 4,000 feet runway with facilities to serve corporate and private aviation. Litchfield has a campus of Lincoln Land Community College (LLCC) to help provide workforce training. The City partners with LLCC to meet the training needs of the local employers. The City also offers programs and incentives to support business growth and development in Litchfield.
Litchfield offers new and expanding businesses the appeal of a sustainable and stable community featuring regional healthcare services, quality recreational opportunities and affordable Midwestern living all while in close proximity to the convenience and excitement of nearby metropolitan areas.
For information on industrial, commercial or residential development, contact the Litchfield Economic Development Office at 217-324-5253, tflannery@cityoflitchfieldil.com cityoflitchfieldil.com.
Marshall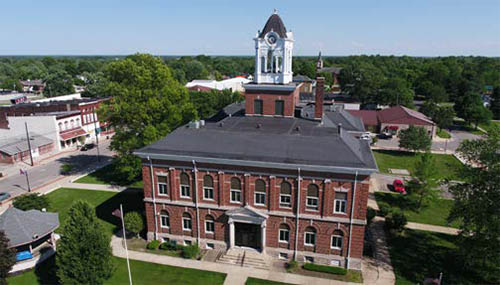 It's the first exit in Illinois, and no town is quicker to bid a warm welcome. Just 12 miles from the Indiana border – and an easy commute to Indianapolis – Marshall is a quaint surprise, the quintessential small town perfectly planted at the crossroads of America.
Farmland generously graces Marshall's countryside, where corn and soybean are staple crops in a community rooted in tradition and powered by growth. In the long lineage of Westward Expansion, Marshall is a city preserved in time. Local history is vividly celebrated on 19 hand-painted murals. Friday nights, residents gather at the town square for ice cream, popcorn and live jazz – just as they have for the last 143 years. Lemonade stands, county fairs, and homestyle restaurants all find a loyal fan base in Marshall.
"Part of the local charm here is knowing you can talk to just about anybody," says Jennifer Bishop, Executive Director of the Marshall Area Chamber of Commerce. "You know them, and you know their children. In times of need, the community pools its resources together to help. That's Marshall."
Likewise, in the spirit of the Historic National Road – which courses right through town – Marshall has never been shy of progress. Manufacturers like ZF Automotive, currently the county's largest employer, and leading producers of cellular equipment boxes and custom-blending equipment, help keep the local economy moving forward. Top-tier schools and advanced vocational training contribute to Marshall's low unemployment rate and the quality of its workforce.
"We offer a wide variety of employment and training opportunities," says Bishop. "This year we're implementing a new program in schools to help our youth become better communicators with more professional skills. Then one day, hopefully, they'll apply those skills here in Marshall."
Since public utilities in Marshall are owned by the City, the cost of living – and doing business – is impressively low. Corporate utility grants, property revitalization grants, and new construction grants continue to boost Marshall's economy and welcoming way of life.
Vandalia
In 1819 this Midwestern town of 7,000 carved its place in history along the banks of the Kaskaskia River. The first "final" stop on the Grand National Road, Vandalia kindly welcomed the droves of adventurers bound for the West. For the next 20 years, Vandalia served as the illustrious capital of Illinois, and today the beautiful, Federal-style State House still stands gloriously on the town square as the oldest capitol in the Prairie State. Perhaps Vandalia's greatest legacy, however, is as the political birthplace of Abraham Lincoln. It was here that Lincoln first held court as the outspoken Illinois state legislator from Sangamon County and entered the national sphere. Today a life-sized bronze statue of America's 16th president still presides over the State House – and surrounding Lincoln Park – a favorite site among Vandalia's many tourists.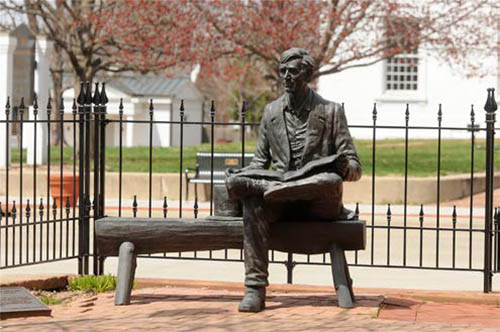 With its steady population, thriving farmland, and a quiet way of life, Vandalia is not known as a partisan city, despite its prominent history. Here men are built by reputation. Town issues aren't settled by politics, but by putting best feet forward and bringing the most to the table. Integrity, a solid name, and working for the common good are the staples of this hard-working community where neighbors help neighbors, everybody pitches in, and nobody has to ask.
"Public support is strong in Vandalia," says Amber Daulbaugh, Economic Development Director for the City. "Our people work hard and stand up for their cause. We're proud of our non-profits, and it shows in the community outpouring for every fundraiser. We're 'small-town,' but we share a progressive mindset. Our city is ripe for industry, new business and economic expansion. There's great room to grow in Vandalia." Geographically, Vandalia has every advantage. As the seat of Fayette County, Vandalia is strategically poised for development, because businesses in this zone qualify for the Enterprise Zone Tax Credit. Favorably positioned near the borders of Missouri and the Mighty Mississippi, the town is also blessed with Vandalia Lake, ample farmland, and gentle hills. Vandalia recently enhanced its trendy, niche-market downtown by adding flowers, greenery, custom flourishes, and brick walkways.
Major employers include Fayette County Hospital (helipadequipped), Vandalia Correctional Center, Kaskaskia College, and Vandalia Community Unit Schools – bedrock institutions that help ensure job stability for the City's highly trained workforce. Students from 14 schools travel to Okaw Vocational Center in Vandalia for specialized skills-training. Two hundred years along, Vandalia is rich with land and still heading west. Plentiful acreage on the City's west side is available for purchase and primed for construction. New businesses can find just the right space at the City-owned Industrial Park, conveniently located off I-70. Land Incentive Packages are available for incoming corporations, as well as Revolving Loan Funds, Low-Interest Regional Loans, and TIF (Tax Increment Financing) benefits proffered through bonding or tax reimbursements.
Popular events in Vandalia include the Fayette County Fair, The Grande Levée, Olde Tyme Christmas, and the Historic Society's newest annual fundraiser, the "Wine & Ale With Abe" Festival in September. Other family-friendly favorites include fishing, hunting, golfing, Scouting, high school sports, and six public parks. Next year the town will celebrate its bicentennial. And like Lincoln approaching the platform, Vandalia has made long strides toward greatness. Today major highways crisscross this territory, placing every destination within Vandalia's reach – nobly continuing what our National Road began. The Road didn't stop in Vandalia after all – it simply caught its breath for a moment, inspired by just how far this pioneer path might go.