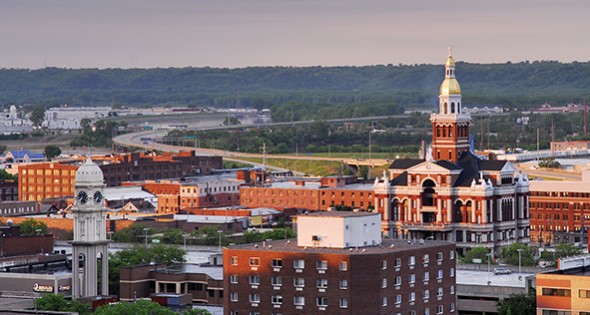 Iowa: Robust and Growing Economy
21 Mar, 2017
By Lori Culpepper
Iowa often elicits thoughts of cornfields, which is an accurate picture in many ways. In this state, corn helps fuel the economy that is robust and growing. However, there is much more to the state, including many other thriving industries, such as advanced manufacturing, biosciences, insurance and financial services.
Iowa is a right-to-work state with a below average cost of living. A proactive and responsive business tax and regulatory and legal framework puts Iowa among the nation's most "business friendly" states. Cedar Rapids, Des Moines and Davenport are three metropolitan areas of the state that are ranked among the best places in America to start a business, according to Forbes.
Ten industry segments contribute $154.7 billion real gross domestic product to Iowa's economy, with the service industry employing more than one-third of the state's workforce and manufacturing contributing the second largest share (18 percent) of total output.
Iowa exports totaled 13.1 billion in 2015, growth of 21 percent from 2010. According to the U.S. Chamber of Commerce, Iowa ranks 4th in the nation for net exports with $3.6 billion, behind Washington, Louisiana and Oregon.
With more than $13.1 billion worth of manufactured and value-added goods shipped out of the country, manufacturing accounts for 88 percent of Iowa's total exports. Since 2001, Iowa manufacturing exports have grown by 181 percent – nearly 70 percent more than the nation as a whole.
By Rachel Hamilton
Black Hawk
Black Hawk Economic Development (BHED), Inc. is headquartered in Waterloo, which is in northeastern Iowa along the Cedar River. BHED's scope extends far beyond that. "We do development across the state of Iowa. We, with our affiliates, also do development across the U.S.," says Steve Brustkern, executive director of BHED.
BHED offers various government loan programs including SBA 504 and USDA IRP loans, Brustkern says. Those loans have a larger impact on communities than first meets the eye. "How well Iowa does impacts [surrounding states] and a lot of our small manufacturing [inter]connects," he says.
"One manufacturing job turns into seven different jobs," says Brustkern. This is the multiplier effect, meaning raw materials jobs lead to manufacturing and processing jobs and on down the line to the services and retail operations that get finished products to customers.
"Economic development can't do anything without the support of the community," Brustkern says. He encourages all businesses and citizens to "get engaged in" and "reach out to" economic development agencies that impact their areas, saying it is best when the "community identifies the community's needs."
One good example of that cooperation can be seen in a northeastern Iowa brewery which is undergoing a $10 million expansion. Private lenders, Brustkern explains, are limited in how much capital they can lend to any one business.
The brewery was able to combine private funds with public ones to fund their building, says Brustkern. That will lead to opportunities for employment, for vendors and for a shift in the culture of the town. Public and private cooperation "helps create that vital economic base required for a community to thrive."
Carroll County Area
Carroll County is in western Iowa at the junction of State Highways 71 and 30. The Carroll Area Development Corp. territory extends just outside its borders, and is part of Western Iowa Advantage, an eight-county marketing region, says Shannon Landauer, Executive Director of the Carroll Area Development Corp.
"November [2016] was actually a pretty big month for us," Landauer says. Landus Cooperative, a "grain procurement agriculture cooperative" has doubled the capacity of their soy processing facility in Ralston with a $27 million expansion.
Landus manufactures soy protein feed for the dairy cattle industry worldwide. Renewable Energy Group (REG) processes the byproduct from Landus into biodiesel, Landauer explains. REG broke ground on their own $24 million expansion to keep pace with Landus.
Templeton Rye Whiskey announced in November 2016 that it is investing approximately $25 million to move production to Templeton, Iowa.
Carroll County is historically an agricultural county, as many western Iowa counties are, and while agriculture is still thriving, the "top five employers in the area," Landauer says, are a diverse mixture of advanced manufacturing, a hospital and American Home Shield — a home warranty provider.
One asset that helps set Carroll County apart is its access to gigabit speed internet — a benefit not only to agricultural technology applications but "for any direction we want to go." Companies can use the high speed internet to test products, including unmanned aerial systems, over nearby active farmland in real time, for instance.