KANSAS: Technology Meets Charm
23 May, 2019
Kansas, with a population of just over 2.9 million, has established itself as a place of opportunity. The state offers major advantages in costs, taxes, skilled workforce as well as major transportation assets that make the Sunflower State a haven for investment and innovation.
Advanced manufacturing, especially aviation and aerospace manufacturing, is an important driver in the state economy. The city of Wichita produces more than 30 percent of the world's general aviation aircraft, earning the title of "Aviation Capital of the World." Kansas is home to many key aviation companies, including Cessna, Beechcraft, Bombardier Learjet and Spirit AeroSystems.
From its roots in agriculture, bioscience has grown into one of Kansas' top target industries and currently has more than 16,000 people employed in the bioscience sector. Blessed with tremendous natural resources, Kansas is positioned to be a forerunner in renewable energy production. Companies benefit from economical access to feedstock for bio-based fuels, as well as proximity to feedlots that serve as a market for the animal feed resulting from biofuel byproducts.
Located in the heart of the nation's Wind Corridor, Kansas is an ideal location for wind turbine manufacturing. In fact, Kansas ranks third among all states in wind potential and among the top ten states for operating wind farms. The central location and outstanding transportation infrastructure provide convenient and economical access to the regions with the greatest wind energy activity.
The cost of living in Kansas is nearly 8.74 percent below the national average, making it the 6th lowest state for cost of living in the U.S. Housing costs are especially low, with the median value of owner-occupied homes nearly 27 percent below the national average.
With great schools and lively communities, Kansans also enjoy an amazing quality of life. The cities offer an array of excellent cultural options from food and music to sports and art. And of course, the small towns are bursting with that famous Midwestern charm.
KANSAS:TOPEKA
Topeka continues to make a name for itself, named one of the "Top 10 Best Cities for the Next Decade" by Kiplinger Finance Magazine, and that ranking could be for any number of reasons—from the city's livability to its pro-business climate. "There are many distinct variables that make Topeka unique depending on who you are and what you're looking for," says Go Topeka's Senior Vice President of Economic Development Molly Howey. "Topeka is unique in that there are so many different opportunities for people and businesses."
Topeka is home to food manufacturing companies—Mars Wrigley Confectionery, Frito-Lay, and J.M. Smucker Company to name a few—as well as financial service companies, including Security Benefit, Federal Home Loan Bank, and Advisors Excel. Attracting companies like these is partly due to Topeka's accessibility. The city is located in the center of the country and well connected via the highway system, and it has two major rail systems running through it. In addition, Topeka offers business incentives for companies looking to come to town. "We have a wealth of incentives we can offer at the local level," explains Howey. "We have the authority to give cash grants, as well as free land for qualifying companies."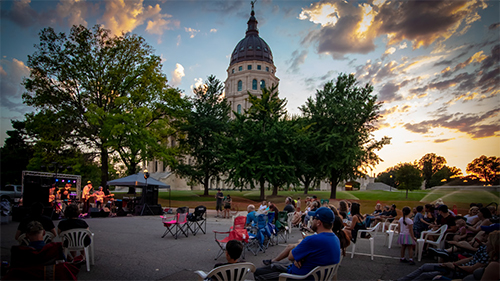 Topeka is also known for its affordability and livability. The city's overall cost of living is approximately 10 percent below the national average, and city leaders have been making significant investments into a revitalization of the downtown area. Currently in the works is a public plaza that will offer all sorts of opportunities year-round. "Improvements are also being made to the Kansas River, which runs through the middle of Topeka," Howey says. "That will add to the already amazing recreational opportunities Topeka offers now."
The city also offers a pipeline of skilled workers as well as 60,000 university students within a 60-mile radius. Topeka boasts Washburn University, which U.S. News and World Report ranked as the top public master's level university in Kansas, and the city is just a short drive from the University of Kansas and Kansas State. The Washburn Institute of Technology works with local companies to create customized training curriculum to help students learn the skills and acquire the certifications needed to go to work immediately upon graduation. But the city is also working with its local school districts to add to the talent pipeline much earlier than college. "The Cradle through Career Program helps us get into schools and form partnerships with them to educate the schools, parents, and kids about careers available in the area and what it takes to be competitive in those careers," Howey said. Topeka also has the Topeka Center for Advanced Learning and Careers (TCALC), a career pathway high school that allows students to base their studies on a chosen industry. "I'm excited about our future," Howey said. "Topeka is moving forward, and I think we're going to be an even more attractive place for people and businesses in the near future.".