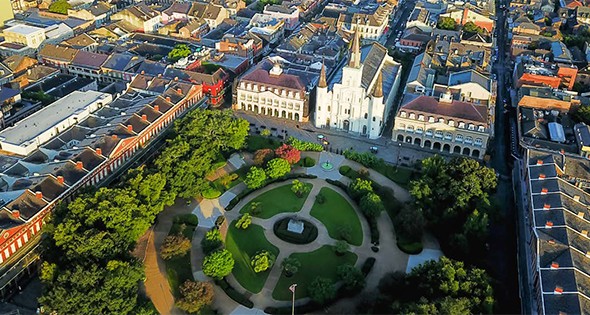 LOUISIANA: Happiest State in the Country
14 Jun, 2018
It's no secret that residents of Louisiana seem to go about enjoying life in a way that few others know how to do. It's in the culture, the cuisine and the sheer joy of entertaining others. It's in the architecture and the music, the speech and celebrations.
It's in the business climate too. Louisiana is building upon this cultural advantage to create a place known for intellectual energy and creative capital. With increasing job growth across multiple industries, the presence of companies of varying sizes— ranging from technology start-ups to Fortune 500 powerhouses — and engaging networking opportunities available statewide, Louisiana professionals take advantage of the state's diverse work environments.
The state offers a variety of tax credits including motion picture production, musical and theatrical production, sound recording, qualified entertainment companies, research and development, and restoration tax abatement, to name a few.
For smaller companies, there's CEO round tables, veteran entrepreneurship, bonding assistance, step grants and many more. LED FastStart is a nationally recognized workforce development program which provides customized employee recruitment, screening, training development and training delivery for eligible, new or expanding companies at no cost.
Louisiana residents enjoy an average five percent lower cost of living than the rest of the country. Affordable housing costs coupled with some of the nation's lowest utility rates make the state a comfortable place to live.
Ruston
The seat of Lincoln Parish and home to Louisiana Tech University, Ruston rests in the heart of northern Louisiana, popularly known as "Sportsman's Paradise." Hunting and fishing are a large part of Louisiana culture, and Ruston's central location offers ready access to wildlife refuge areas, state parks, rivers and lakes. The 10-mile mountain bike trail at Lincoln Parish Park has been rated one of the best in the country.
Ruston is also home to the longest-running agricultural festival in the state. The Louisiana Peach Festival, held annually since 1951, is a key economic contributor for the area.
Recently Ruston was named a finalist for the prestigious Robert Wood Johnson Foundation (RWJF) Culture of Health Prize. "Ruston promotes positive, healthy living by actively supporting broad-based, collective-impact outreach, leadership, and engagement strategies," says Kristi Lumpkin, Ruston's Economic Development Administrator.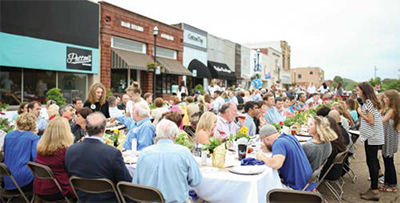 It's clear that the City has taken this to heart. As part of its initiative to encourage health, fitness and longevity among its residents, Ruston has implemented a delightfully innovative community resource. "Rock Island Greenway, which will include 12 miles of walking and biking trails, is a new, shared-use, walking, running and bicycling path that will eventually run the lengths of the city, connecting neighborhoods, businesses, educational institutions, and recreational amenities," says Lumpkin. "The Greenway will greatly improve quality of life, economic development, and the health of our community."
As one of Louisiana's first official "Main Street Communities," downtown Ruston has a thriving Cultural District and is on the National Register of Historic Places. The city hosts a regional airport, rail line, city-owned 1-GB fiber network, and a 150-acre, development-ready, certified industrial site.
Economically, Ruston and the outlying parish represent a diverse base and continue to recruit additional business and industry. Target industries include technology, distribution and logistics, and advanced manufacturing.
"This diversification helps ensure that regardless of the national economy, our tax base and employment numbers remain relatively stable," Lumpkin explains. "Among our top economic sectors are education, healthcare, manufacturing, engineering, financial services, wood products, and construction."
To attract new businesses, Ruston customizes, rather than standardizes, local incentives for incoming corporations. Companies choosing to locate in Ruston will benefit from the City's welcoming approach and flexible incentives to motivate commerce, facilitate progress, and open up new jobs.
When it comes to education, Ruston consistently shines. Lincoln Parish schools are ranked #1 in Louisiana for students entering post-secondary education. Ruston High School, the district's flagship school, was named among the best high schools in the nation by U.S. News & World Report, and for the seventh consecutive year, the magazine has ranked Louisiana Tech University in its highest tier of national universities.
Quality of life in Ruston, Lumpkin says, is second to none. "Ruston has great location, education, industry, and opportunity. Ruston is the ideal place to start, expand or grow your business."
St. John the Baptist Parish
Thirty minutes outside New Orleans lies a sprawling, quiet slice of paradise. Well, make that two.
The heart of Louisiana's "River Parishes," St. John the Baptist Parish is carved (amiably) in half by the Mighty Mississippi. And the River, in kind, returns its strength to St. John.
For 54 miles the Mississippi supplies this region with one of the largest ports in the world. The Port of South Louisiana, headquartered in St. John, is the nation's top channel for transporting goods such as grains, animal feed, fertilizer, concrete, steel, sugar, consumable oil and petrochemicals.
In 2017 the Port's throughput exceeded 300 million tons.
"We feed the world," says Jerry Jones, Director of Economic Development, "and we'll continue to do so for many years to come. Soybeans, rice, wheat – every staple you can imagine. It all comes through this port."
Yet despite its prominence in the global sphere, St. John still retains its "small-town" feel. The Parish is home to sugar cane fields, country fairs, old family recipes, and eight communities – without a single incorporated town among them. But that's just the way they like it.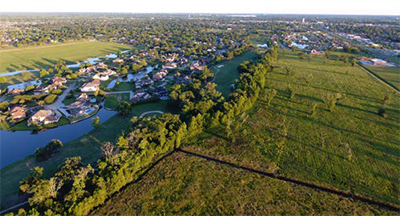 "If you prefer a little bit of rural suburban life, we have just the place – and pace," says Jones. "We have our own identity, a vibrant community, and a robust economy."
Actually, the Parish's unincorporated status is an advantage for new businesses, says Jones, making it easier for council leadership to centralize commercial incentives through direct negotiation. The Parish makes a variety of initiatives and rebates available for companies who choose to locate in St. John. Qualifying corporations could benefit from the Parish's Veteran Initiative; Enterprise Zone Tax Credit; or Payment in Lieu of Tax (PILOT) Program.
Strategically located between I-10 and I-55, St. John also offers a superior transportation network of roadways, railways, waterways, and airways. Already a national leader in heavy manufacturing, the Parish continues to broaden its industrial interests in the energy, engineering, and petrochemical sectors. Companies settling in St. John will find the region abundant in natural resources, affordable energy rates, and skilled labor – with a cost of living approximately 15 percent below the national average.
St. John has also become a popular destination for tourists. Several movies have been filmed in the Parish, and main draws for visitors include New Orleans-style music, authentic local cuisine, hunting and fishing, and historic plantation tours.
But best of all just might be The Andouille Festival, held every October in LaPlace, the official "Andouille Capital of the World." Andouille, the spicy sausage used in gumbo, predates Louisiana and is made by tradition from recipes passed down for generations. It's a favorite among locals and tourists, as is the Festival, which draws about 20,000 people each year.
Southwest Louisiana Economic Development Alliance
Five parishes form the Southwest Louisiana Economic Development Alliance. The corner of Cajun country, the "heel" of Louisiana, and as some would say, the stoutest and sturdiest part of the state.
It's definitely the spiciest.
"We have a unique culture here," says George Swift, Alliance President and CEO. "Our region borders Texas and the Gulf of Mexico. We like gumbo and chili, Mardi Gras and rodeos. And we love our McNeese Cowboys."
McNeese State University, a Tier 1 university in Lake Charles, La., consistently rates among U.S. News & World Report's "Best Regional Universities (South)," and ranks No. 3 nationally for career ROI among College of Engineering & Computer Science graduates. Points of pride include a recent Pulitzer Prize winner; a brand-new Health Systems Management degree; and the soon-to-open Health and Human Performance Education Complex.
The McNeese campus sprawls 121 acres facing SWLA Economic Development Alliance headquarters. The university joins civic leadership in partnering with the Alliance, effectively pooling the area's top resources in business development strategy. Working together to create quality jobs, train a premium workforce, and advance commercial interests in Allen, Beauregard, Calcasieu, Cameron, and Jefferson Davis parishes, the ménage promotes economic development for all of Southwest Louisiana.
And business is booming. Right now SWLA has $43B in projects underway, Swift says, and another $65B in the works. Reporting to work every day are 18,000 construction workers in what will likely become permanent, full-time positions.
Many assets form revenue streams in Southwest Louisiana, powering diverse, sustainable industry. In addition to its rich cultural heritage, the area's abundant natural resources include five commercial ports, undeveloped beaches and waterways; centuries-old cypress trees; and fresh seafood that just begs for a spicy Creole rub. Fertile fields of rice and crawfish run for miles along roads where no town is visible.
Larger still are SWLA's vast reserves of oil and natural gas, providing long-term stability and thousands of jobs. Since the 1940s, the petrochemical industry has been king. But it's got competition.
"We're always looking to expand our industry, and there's plenty of land for new business development," Swift says. "We have skilled workers and engineers, and we need more. Currently we're experiencing huge commercial and industrial growth."
And we're not just talking about the casinos. Lately Hollywood has discovered the lovely Southwest Louisiana landscape, and the area has become a prime location for filming.
"Louisiana has a special way of life and culture that the film industry embraces," says Cindy Johnson, Film Locations Manager for Lake Charles/SWLA Convention & Visitors Bureau. "We're ashort drive from studios and post-production facilities in Houston, Lafayette, Baton Rouge, and New Orleans, so filmmakers can shoot today and edit tomorrow."
In addition, Johnson says, many actors and filmmakers have fallen in love with the area and are looking to make Southwest Louisiana "home."
Yes, life on the bayou is good.
St. Mary Parish
St. Mary Parish has a unique blend of heavy industry, agriculture, a rich culture to work hard and to play hard, and an abundance of natural resources. These resources included a multi-modal transportation network with access to the Gulf of Mexico's Latin and South American countries and 34 states by river, rail and interstate. It is the leading producer of natural gas in the state and carbon black in North America. The Parish offers many industrial and commercial sites for development within a friendly business environment.
The key industries include oil field production and services, shipbuilding, manufacturing and machining, chemical plant production and agriculture. These industries typically provide an above average living wage in a low cost of living environment. The Parish offers a skilled workforce exceeding 400,000 workers in the region.
Working professionals living in St. Mary Parish enjoy a blend of rural and suburban living, safe communities, quality secondary education and activities for the entire family. Seeing is believing.