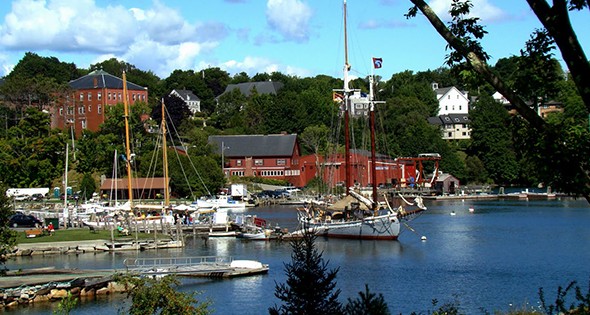 MAINE: Yankee Ingenuity
14 Apr, 2020
Entrepreneurship and innovation are embedded in Maine's DNA. Maine people have always been tinkerers, dreamers, and doers. This spirit, this "Yankee Ingenuity" has driven their history and will drive their future as a State and a people.
Maine has many champions of small businesses and startups and regularly leads the nation for first-year company survival. In Maine, entrepreneurship is a team sport and they want your business to succeed and grow here.
Maine also ranks highly for women-owned businesses, eighth in "economic clout" – growth in the number of firms and growth in employment and revenue, and first in the nation in "employment vitality" – employment growth rate and average number of employees.
Maine's Department of Economic and Community Development maintains critical partnerships with other publicly-supported organizations, often providing the key matching funds needed to bring Federal programs into Maine.
MAINE: RICHMOND
It's been 100 years since the last ship was built in Richmond, but seafaring is still the heart of local Mainlanders. Just off I-95 and U.S. Coastal Route 1, this quaint New England community is accessible, navigable and anchored by loveliness.
Founded as a British colonial fort, Richmond is a tidewater community spanning three centuries, six rivers and Merrymeeting Bay, where freshwater and seawater swirl congenially, forming intertidal sanctuary for Bald Eagles, Atlantic Salmon, American Eel and Shortnose Sturgeon.
At the north end of the Bay, Swan Island hosts Richmond's mysterious "ghost town" and the state's only wildlife-and-game preserve. Notable visitors have included Captain John Smith, Vice President Aaron Burr, and America's most-infamous traitor, Benedict Arnold.
With 3,400 residents, Richmond is the kind of small town where there are no strangers. From end to end, locals can walk the path-friendly village to neighborhood schools, locally owned cafés, bakeries and downtown shops.
"Antique" in Richmond typically pre-dates the Civil War, not that locals mention that skirmish much. Built by the town's most prominent and affluent families, historic Richmond features lavish Victorian, Italianate, and Greek Revival homes, beautifully framed in 19th-century brick and timber.
Huge chunks of the town's wealth, however, were carved from blocks of ice. In its heyday, Richmond's ice trade was more valuable to Maine than gold was to California. More than 50 massive icehouses lined the shores of Kennebec River, making Richmond the largest ice exporter Down East.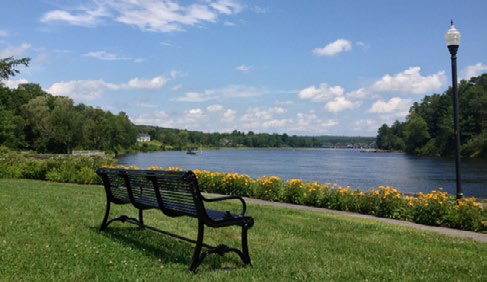 "Water is still our lifeblood," says Darryl Sterling, Richmond's Director of Community and Business Development. "Our riverways connect us to the outside world, while preserving our town's historic charm and unique quality of life. We have the, pristine beauty of living on the Kennebec River but with all the access to major waterways and interstates."
However you get there, Richmond is worth the travel, and daily commutes are a pleasurable drive. Tucked away like a jewel in a sea chest, the village is veiled in scenic beauty. Coastal Richmond features a revitalized harbor, shorefront and downtown district, while serving as an industrial center for precision manufacturing, composite materials production, shipbuilding, and environmental engineering. Top employers in the area include L.L.Bean, Brunswick Landing, All States Materials Group®, Hodgdon Yachts, Inc. (America's oldest boatmaker), and Bath Iron Works (U.S. Naval warship builder).
Half an hour from three of Maine's largest cities: Augusta, Auburn-Lewiston and Portland (one of America's most livable cities), Richmond has ready access to two major seaports and a Foreign Trade Zone encompassing eight counties. Richmond is also home to two Tax Increment Finance Districts (TIFs) and an extensive, highly trained regional workforce. Besides several State-level business incentives, Richmond offers customized grant programs that can fund up to 50 percent of new corporate development projects.
"We pair exceptional incentive programs with classic, repurposed and developable properties," says Sterling. "Currently we have filled 80,000 square feet of available space this past year alone!" Come discover Richmond, Maine's best secret.
For more information, richmondmaine.com/businessrichmond-maine.aspx.