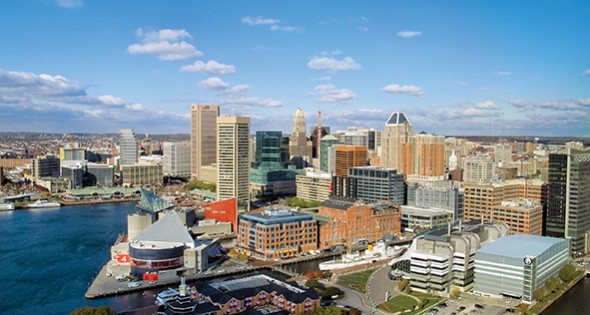 Maryland: Small State, Large Economy
10 Aug, 2017
Maryland is the center of the Boston-Atlanta Corridor on the Atlantic seaboard and borders Washington, D.C. Maryland's gross state product in 2015 was $363.8​​ billion, and its economy is rooted in high technology, biosciences and services, aerospace and defense, advanced manufacturing, and international trade.
While it may be one of the smaller states geographically, Maryland plays a large role in transportation throughout the eastern United States​. Maryland is located next to the Chesapeake Bay and Atlantic Ocean and has major distribution routes along the East Coast. Halfway between Boston and Atlanta, Maryland is one of the busiest corridors in the U.S. The Port of Baltimore is closer to the Midwest than any other Atlantic seaport.
The state is home to 18 of the nation's top 25 aerospace companies, as well as 70 of the top 100 defense contractors. Maryland also has a highly skilled civilian labor force of more than three million workers. A network of 57 accredited two-and four-year colleges and universities serve more than 360,000 students around the state.
Innovations in Maryland's economy are bolstered by research parks​ which facilitate joint research among universities, state and federal government institutions, and private industry.
Major employers in Maryland include BAE Systems, General Motors, IBM, Johns Hopkins Institutions, Lockheed Martin, Marriott, McCormick, Northrop Grumman, Southwest Airlines and Verizon.
A catalyst behind the state's technology base has been federal agencies, such as the National Institutes of Health, the National Institute of Standards and Technology, the National Aeronautics and Space Administration, Goddard Space Flight Center and Department of Defense operations.
Maryland Regional Sidebars
By Rachel Hamilton
Kent County
Kent County is on the eastern shore of Chesapeake Bay, across from Baltimore. The County is currently engaged in an "110-mile dark fiber infrastructure build," says Jason Depp, Kent County, Webmaster, Information Technology.
Dark fiber provides open access to fiber optic cables for internet service providers (ISP). "Any ISP or [telecommunications] company can lease the fibers to expand their [coverage/network]," Depp explains.
There are four wireless internet providers in Kent County. The county allows companies to lease towers for free in exchange for the companies providing packages for low income families, says Jamie Williams, Kent County, Economic Development Coordinator.
The county has built the project in-house, with "not one dollar spent on outside designers or anything," says Scott Boone, Kent County, Director, Information Technology. Organizations in the county are already seeing the payback in terms of greatly improved internet speeds at much more affordable prices.
The county has been strategically connecting anchor institutions — government buildings, libraries, schools, etc. — so that no part of the county is very far away from the fastest arteries of the fiber optic cables they've been installing, Boone explains.
"We're definitely looking to attract data centers, [geographic information systems] and telemedicine," says Williams. The county has two electric providers, both of which are accessible from some available industrial sites.
Dixon Valve and Coupling Co., the county's largest employer, is "getting ready to break ground on an anchor building" for a mixed-use campus-style industrial site. It will be a walkable community where citizens will be able to work and live, Williams says.

City of Rockville
Rockville is located northwest of Washington DC along Interstate 270. "Rockville really is a great hub for life sciences," says Laurie Boyer, executive director of Rockville Economic Development, Inc. (REDI).
The National Human Genome Research Institute (NHGRI), which sequenced the human genome, has a complex of offices in Rockville. The NIH, FDA and other government agencies with which life science companies often work are also nearby, Boyer says.
"We are right in the center of Maryland's [life sciences] capital region," says Boyer. "We're focused on growing industries in that sector and related industries such as IT and cyber security." Two of the larger life science companies in Rockville are Supernus Pharmaceuticals, Inc. and Sucampo Pharmaceuticals.
Rockville's two new incentive programs, RockvilleMOVE and the Rockville Business Expansion Fund, have supported eight companies since July of 2016, Boyer says. "Of the eight companies, two are life science companies." That support has created 99 jobs and is expected to create 119 more over the next three years.
"Thirty-five percent of our residents were born outside of the U.S.," says Boyer, "So there are a lot of opportunities for international investment." The city's workforce is educated as well. "Over half of our residents have a bachelor's degree and over 36 percent have a graduate or professional degree."
Rockville is within 30 miles of three international airports, has commuter rail access to DC, and has over 900 acres of parkland even though the city itself is "just under 14 square miles," as Boyer says. "We're consistently ranked as one of the top places to live in the U.S."

Calvert County
Calvert County is southeast of Washington DC between the Patuxent River and Chesapeake Bay. It is the smallest county by land mass in Maryland, "but we have the state's only nuclear power plant," says Danita Boonchaisri, business development specialist for the Calvert County Department of Economic Development.
Calvert County is also home to Dominion Energy's Cove Point liquefied natural gas (LNG) import facility. Dominion has invested roughly $4 billion to add the capacity for exporting LNG at that facility, expecting completion by the end of 2017, according to Boonchaisri.
"Following on the heels of that is Patuxent Business Park [PBP], home of the Dominion offices," says Mark Volland, marketing and communications specialist for the Calvert County Department of Economic Development. The park is "the county's only designated commerce zone."
The park is "actively seeking tenants," Boonchaisri says, noting that it is shovel-ready as well. Because PBP is close to both Dominion and the nuclear plant, she says, any business looking to serve either of them could benefit from the location.
Naval Air Systems Command is just south of Calvert County, across the mouth of the Patuxent, so many companies in the county are defense contractors. Target industries include IT, advanced manufacturing, energy and tourism, says Boonchaisri.
Calvert County enjoys a high quality of life, as do many areas attractive to tourists. "We're like 15 miles from the nation's capital, but it's a different world. It's quiet, traffic goes away, and it's rural here," says Volland.