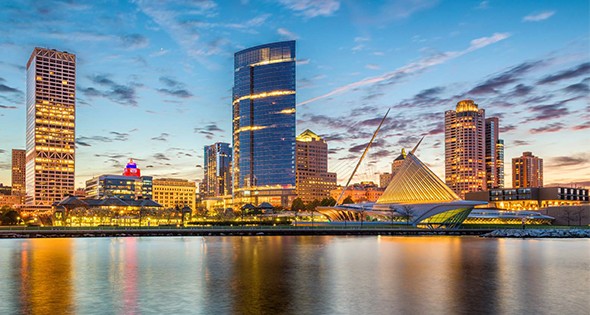 MICHIGAN: Accelerate your business
25 Jul, 2019
Michigan's economy continues to surpass financial expectations. A low unemployment rate and the continuing resurgence of the auto industry are two major signs of growth. But there are more.
Aerospace, for example. The state that created the automotive industry has taken to the skies to become one of the top places in the country for aerospace business. Michigan is home to more than 600 aerospace related businesses with the highest concentration of electrical and mechanical engineers in the country. The state is also home to two lightweight materials manufacturing U.S. institutes and employs more industrial designers than any other state. Michigan's attractive business climate is complemented by its natural beauty and active lifestyle. With four beautiful seasons, 11,000 lakes, and the country's longest freshwater coastline, Michigan offers ample opportunities to enjoy recreational activities such as boating, fishing, golf, skiing, hiking and more. Michigan is also home to world-class museums, more than 100 wineries, a growing dining and craft beer scene and has the lowest cost of living in the Midwest. Michigan's educational system feeds critical knowledge and skills into its workforce. Home to 119 universities and colleges and 308 vocational and technical schools, the state has training for every conceivable vocation. In fact nearly 6,000 MBAs and 1,500 Ph.D.'s are granted every year, almost twice the national average. The Michigan Economic Development Corporation (MEDC) announced several large development projects around the state in a variety of industries. In the past 24 months, the MEDC has collaborated with Amazon on three large-scale distribution centers throughout southeast Michigan, resulting in private investment of more than $270 million and the creation of 3,625 full-time jobs. The MEDC will continue to foster an entrepreneurial ecosystem in Michigan with the programs, engagement and support to attract capital and talent to help Michigan's most innovative entrepreneurs come up with "breakthrough ideas" and form them into new, vibrant companies that attract private investment, create jobs and help grow the Michigan economy.
MICHIGAN: LANSING
More than ever before, businesses from around the world are investing in the Lansing, Michigan region. More than $3 billion in projects are under construction with another billion close in the pipeline. Lansing is #1 in the state for growing population among 25–34 year-olds, the city's high-tech GDP made the 4th greatest leap in the nation in 2018 and the region is home to one of the world's top-ranked research universities.
Construction is taking place at a historic rate in the Lansing region, driving exciting innovation across a variety of industries. Three mega-projects are underway, including Glanbia's Spartan Michigan dairy processing campus ($555M), which will process 8 million pounds of milk per day—nearly a quarter of all milk produced in Michigan; McLaren Greater Lansing's state-of-the-art health care campus and cancer center ($500M) in partnership with Michigan State University (MSU); and the Facility for Rare Isotope Beams (FRIB) at MSU ($770M)—the world's next great nuclear research center operating the most powerful accelerator of its type in the world.
The Lansing region's educational pipeline produces more than 17,000 higher-ed graduates each year. MSU hosts numerous top-ranked programs including the #1 nuclear physics program in the world, the #1 supply chain management and packaging programs in the nation, and multiple top ten programs. Lansing is also home to Lansing Community College (LCC), the #2 vocational college in the nation.
Massive developments, matched with key education and healthcare assets and existing strengths within industry clusters, offer strategic growth opportunities for companies in the medtech & life sciences, agtech & food processing and insurance industries, as well as for entrepreneurs in all stages— from ideation to growth.
For example, Lansing is the insurance hub of Michigan, with insurance-related employment growth (23%) outpacing the national average (2.4%) nearly tenfold in recent years. On the heels of this growth, an insurtech-focused entrepreneurial culture is blossoming, supported by programs such as the Lansing Economic Area Partnership's (LEAP) PROTO InsurTech program, a startup accelerator vertical that pairs technology startups with industry leaders to develop insurance-related technology solutions.
Beyond the daily grind, the Lansing region is also a place to call home. Comprised of Clinton, Eaton and Ingham counties, the Lansing region offers many communities, from urban to rural, to choose from. No matter where you set roots, you will benefit from the region's average daily commute of under 15 minutes—effectively 16 more days a year compared to the grueling mega-commutes unavoidable in some metro areas. With extra days comes extra opportunities to enjoy some of Lansing's key amenities, such as collegiate sports, professional baseball and soccer, broadway shows at the Wharton Center for Performing Arts, 60 food, art and music festivals, kayaking on any of four rivers winding across the region, a cup of handcrafted coffee, a stroll through one of 18 farmers' markets or maybe just a night at home in what Livability identified in 2018 as the best most affordable place to live in America—the Lansing, Michigan region.
MANUFACTURING THRIVES IN MICHIGAN
Michigan's continued innovation is leading the way into the future of manufacturing.
More than 100 years ago, the automotive industry laid the groundwork for Michigan's manufacturing prowess. Today, global leadership in the mobility sector to growing momentum in high tech industries such as medical devices and cybersecurity are building on that foundation of Michigan's entrepreneurial legacy to generate strong economic momentum.
Michigan's manufacturing expertise and wealth of high-tech engineering talent is a key factor in attracting and growing businesses in the state, helping to grow jobs, attract private investments and develop industry connections for businesses in Michigan. The state is a natural fit for advanced manufacturing facilities, as a key entry point for the North American market with 18 commercial airports and numerous channels for businesses to move goods globally.
However, while Michigan put the world on wheels more than a century ago, today automotive companies are gravitating toward advanced manufacturing to develop the future of mobility.
Fiat Chrysler Automobiles (FCA), for example, is investing $4.5 billion and creating 6,433 jobs to build a new automotive assembly plant in Detroit and add to its production at five existing Michigan facilities, with the ability to build fully battery electric models in the future. This is monumental for FCA and Detroit, as it is the single largest investment the company has made in U.S. operations since the recession, and the first new automotive assembly plant built in Detroit in nearly 30 years.
Ford is also investing in Michigan Central Station, where it will develop autonomous and electric vehicles and design mobility services and solutions for urban environments. The company is also expanding its battery electric vehicle (BEV) manufacturing footprint at its southeast Michigan plant, which will become the production home for the company's next-generation BEV flexible architecture models.
Meanwhile, General Motors is investing in testing the future of mobility at its Kettering University GM Mobility Research Center, serving as a proving ground and outdoor research facility for developing new mobility systems.
Next generation automotive companies are also turning to Michigan for manufacturing solutions. Waymo is establishing a high-tech manufacturing facility in Detroit, where it will integrate its self-driving systems into the vehicle platforms of its OEM partners. When announcing Detroit as the future home of the world's first factory 100 percent dedicated to the mass production of L4 autonomous vehicles, company officials noted:
"We wanted this facility to benefit from a location in southeast Michigan — the heart of the American automotive industry — and its strong talent base."
KLA is another Silicon Valley company that turned to Michigan, investing in a new $70 million research-and-development center that will add 500 high-tech Michigan jobs to the Ann Arbor region over the next five years. On its expansion into Michigan, CEO Rick Wallace said:
"Being competitive worldwide is critical. We have about 10,000 employees and 20 development sites around the world. This is the most important new site we've done in 20 years."
Leveraging Michigan's advanced manufacturing capabilities extends beyond automotive. FarmWise, a Silicon Valley startup, is partnering with Roush to manufacture autonomous farming robots in Michigan as a result of connections made through the Michigan Economic Development Corporation's mobility initiative PlanetM.
Michigan's manufacturing heritage, ideal location and robust business climate — along with its commitment to training, retaining and attracting top talent — make the state well-positioned to continue leading the way into the future of advanced manufacturing across the nation.
For more information on all the opportunities available in Michigan, please visit www.michiganbusiness.org/pure-opportunity .