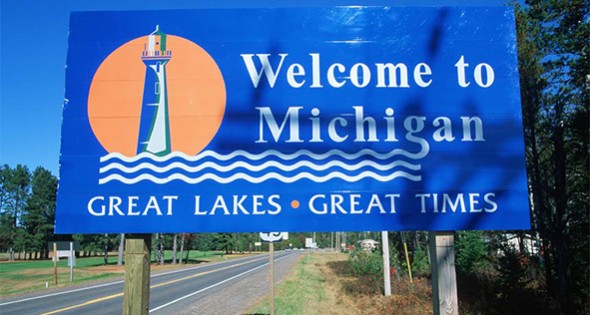 MICHIGAN: Pure Michigan Means Business
13 Aug, 2018
It's hard not to think of automobiles when Michigan comes to mind. Detroit has been at the center of all things American automobile for over 100 years.
Yet Michigan is at the center of industry innovation in categories ranging from the Film Industry to Fashion, Medical devices to Microsoft, Advanced Manufacturing to Aerospace, and of course Automobiles. Michigan is also a major tourism destination. The state's two peninsulas are surrounded by four Great Lakes, with over 3,000 miles of freshwater shoreline — more than any other state. Michigan also has 11,000 inland lakes, over 19 million acres of forest and award winning destinations like the Sleeping Bear Dunes and Mackinac Island. Perhaps only those states with professional sports teams can fully appreciate the quality of entertainment offered and the economic development cache they bring in terms of entertainment and quality of life. Michigan fans adore their Detroit Tigers, Detroit Pistons, Detroit Lions and Detroit Red Wings. And if sports aren't your thing, Michigan offers some of the country's most important cultural institutions. The Detroit Institute of Arts houses one of the finest collections of art and antiquities in North America. Frederick Meijer Gardens and Sculpture Park is a must-see stop for fans of horticulture and outdoor sculpture. Other noteworthy attractions include Greenfield Village and The Henry Ford Museum, and the Motown Museum. Michigan's excellent educational system feeds invaluable new knowledge and skills into its workforce. Home to 119 universities and colleges and 308 vocational and technical schools, the state has training for every conceivable vocation. In fact nearly 6,000 MBAs and 1,500 Ph.D.'s are granted every year, almost twice the national average. Furthermore, Michigan ranks third in the number of engineering degrees annually — more than 6,500. Last but not least Michigan is home to Earnest Hemingway, Eminem and a gentleman named Henry Ford.
Detroit Region Aerotropolis Development Corporation
The Detroit Region Aerotropolis Development Corporation is a four-community, two-county public-private partnership driving corporate expansion and new investment around Detroit Metropolitan and Willow Run Airports.
Primely located between Detroit and Ann Arbor – two of the hottest cities in America – the Aerotropolis region boasts 6,000 acres of development ready land amid a world-class network of transportation infrastructure, including five rail lines, three freeways, two airports, and one American Center for Mobility.
Additionally, the Aerotropolis region is part of the Detroit Foreign Trade Zone and less than 30 miles from the Port of Detroit – a network of 29 terminals handling 17 million tons of cargo every year – and the second busiest border crossing in North America.
Since 2012, dozens of companies have invested over $1.5 billion in the region. In the last 6 months of 2017 alone, Amazon, Penske Logistics, and Brose North America collectively announced investments of over $350 million on 1.7 million square feet of new industrial space, creating 2,300 new jobs.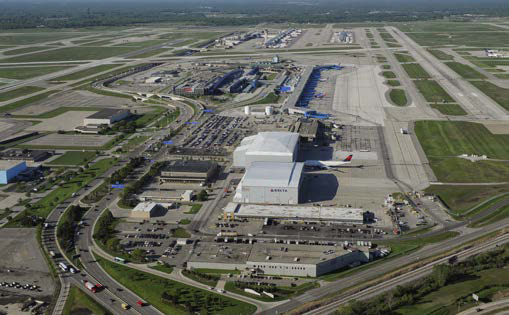 The Aerotropolis region is comprised of the cities of Romulus and Taylor, the townships of Huron and Van Buren, and both Washtenaw and Wayne Counties. Additional partners include CBRE, DTE Energy, the Michigan Economic Development Corporation, and the Wayne County Airport Authority.
All parties are committed to making investment in the region as easy and seamless as possible.
As a designated Next Michigan Development Corporation, the Detroit Region Aerotropolis is enabled to approve a suite of economic development incentives to help enable corporate investment in the region, including personal and industrial property tax abatements and funding for public infrastructure projects.
Moreover, the Aerotropolis provides a suite of complimentary services to companies considering expansion, including site selection and infrastructure analysis, regional market data and demographic information, governmental relations, and private sector engagement.
For companies engaged in transportation, distribution, and logistics (TDL), advanced manufacturing, or next generation mobility technology development and deployment, the Aerotropolis region is the premier destination for greenfield expansion in Southeast Michigan.
Civilizations and the industries that serve them have long relied on the movement of people and goods to ensure strategic relevance and economic prosperity. From Silk Road to Amber Road and the Transcontinental Railroad, history is flush with examples of flourishing cities and affluent regions located along key transportation and trade routes.
Today is no different and the Aerotropolis is one such region.
Consider the Detroit Region Aerotropolis for your next expansion project. An interactive real estate database showcasing 40-plus sites between 25 and 500 acres, as well as existing facilities for sale or lease, can be viewed at detroitaero.org/propertis. Information on an additional 50 sites between 10 – 25 acres is available upon request.
Alliance for Economic Success
Since 2008 the Alliance for Economic success, a non-profit 501(c)(3) economic and community development corporation, has worked hand-in-hand with communities across Manistee, Benzie, Wexford and Grand Traverse Counties to further the region's prosperity.
"The AES Board is committed to providing a high level of service with a wealth of professional expertise to tackle the priorities identified to support commerce, development and communities" stated Executive Director Lisa Leedy. "AES fills a variety of roles: sometimes the catalyst, neutral convener, fund developer, fiduciary, or technical provider. We all play a part in implementing a successful project, and AES is a strong partner in our role of the process."
Leedy noted that AES has had a history of success. Over the past decade, the partnership between AES with businesses, developers, public officials, staff, residents, and other organizations has been lucrative for their region, helping build economic prosperity in northern Michigan.