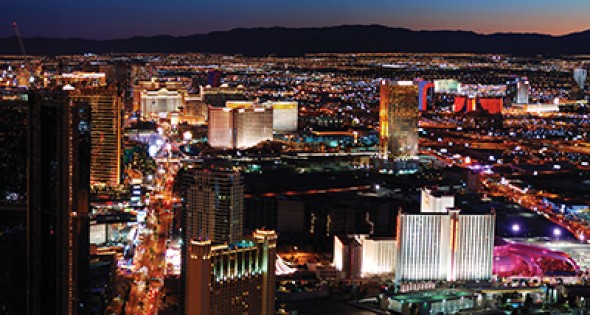 Nevada: Economy Thriving Above and Below the Surface
22 Mar, 2017
By Lori Culpepper
Many of the most important aspects of Nevada's economy lie below the surface. Nevada is the nation's leading producer of gold, silver and mercury. Petroleum, diatomite and other minerals are also extracted from the state.
Manufacturing is another key industry with companies producing gaming machines and products, aerospace equipment, lawn and garden irrigation devices, and seismic monitoring equipment. Warehousing and trucking are also significant Nevada industries.
Nevada's economy, however, is overwhelmingly based on tourism, especially the gambling and resort industries centered in Las Vegas. Approximately 40 million people visit the state each year, and gambling taxes are a primary source of state revenue. McCarron Airport is nation's 7th busiest.
Much of Nevada, of which almost 80 percent is federally owned, is given over to military and related use. Nellis Air Force Base and the Nevada Test Site have been the locations of extensive nuclear and aircraft testing. Yucca Mountain is slated to be the primary depository for U.S. nuclear wastes.
Nevada is a great place for businesses as well and has been ranked #1 for economic development programs in terms of job creation, retention and training. Nevada is also consistently on the "Top 10" most business-friendly states lists. There are no corporate or personal income taxes; no inventory taxes; no franchise taxes; no unitary taxes; and no special intangible taxes.
The workforce contains a large percentage of workers with advanced degrees, and there are many customized training programs designed for the needs of the state's leading industries, such as the Train Employees Now program and Silver State Works.
By Rachel Hamilton
City of Henderson
Henderson, Nevada, is located on the southeastern corner of the greater Las Vegas area, and will be a new location for scientific testing of new technology. "The entire state of Nevada is a test site," says Barbra Coffee, director of economic development and tourism for the City of Henderson. "A lot of the testing is done out in the middle of the desert."
Henderson has, she says, "announced a new partnership" with the Nevada Institute for Autonomous Systems (NIAS) and Nevada State College "to provide an urban area for testing unmanned aerial systems [UAS] prototypes."
Emerging UAS companies in the area include Dronesmith Technologies, Praxis Aerospace Concepts and Spectral Sky. "This puts us on the map for attracting more of that and encouraging businesses to come here and collect field data," Coffee says.
"Henderson is strong as a food and beverage manufacturing cluster," says Coffee. The area's proximity to southern California (it is about four hours away from Los Angeles) and the "no tax environment" of Nevada "attract large logistics and e-commerce users."
Healthcare is positioned for growth in Henderson, according to Coffee; the city is home to eleven higher education institutions. Touro University, Roseman University of Health Sciences and the University of Nevada Las Vegas offer, or soon will offer, medical schools.
In addition to educating a healthcare workforce, Henderson has Union Village, a 150-acre healthcare village site "anchored by Henderson Hospital," designed to provide a mixture of senior living accommodations, retail, restaurants and other amenities in an accessible environment.
"As people live longer, they have more medical needs but still want freedom to be somewhat agile on their own," Coffee says. This site gives them "medical access at their doorstep."