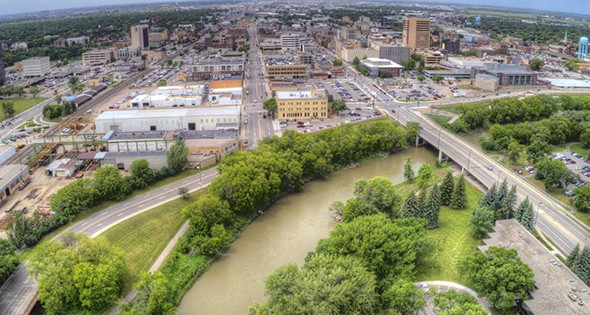 NORTH DAKOTA: Opportunity Zone
10 Oct, 2019
Business incentives, government accessibility, and workforce performance, combined with North Dakota's favorable position as one of the lowest cost states for operating a business, are driving top companies to establish operations in North Dakota.
Energy offers some of the greatest growth opportunities and is already the state's largest industry. The Governor and the Legislature have implemented a comprehensive package of state incentives to stimulate growth in all energy sectors and to create a broad-based energy strategy that maximizes all of North Dakota's energy resources. That strategy is working. Many new renewable energy projects have been completed, announced, or are under construction in the state.
The Centers of Excellence program has been used to strengthen North Dakota's manufacturers and technology based businesses. Samples of Advanced Manufacturing Centers of Excellence include:
Strom Center for Entrepreneurship and Innovation (Dickinson State)
Dakota Center for Technology Optimized Agriculture (Lake Region)
…Center for Advanced Electronics Design and Manufacturing (NDSU)
Center for Surface Protection (NDSU)
Companies such as Microsoft and Amazon call North Dakota home, as well as other high-demand IT users like Unisys and Cargill Global Business Services.
Production agriculture is also an important part of the economy. North Dakota continues to work to diversify its agricultural fabric by targeting the development of value added agriculture. The state's initial focus in this area is to develop local markets for bio-fuels and its co-products working in cooperation with State Agencies, Commodity Groups, Livestock, Bio-energy and others.
North Dakota is also a leader in Unmanned Aircraft Systems (UAS). The state is one of six Federal Aviation Administration (FAA) UAS test sites that conducts research to determine how to best integrate UAS into the national airspace. The University of North Dakota (UND) supports a ground-based, ganged phased array radar system capable of sensing manned or unmanned aircraft within North Dakota. UND is also a world leader in aerospace education, UAS operations and safety. The university offers one of the most established UAS undergraduate programs in the nation.
NORTH DAKOTA: BISMARCK-MANDAN
……………………………………………………………
On the surface the Bismarck-Mandan, North Dakota community looks to be a lot like other growing midwestern communities but as you take a deeper look you will see a community that is truly making its mark.
Let's start with the education system in Bismarck-Mandan. Bismarck is currently the largest public-school system in North Dakota and this fall increased enrollment for the fifteenth year in a row. Mandan not to be out done has increased enrollment eleven years in a row. Bismarck is also home to the Career Academy which is a joint career and technical education center that is shared by Bismarck Public Schools and Bismarck State College.
Speaking of Bismarck State College, this past spring they announced that they are pursuing becoming Bismarck Polytechnic College and offering Bachelor of Applied Science degrees in areas like Cybersecurity and Advanced Manufacturing. Another higher education institution in Bismarck-Mandan, the University of Mary, recently graduated their first engineering student from their new College of Engineering. This continued investment in education lends itself well for companies who are looking to fill their workforce pipeline.
Bismarck-Mandan has seen a 20% increase in population in the last decade and with that comes the need for exceptional quality of life amenities. Bismarck-Mandan boasts over 100 miles of walking trails, multiple recreational activities on the Missouri River, as well as nearby campgrounds, hunting and fishing opportunities. Bismarck is located at the intersection of Interstate-94 and U.S. Highway 83 which provides access to markets across the Midwest and beyond. The Bismarck-Mandan area is serviced by two class-1 railroads and has ample and inexpensive resources like water, natural gas, and power.
As you can see Bismarck-Mandan is a community that has the needs of its businesses covered. The targeted industries for Bismarck-Mandan are value-added energy, food & beverage processing, and farm & construction equipment manufacturing. So let Bismarck-Mandan help your business Make Your Mark.