OHIO: Invention and Reinvention
06 Jun, 2019
The Buckeye state's business environment, skilled labor pool, integrated infrastructure and scale-up opportunities lend themselves to a strong and growing economy for the state. Its strong and growing economy provides stability and predictability for new and growing companies. And Ohio's pro-business tax climate provides companies high-quality results at a lower cost.
Ohio's labor force of 5.7 million with more than 200 educational institutions that combine classroom, technology and hands-on work, guarantees talent today and jobs for tomorrow. Ohio's top teaching and research facilities partner with more than 2,000 companies in the state and around the world to train a talented labor pool.
Especially beneficial for the logistics and distribution industry, Ohio is located within 600 miles of more than half the U.S. and Canadian populations. Easily accessible by road, rail, air and water Ohio also has the nation's fourth largest interstate system.
Manufacturing, agriculture and automotive are side by side with high-tech working environments like Biohealth, IT, aerospace, logistics and financial services. This is the very definition of diversity.
Ohio is home to three National Network for Manufacturing Innovation (NNMI) institutes: America Makes, American Lightweight Metals and Advanced Composites Manufacturing. And with its strong history in the automobile industry, representing the entire supply chain, from raw materials to final vehicle assembly, Ohio has more than 600 auto related enterprises.
OHIO: LORAIN COUNTY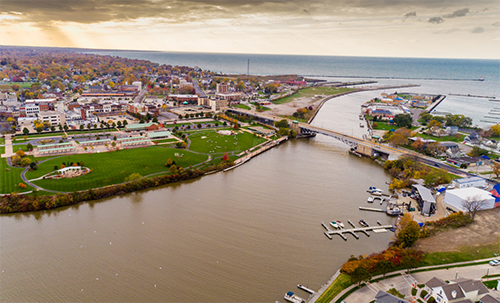 Lorain County has a history of producing things. The northeastern Ohio region either produces items or produces the machines that allow others to produce them. "That's just Lorain County," says Lorain County Community Development Director Donald Romancak. "We've always been a place of production."
That history has rooted lots of industry in the region, from advanced manufacturing to metal and chemical companies. Nordson Corporation, Riddell, Bendix Commercial Vehicle Systems, PolyOne Corporation, and Synapse BioMedical are just a few of the many corporations that call Lorain County home.
The region is looking to attract even more companies to the area, especially those in the area of advanced manufacturing. To do so, the local community college, Lorain County Community College (LCCC), and other community partners like the Chamber of Commerce and local municipalities have invested a great deal of resources into producing an even stronger workforce. That work resulted in not only the Greater Lakes Innovation and Development Enterprise (GLIDE), a business incubator, but also specific two- and four-year degree programs at the LCCC that teach students what they need to succeed in today's workforce, which are the skills needed by many of the area's businesses and focused heavily on technology and automation. "As markets have shifted and the way manufacturers produce things have changed, the skills their employees need have changed," adds LCCC's Vice President for Strategic and Institutional Development Tracy Green. "So from a workforce development perspective, we've been working hard to not only support the existing jobs here but also helping companies transition into a more efficient workforce by creating new programs that are focused on new emerging industries."
In addition to offering a strong workforce and serious skills development, Lorain County ensures its business climate stays friendly with a low cost of doing business and economic development incentives when possible. The county is home to five opportunity zones, and the county and local communities have available land that is also ready for development for industrial, manufacturing, transportation, and warehousing opportunities. "Lorain County has a lot to offer when it comes to putting business growth first and foremost," Romancak adds.
Lorain County also has a lot to offer with its location as well. The area—which is one day's drive of 60% of the U.S. population—is about 30 miles west of downtown Cleveland and is served by two major interstates. It has an active port on the Black River, as well as being close to Cleveland's port and international airport. The region also has Norfolk Southern and CSX rail lines and a regional airport.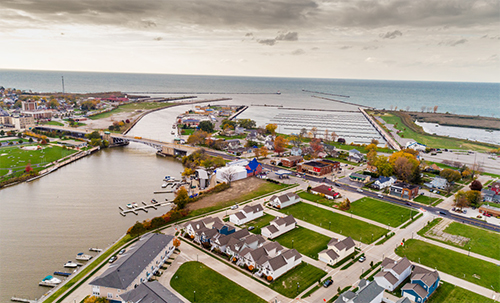 With a convenient location, business-friendly atmosphere, and commitment to developing the local workforce, Lorain County has positioned itself for continued growth for the future. "We will continue to diversity the economic base and expanding on the service industries while also maintaining a strong and robust agricultural sector," Lorain County Commissioner Matt Lundy. "If we do that while continuing to train people for the jobs of today and tomorrow, Lorain County will continue to be a place for production."