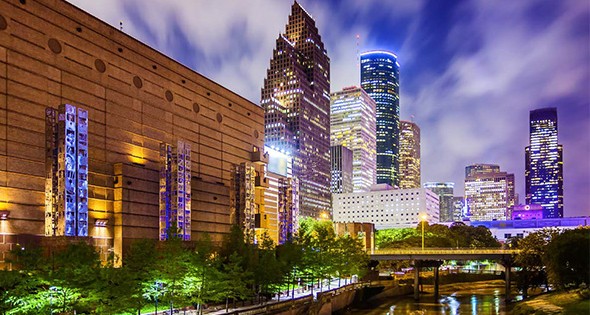 Texas: 10th Largest Economy in the World
05 Apr, 2018
The list of good things happening in the economy of Texas is long, and the environment for business and a skilled workforce keeps getting stronger. If Texas were a nation, it would rank as the 10th largest economy in the world based on GDP.
Texas continues to maintain its position as the nation's top exporter, a title the state has held for 15 consecutive years. In 2016, Texas exported $232 billion in goods to destinations all over the world with Mexico, Canada, China, Brazil and Korea as its top trading partners.
The Texas economy includes 50 Fortune 500 companies, such as ExxonMobil, AT&T, Sysco and American Airlines; more than 1,400 foreign companies such as Toyota, BAE Systems, Siemens and Shell Oil; and 2.4 million small businesses. Texas has the second largest civilian workforce in America, which is made up of 13 million Texans.
Key industry sectors include advanced technology and manufacturing; aerospace, aviation and defense; biotechnology and life sciences; energy; information and computer technology; and petroleum refining and chemical products.
Texas' central location and state-of-the-art transportation network provide access to domestic and global markets via air, land and sea. Texas is also home to American Airlines and Southwest Airlines, two of the largest airlines in the world.
The state has 38 public universities and upper-division centers and 50 community college districts. Four Texas business schools and several universities, including Rice University, University of Texas at Austin, Texas A&M and Southern Methodist University, recently ranked among the best in the world according to U.S. News & World Report.
Cameron
By Loyd McIntosh
…………………………………………..
Since the early 1960s, the Cameron Industrial Foundation (CIF) has been at the forefront of economic development in the small Texas town of Cameron and the entirety of Milam County. Originally formed to raise funds to purchase land for the city's industrial park, the CIF now functions as the marketing arm, recruiting businesses of all types to this small but strategically located community.
Cameron is a town of 5,500 situated approximately two-and-a-half hours from several major Texas cities – Dallas/Fort Worth, San Antonio, Houston, and Austin – and is a perfect location for any business with products to be shipped to major markets.
"We feel like our geography is a big competitive advantage," says CIF Executive Director Ginger Watkins.
One of the companies based in Cameron is EBCO General Contractors, a major builder with projects in hospitality, education and healthcare all over the nation. "They have leveraged this central location to grow their business here, statewide and beyond the borders of Texas," says Watkins.
Other Cameron companies are Ideal Poultry, the largest supplier of backyard poultry in the nation, and Charlotte Pipe & Foundry, a North Carolina-based company that expanded operations in Cameron.
The CIF is also expanding into sports tourism with the construction of Yards of Cameron, a modern youth athletic complex that Watkins hopes will be the beginning of a new business sector in the area. Cameronindustrialfoundation.com
Crockett
By Loyd McIntosh
…………………………………………..
Located almost precisely between Houston and Dallas, the town of Crockett is serious about creating economic growth throughout the region. If there is one word that would accurately describe the mindset of the town's leadership, it would be "competitive." The Crockett Economic & Industrial Development Corporation (CEIDC) has some of the most aggressive incentives available for any company wishing to do business in the Lone Star state.
Working to promote policies that foster growth while protecting the character and quality of life in Crockett, the CEIDC has put into place several programs assisting companies with many of the costs associated to relocate or expand. Crockett, for instance, is an enterprise zone assisting companies with the rebatement of sales tax for the purchase of building materials machinery, equipment, electricity, and natural gas; Crockett offers an equipment purchase and relocation expense program in which the CEIDC may assist in the purchasing of new equipment or assist in the expense of relocating equipment from another facility; and Crockett offers employee relocation expense in which the CEIDC may assist in the cost of relocating existing employees to a new facility.
Heavy industry, particularly steel fabrication, is the primary source of private employment in the area. More than 200 people currently work in the steel fabrication industry, with plastics, rubber molded products, and bioenergy also major employers. Quality of life is also an essential ingredient to prosperity in Crockett. The community boasts low housing prices, low taxes, and an abundance of cultural arts, historic, Agri-life and outdoor recreation available throughout the area. Proximity to several junior colleges as well as Texas A&M and Prairie View A&M Stephen F. Austin, Sam Houston State Universities create significant assets providing education and job training for this growing community. Crockett.org
Dayton
By Loyd McIntosh
…………………………………………..
Located just 38 miles northeast of Houston, the town of Dayton is poised to be one of the next great success stories of the Lonestar State. Formerly known as an agricultural area specializing in rice cultivation, Dayton is diversifying into a manufacturing hub with many companies from all over the world looking to expand operations in the community.
A big part of this success is thanks to the Gulf Inland Logistics Park, a 1,500-acre industrial park. The park is located near three major U.S. highways and features dual rail access to Union Pacific and BSNF Railway transportation routes.
Courtland Holman, the Executive Director of the Dayton Community Development Corporation, believes Dayton is in a unique position to attract many companies to the area. "We are attracting various countries, from Japan and Holland. I'm looking at China, and Canada is looking at locations here in Dayton," says Holman.
With Houston in the community's backdoor, Dayton has many advantages, including an easy reverse commute for people who live in Houston but work in the Dayton area. Also, with more than two million people living within 35 minutes of Dayton, the business community has a large and educated population to pull from for its workforce. Holman also believes the greater area's diversity is a point of strength and wants industry leaders and prospective employees from around the world to know they are welcome in Dayton.
"We're one of the most diverse places in the United States, and we want to maintain that thought process," Holman says. "If we fit their lifestyle, we want them here. We're open for business and we want their business here." Daytontx.com

Gainesville
By Loyd McIntosh
…………………………………………..
Gainesville is poised for immense growth, situated in the Red River Valley area near the Oklahoma border, known colloquially as Texoma. Gainesville is near several important transportation avenues, including major sections of the NAFTA Highway (Interstate 35 and U.S. 82), rail lines and the Dallas/Fort Worth Airport, which is just an hour drive away.
To take advantage of the community's strategic location, the city and the Gainesville Economic Development Corporation (GEDC) have recently completed the construction of the community's third industrial park, The Gateway Industrial Park. "We hope to close on our first client in the next three to four weeks," says Arleene Loyd, Executive Director of GEDC.
The 126-acre, shovel-ready park is located just north of Gainesville with easy access BNSF rail lines, which Loyd believes will be an important asset for new companies looking to expand in the area.
"There are opportunities at some point in time in the future for the right client to put some rail spurs in for rail service," Loyd says.
While mostly known as a ranching and farming community, Gainesville is home to several advanced manufacturing companies, including Zodiak Seats, one of the world's largest airline seat manufacturers. "If you fly overseas, there's an eighty percent chance you're sitting on a seat maybe made in Gainesville, Texas," says Loyd.
Other success stories in Gainesville include Dura-Line, part of Mexichem, one of the largest chemical and petrochemical companies in Latin America, and MFG-Texas Molded Fiberglass, a manufacturer of truck body parts, which celebrated its 20th anniversary in 2017. GainesvilleEDC.com
Harlingen
By Loyd McIntosh
…………………………………………..
Strategically situated in the Rio Grande Valley in Southern Texas, the city of Harlingen and the surrounding region might be one of the best-kept secrets of the Lone Star State.
With an in-city population of just over 70,000 and a population of more than one million within a 45 minute radius, Harlingen also benefits from several other advantages, such as being located in a Foreign Trade Zone, Freeport Tax Exemption, no personal state income tax and no corporate income tax. All of these factors point to Harlingen as a strategic location for a large business interested in expanding its operations or an aspiring entrepreneur looking to establish a new small business.
"Harlingen is positioned to welcome many different types of businesses," says Kayla Thomas, Commercial Development and Marketing Manager of the Harlingen Economic Development Corporation (HEDC).
Harlingen's business climate is perfect for companies specializing in logistics, distribution, manufacturing, healthcare, technology and those that are also interested in launching something new – literally. The HEDC has spurred major growth in aerospace with companies like United Launch Alliance (ULA) and SpaceX basing operations in the Rio Grande Valley.
"ULA has been assembling rocket parts in Harlingen for more than 25 years, and SpaceX is building a new launch facility just down the road," says Thomas. "This positions Harlingen as the next home for the aeronautical and aerospace industry."
The HEDC has helped companies from many sectors to either relocate or expand into Harlingen and the Rio Grande Valley, such as United Healthcare, Dish Network, Penske Logistics, Qualfon, and CARDONE Industries, the world's largest auto parts manufacturer that just broke ground on a nearly one million square-foot distribution center in the Harlingen Industrial Park.
With other major projects creating jobs and contributing to the local economy like multiple growing shopping centers and the Harlingen Industrial Park, Harlingen may not be a secret much longer. Harlingenedc.com.
Marble Falls
By Loyd McIntosh
…………………………………………..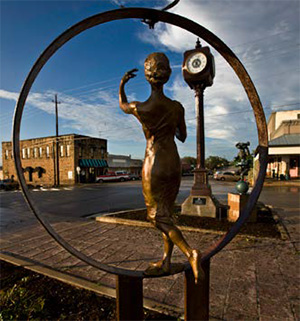 Marble Falls is located 45 minutes northwest of Austin and is in one of the country's most booming economic areas. The town of roughly 7,100 people has benefited greatly from the growth of the Texas capital without losing its character in the process.
In the early 1990s, the city established the Marble Falls Economic Development Corporation (MFEDC) to focus on bringing businesses and jobs to the area, mostly in the light manufacturing sector. However, recently the MFEDC has transitioned to quality of life issues, such as revitalizing downtown, boosting opportunities for small-business entrepreneurs and outdoor recreation on the Colorado River.
"Our focus recently has been in the downtown areas simply because we've got a lot of great assets to begin with that we can build upon," says Christian Fletcher, Executive Director of the MFEDC. "We would love to see more office development, so we could have more professionals downtown who can patronize the restaurants and the stores downtown."
Despite its small size, Marble Falls is the economic hub for the Highland Lakes region. The town's businesses generate an average of $2 million in gross sales every day. The goal for the city's future, Fletcher says, is managing the right kind of growth for Marble Falls. "Everybody sees what has happened in Austin and the communities right next door that have been kind of steamrolled by growth," says Fletcher. "We have a little more of anindependent vibe and we don't mind that our growth has been very steady and solid but not overwhelming and uncontrollable."
Among the areas of growth MFEDC is pursuing include more retail to the area as well as additional businesses for the Marble Falls Business and Industrial Park, which will likely be opening up 30 additional acres in the near future. Marblefallseconomy.com
Marshall
By Loyd McIntosh
…………………………………………..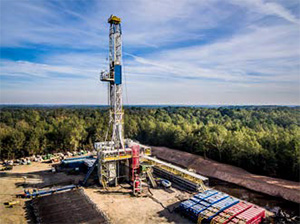 The Marshall Economic Development Corporation (MEDCO) has been spurring economic growth in this east-Texas community for close to 30 years. Launched in 1991, MEDCO was established to attract new industrial and manufacturing businesses, to help expand existing local businesses and to develop a workforce throughout the area.
"The entrepreneurial spirit of Marshall drives innovation and growth. The culture is dedicated to a healthy business environment which promotes and sustains growth," says Donna Maisel, Executive Director of MEDCO. "It's a place where educational institutions meet the demands of today's evolving business dynamics."
Marshall's manufacturing base is currently centered on wood cabinetry, military defense subcontracting, chemicals and commercial agricultural food supply. However, Maisel says MEDCO and the Harrison County Manufacturing Council are seeking to further diversify the area's business cluster and is actively recruiting companies from such sectors as cutting-edge technology, plastics, energy, advanced manufacturing and transportation/distribution.
To prepare for the future, government and business leaders came together a decade ago to develop fiber optics throughout the community as well as modern office space with integrated support. This forward-thinking decision put Marshall in a position to compete.
"This expansion, more common in major urban markets, allows technology companies to begin and grow in a lower overhead environment," says Maisel. "Within this public-private partnership, the ideal environment for growth is available for a fraction of what it would cost in urban areas."
With a healthy small business community, an abundance of outdoor recreation, an educated and vibrant workforce, and low housing costs, Marshall is an ideal location to start a business, expand a company, or raise a family. Marshalledc.org
Plainview/Hale County
By Loyd McIntosh
…………………………………………..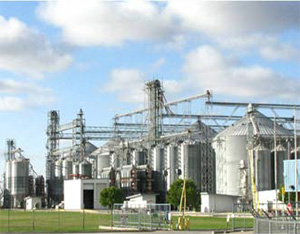 Launched in 1966, the Plainview/Hale County Economic Development Corporation was established to promote job creation and further the economic health of this largely agrarian west Texas community.
Historically centered on crop farming and food processing, the community is in the middle of a resurgence, expanding into several business sectors, including manufacturing, warehousing and distribution, and aerospace.
However, Michael Fox, Executive Director of the Plainview/Hale County EDC says the community is making tremendous inroads in wind energy.
"We are in an area known as the Saudi Arabia of wind," says Fox. The community is home to the Hale Community Wind Energy project, the world's largest community-owned wind farm. The project is a 478-megawatt farm, providing hundreds of jobs in the area, from construction to well-paying technicians trained to ensure proper function of the state-of-the-art turbines.
With a low cost of living and a low unemployment rate of just over four percent, the 22,000 Plainview/Hale County has "rebounded nicely" since the closing of Cargill Meat Solutions in 2013, a large food processing plant that employed close to ten percent of the community's residents. Fox says the EDC and the area's elected leaders are focused on ensuring the business community is healthy and diversified.
"We're trying to diversify with companies employing fewer people so that we don't find ourselves in a similar situation ever again," says Fox.
Recently, Plainview citizens approved a bond to address downtown revitalization, infrastructure improvements and recreational resources. "We have a lot of things happening that show we're progressing and moving forward," Fox says. Plainviewedc.org