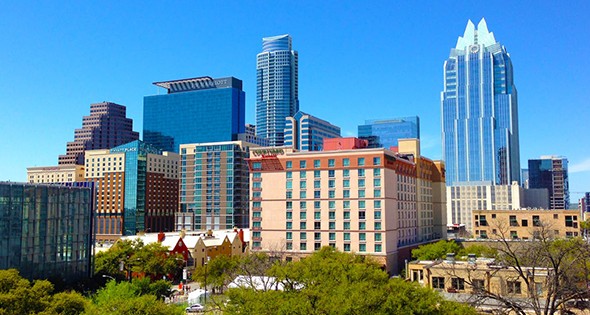 TEXAS: Made in Texas
14 Apr, 2020
Texas is where liberty lives. That's why the Lone Star State leads the nation in job creation and in population growth over the last 14 years.
As the 10th largest economy among the nations of the world and home to nearly 50 Fortune 500 headquarters, Texas offers a business-friendly climate – with no corporate income tax and no personal income tax – along with a highly skilled workforce, easy access to global markets, robust infrastructure and predictable regulations.
That's why Texas continually ranks as the best state for business. CEOs who relocate to Texas cite the differences as "night & day" when it comes to the improved quality of life and good schools, along with the job-ready workforce.
Lower energy costs, together with lower land costs and fewer land-use restrictions, also mean lower operating costs for businesses and a lower cost-of-living for their employees.
Those are some of the advantages that helped Texas win the Governor's cup for the most new and expanded corporate facility projects in the nation – for the seventh year in a row.
"Made in Texas" is a powerful label. And by unleashing the power of entrepreneurs and innovators, and securing the freedom to aspire, Texas will long remain one of the best states for businesses large and small.
TEXAS: HARLINGEN
Strategically situated in the Rio Grande Valley in Southern Texas, the city of Harlingen and the surrounding region might be one of the best-kept secrets of the Lone Star State.
Harlingen is in a great location in terms of market accessibility, which opens the door to draw in more investors to the area. Harlingen is connected to major metro areas through its airport, proximity to Mexico, the Port of Harlingen, and the interstate system. Plus, Harlingen also boasts a low cost of living, which can be enticing for outside companies looking to relocate or expand.
With an in-city population of up to 1.3 million within a 45-minute radius, Harlingen also benefits from several other advantages, such as being located in a Foreign Trade Zone, Freeport Tax Exemption, no personal state income tax and no corporate income tax. All of these factors point to Harlingen as a strategic location for a large business interested in expanding its operations or an aspiring entrepreneur looking to establish a new small business.
Harlingen's business climate is perfect for companies specializing in logistics, distribution, manufacturing, healthcare, technology and those that are also interested in launching something new – literally. The Harlingen Economic Development Corporation (HEDC) has spurred major growth in aerospace with companies like United Launch Alliance (ULA), that has chosen Harlingen for more than 20 years, and has helped companies from many sectors to either relocate or expand into Harlingen and the Rio Grande Valley. Those companies include United Healthcare, Penske Logistics, Qualfon, and CARDONE Industries, the world's largest auto parts manufacturer.
The HEDC has a lot to proud of and our industrial sector has made great strides in 2019. The HEDC worked with Poly Sachi Polymers to set up a relocation of the plastics firm to the Harlingen Industrial Park from their location in Taylor, Texas. Harlingen is also proud of the expansion happening at Valley International Airport through the addition of new airlines, more frequent flights, and FedEx's Express facility, which brought the airport up to rank as 71st in the nation in terms of cargo facilitation.
There are many other major projects creating jobs, improving our workforce, and contributing to local economy. Harlingen may not be a secret much longer. Learn more about why your business should choose Harlingen for business and much more by visiting our website for more information: www.harlingenedc.com.
TEXAS: MARBLE FALLS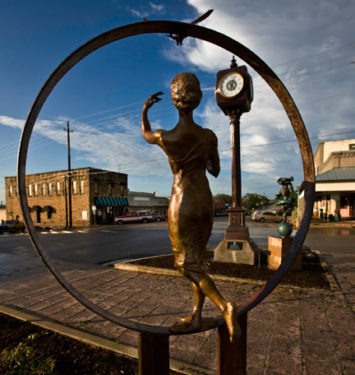 Business Friendly. Family Friendlier Marble Falls is perfectly situated in the Texas Hill Country, 50 minutes from Austin, 90 minutes from San Antonio, and 3 hours from Dallas/Fort Worth and Houston. All roads lead to Marble Falls.
2019 was another solid year for Marble Falls. Taxable sales set a new record at just over $476 million, an increase of about $34.1 million, or 7.72% over the previous year. For reference, the state as a whole grew by 4.71% in 2019.
The retail sector grew by 11.22%. Construction is up an astounding 176.78%. Because Marble Falls is the economic hub of the Highland Lakes region, development activity along the lakes and throughout the large unincorporated areas of Burnet and Llano Counties benefits Marble Falls more than any other area community. Also contributing to the upward economic trajectory are strong population and household income growth in Marble Falls's primary retail trade area. The percentage of the RTA population with an associates degree or higher has increased from 30.1% to 33.4% in the last three years. Workforce development remains a key focal point for area economic development agencies.
Downtown Marble Falls is the city's third largest employer. It also happens to be the community's largest concentration of locally-owned businesses. Efforts have been focused on developing Downtown Marble Falls into a destination for both locals and visitors. Strategies have included supporting existing business owners, preserving and enhancing historic buildings, partnering on parks projects, and welcoming new investments in the area. Downtown Marble Falls is poised to be the perfect blend of heritage and progress.
Now in 2020, the Marble Falls Economic Development Corporation remains committed to enhancing the community's appeal as a destination through the commencement of Phase 1b of the Park Improvement Plan and finalizing a development deal to bring a hotel and conference center to the Downtown area. The recent expansion of the Business & Technology Park should result in several new businesses. A couple of new, master-planned subdivisions on the south side of town should deliver their first lots in the coming year, and some exciting retail and entertainment projects are expected to be announced very soon. Community leaders have very high expectations for 2020.
For more information, please contact the Marble Falls EDC at 830-798-7079 or visit their website at www.marblefallseconomy.com
TEXAS: MARSHAL
Marshal, offers competitive advantages in manufacturing, distribution, & education
Laborshed & Location:
Marshall's regional laborshed, within a 45-minute commute, includes East Texas and Northwest Louisiana. Marshall has 25,000 people and draws employees from rural and urban communities. The laborshed includes approximately 350,000 workers of 772,000 total population. Marshall is centered in the region at the intersection of I-20, 2 hours east of Dallas, and US Hwy 59 (I-69 Corridor), 3 hours north of Houston, near the Texas/Louisiana border.
Manufacturing Workforce & Training
Marshall has a high concentration of production occupations (1,330 employees, LQ of 1.79) within the laborshed (24,000, LQ 1.15). Manufacturing supports 24% of all wages in Marshall (12% in laborshed). Defense contract metal fabrication has been a vital employment resource.
Marshall has 4 post-secondary institutions within the city. Texas State Technical College (TSTC) offers certificate and associates programs designed for regional industry demand. Courses include process operations, precision machining, automated controls, and industrial maintenance. TSTC and local high schools have dual enrollment workforce programs.
Access & Lower Cost
Being located along major thoroughfares, provides advantages for access. I-20 moves loads from west to east coasts. US Hwy 59 (I-69 Corridor) carries shipping from Mexico and the Port of Houston. Marshall Economic Development Corporation (Marshall EDC) controls over 1,000 acres for business expansion. 45 acres are site ready with 250 acres in development.
Area utility rates are approximately 29% below the national average. Utility-served land is available along I-20 at reasonable rates. Texas has no personal income tax and local property taxes rank near the Texas median.
Service
Marshall is pro-industry and seeks new opportunities. Marshall EDC employs two CEcDs and is an advocate and service provider to its primary employer base. To learn more, contact Executive Director Donna Maisel, CEcD, Marshall EDC, (903) 934-8035, dmaisel@marshalledc.org,or visit marshalledc.org.
TEXAS: PALESTINE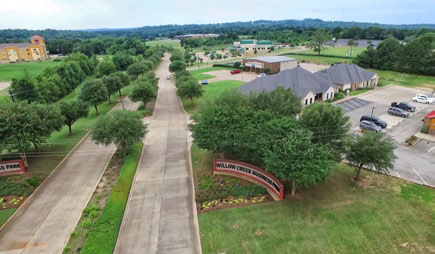 Palestine (pronounced pal-es-teen) is a naturally beautiful city in the Piney Woods of Northeast Texas mid-way between Dallas and Houston. Its location, at the intersection of five major highways leading to those metroplexes and Austin, provides excellent accessibility. Lake Palestine, which is located nearby, is among the largest in Texas and offers both recreation and an infinite supply of water.
Founded in 1846, Palestine is the seat of Anderson County. Its spectacular courthouse oversees the three areas of the city's core: Courthouse Square, the Downtown District, and Old Town. This 44-block area is currently the focus of a long-range restoration program – spearheaded by the Palestine Economic Development Corporation.
Small businesses are the lifeblood of the downtown region, offering a variety of dining, specialty products, and cultural fare. Virtually all of the buildings are historic and contribute to the unique charm and distinctive architectural style of Palestine. Surrounding the downtown are businesses of every type – industrial, distribution, retail, medical, hospitality and dining.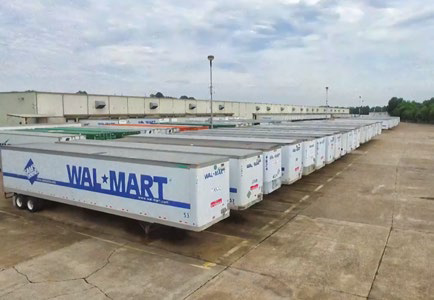 Palestine is currently experiencing population growth and is in the process of adding new apartment buildings and a variety of restaurants and retail. The City is proud to offer both a mix of independent family-owned and operated establishments and larger name-brand entities.
Highway 79 is the main industrial corridor – with oil and gas support industries, distribution centers and a variety of general industry. Visit Palestine Economic Development Corporation at palestinetexas.net Palestine is a delightful place to explore, to invest in, and to call home.
TEXAS: TOMBALL
Tomball, Texas is where the best of business, lifestyle, education and transportation converge. Those who experience the Tomball community instantly recognize its uniqueness. A strong history blends with innovation; a sense of community combines with a thriving business environment; and local partnerships have global impacts. From corner stores to Fortune 500 companies, Tomball is focused on business! A skilled workforce, low property taxes, and a well-connected transportation system provide an ideal backdrop for your business to prosper. The Tomball Economic Development Corporation promotes job creation by encouraging attraction, expansion and retention of business by way of: assisting with site selection; identifying incentives; connecting to workforce resources; and providing business and industry data.
The Tomball Business & Technology Park, a project of the Tomball Economic Development Corporation, encompasses 99.5 acres of land within the City of Tomball. The Park is Master Planned and Deed Restricted with a Light Industrial zoning classification. The Park is fully served with all utilities and provides off-site detention. Its flexible lot sizes and competitive pricing combined with low property taxes and a skilled local labor force make the Park an attractive location for new and expanding businesses. There are +/- 58.5 usable acres still available.
For more information on all the opportunities in Tomball, please call the Tomball Economic Development Corporation at 281-401-4086 or visit their website at tomballtxedc.org .