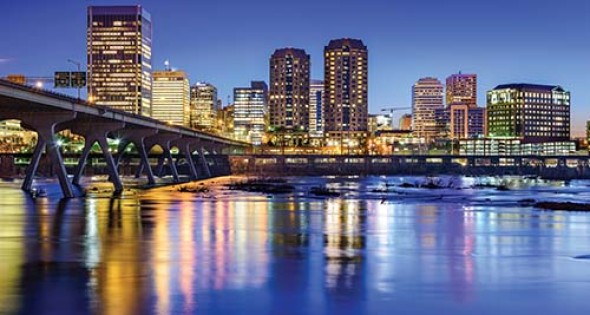 Virginia: Gateway to Business
18 Jul, 2016
By Lori Culpepper
Virginia, officially the Commonwealth of Virginia, is a leading gateway to successful business in North America. More than 750 internationally owned companies call the state home. With exceptional infrastructure, a strong education system, dynamic workforce, strategic location and a pro-business climate, Virginia provides a solid foundation for growth.
Virginia has been called the "best state for business," but they consider this to mean more than owning titles that are awarded annually by industry publications and media sources. They consider being the best to mean being consistent and performing at a high level for decades. Easy access to domestic and global markets, Washington Dulles International Airport, The Port of Virginia and a 6 percent corporate income tax rate that has not been increased since 1972 are factors that contribute to Virginia's strong economy. There are approximately 22,000 doctoral scientists and engineers employed in Virginia, and there are more than 19,300 high-tech establishments operating in Virginia.
Virginia will add 2,000 jobs to Chesterfield County with the new Tranlin Paper Company. Through the Unitao pharmaceutical project, 376 jobs will be created by keeping a plant open in Petersburg. Gov. Terri McAuliffe also helped close the first economic development deal in Appomattox in 12 years, and their largest in 44 years. A Chinese company will take over a closed plant and manufacture pollution control devices that they will then ship back to China, creating 349 Virginia jobs in the process. Virginia also outcompeted 200 cities across the nation to bring Stone Brewing to Virginia, and they successfully attracted Continental Automotive's major expansion in Newport News.
McAuliffe set a goal last year to make Virginia the East Coast capital for agriculture and forestry exports. To this end, the state hosted 18 ambassadors to discuss a range of trade issues. Representatives from Virginia also traveled the globe selling Virginia agricultural products, including everything from apples and wine to soybeans and peanuts. For the first time in the history of Virginia, agriculture and forestry exports exceeded $3 billion dollars in 2015.
In the past five years, international companies have announced more than 15,000 new jobs and $4.6 billion in investment in the state. These companies contribute to Virginia's economy by enhancing international trade. In 2014, sales of international goods and services from Virginia to the world were valued at $35.3 billion. Internationally owned firms in Virginia are often significant exporters of locally made products.
Virginia offers customized recruiting and training services through the Virginia Jobs Investment Program. As a result of advanced training and education, combined with a vast diversity of skill sets, Virginia's workforce is a great asset, and one of business's greatest advantages. The state also has one of the nation's most educated workforces with one in three Virginians holding a bachelor's or advanced degree.
Virginia is home to a strong presence of federal research and development activities, including 11 Federally Funded R&D Centers and 23 Federal Laboratory Consortiums such as the Homeland Security Institute, NASA Langley Research Center and the Thomas Jefferson National Accelerator Facility.
Virginia ranks among the top 10 states best prepared to navigate the changing economy, in terms of being knowledge-based, globalized, entrepreneurial, IT-driven and innovation-based, according to the "2014 State New Economy Index" published by the Information Technology and Innovation Foundation.
Bedford County
By Rachel Hamilton
The International Critical Infrastructure Security Institute (ICISI) began in early July in Bedford County, Virginia, out of the Center for Advanced Engineering and Research (CAER). ICISI will be able to "credential professionals and cyber security plans" for power generation facilities, according to Traci Blido, Economic Development Director (EDA) for Bedford County.
"We're about 75,000 people. Ag is a big aspect here, but our big industries are pharmaceuticals and nuclear energy—and machine automation: robotics, machine shops, advanced manufacturing," says Blido. Manufacturing includes Valley Processing and Light Sheet Solutions, and the county's incentives are part of the draw.
The county is in the jurisdiction of the Virginia Tobacco Region Revitalization Commission (TRRC). "We can apply for specific incentives related to job creation," Blido says. "As long as they're adding investment and they're adding jobs, our EDA will talk to them and see what they need to be successful."
The Bedford County EDA "owns three business parks and does marketing for" Little Otter, a privately owned park, according to Blido. The county owns the New London Business and Technology Park (which is home to the CAER), a park in Montvale and the Bedford Center for Business (BCB). Central Virginia Community College is located within the BCB to facilitate the ease with which employees may attend training classes.
Bedford County is "known for building its own workforce," says Blido. On the Community College site, they have a STEM Academy that allows students to finish high school with an associate's degree. The county is also "between Roanoke and Lynchburg, so we're able to draw a larger workforce that way," she says.
"It's a good place to raise a family," Blido says. "Your kids can go to public schools, meaning our public schools are outstanding. We're really proud of that." The county is also home to Smith Mountain Lake and its 500 miles of shoreline, and because it is relatively rural, there is very little traffic which with to contend.

Lunenburg County
By Rachel Hamilton
Lunenburg County is in Virginia's Piedmont area, in the southern portion of the state, east of the Appalachians. The County does not have a lot of manufacturing, but in the last year Global Refining Group has begun recycling catalytic converters. "They're growing and doing a little better than they had planned. That's the 'un-manufacturing' side," says Beverley Hawthorne, community development director for Lunenburg County.
"We are looking for manufacturing. The mainstay in our county is ag and forestry," Hawthorne says. "We have a growing number of niche farmers, and some of them organic certified. We are working with some of the other counties in our region in bringing all these niche farmers together in hopes that a small food processing plant might be in order."
"We are very pro ag around here. Anything that would have to do with promoting ag whether it be trucking, refrigeration, food hubs—we'd love for them to look at us," Hawthorne says. "We have quite a few privately owned buildings available. We need some people to come in and look at these interesting old buildings." Lunenburg County has low taxes and land available as well.
"We do have some incentives," Hawthorne says, noting that the county is part of the Virginia Tobacco Region Revitalization Commission. "Both of our towns are enterprise zones."
"We also are a hub zone and very close to Fort Pickett. Companies located here […] because we're a hub zone they can work for the federal government where other people can't," says Hawthorne. Lunenburg County is also a Federal Trade Zone.
About 50 percent of the workforce currently commutes out of Lunenburg County, Hawthorne says. "Most of them are here because they have been somewhere else and they have come back," and are raising families in communities in Lunenburg.
"We are a pretty friendly area as far as businesses are concerned," she says. The county is also within an hour and a half drive of Raleigh and Richmond, as well as about two hours from the nearest beach or mountains.
Brunswick County
By Rachel Hamilton
Dominion Virginia Power "invested $1.3 billion to build a power plant" near Lawrenceville in Brunswick County Virginia, according to Joan Moore, Executive Director of the Brunswick County Industrial Development Authority. The plant went online in early June 2016.
The plant is powered by natural gas. "With the help of the tobacco commission, we were able to get a lateral built from one of the counties west of here to bring a large volume of natural gas," Moore says, explaining that a lateral is a pipeline that runs from Texas to the northeastern states.
"Bringing that line in, we can not only serve the dominion power plant, we can work at bringing in other industry that uses a large quant of natural gas," Moore says.
"We have a pretty solid infrastructure in place," says Moore. "We've done quite a bit of work on the water and sewer […]. We're working to tap another water supply that's available to us." Virginia's version of the EPA, the DEQ, has granted a permit to the county to "tap the [Meherrin River] to bring in another 8,000 gallons per day. We're making plans to make that quantity of water available."
"We're served by Mid Atlantic Broadband so we have fiber optics already in place," Moore says, so companies in the county can, "communicate with the world from here."
The county also has access to Interstate 85, which dissects the county, as does U.S. Highway 58, which allows access to the Port of Virginia. "We're also going after logistics and distribution businesses because of the highway access we have here."
Brunswick County has now repealed their merchant's capital tax. "That's beneficial because they won't have to pay taxes on their inventory," Moore says.
"We're pro-business and we're looking to grow," Moore says. The county has been historically rural and agricultural, with some manufacturing including brickmaking. Redland Brick in Lawrenceville is the third largest brick manufacturer in the country, Moore says.

Culpeper County
By Rachel Hamilton
Culpeper County is near the Blue Ridge Mountains about an hour southwest of Washington D.C. in northern Virginia and about 40 minutes from Charlottesville, home of the University of Virginia, according to Carl Sachs, director of economic development for Culpeper County.
Culpeper County's information technology sector is strong. It is the home of the Terremark Data Center and the Society for Worldwide Internet Financial Transactions (SWIFT), according to Sachs. The county has fiber optic internet capability with "a lot of dark fiber," (underground cables) available.
"Our other primary base is manufacturing," Sachs says. Examples include EURO-Composites, Corp., Continental and GE Connectivity.
Continental, an international automotive supplier, has invested $50 million to renovate its Culpeper plant, which is preparing to supply autonomous vehicle manufacturers. They chose to do this in Culpeper, Sachs says, for the productivity advantages over the low wage cost of operating in Mexico, the company's other option.
"We've got a great workforce. […] About half of our workforce leaves our county to go to work," Sachs says, noting that companies moving to the area would "have their pick of commuters."
Culpeper County is also a destination for tourists interested in the history of the Civil or Revolutionary Wars, and for those interested in agro-tourism. "We've got an alpaca farm," Sachs says, adding that they also have "the state's first legal distillery."
The area is served by Amtrak as well as Norfolk Southern and CSX rail. It has a general aviation airport, Culpeper Regional, with a charter service "to fly people anywhere in the country," says Sachs.
The culture in Culpeper County is pro-business, Sachs says. The county's officials look for solutions for businesses, and when a new business wants proof, Sachs says, "We say go talk to a business and ask about the government."
Staunton
By Rachel Hamilton
"The city's most recent project" is the development of Staunton Crossing, a 300-acre business park at the intersection of Interstates 81 and 64, says Courtland Robinson, assistant director of the Dept. of Economic Development for the City of Staunton, Virginia.
"Twenty-five acres are on contract for a commercial project. The rest is being primed for industrial and commercial customers," says Robinson.
The park has fiber optic internet infrastructure and access to CSX rail in addition to the interstate highway access. "That is important because sites like that are becoming harder and harder to find in the mid-Atlantic region," he says. "We have a concentration of logistics and distribution because of our access to major interstate highways and rail and easy access to [The Inland Port of Virginia in Front Royal], and the Port of Virginia in Norfolk."
The city already has the Green Hills Information and Technology Center, a business park which includes Dominion Virginia Power, Graphics Packaging International and Cadence, Inc. Just northeast of the Green Hills park is the Shenandoah Valley Regional Airport, providing general aviation.
"Because of the Shenandoah Valley, we have strong natural resources," Robinson says. This includes water, and Shenandoah Valley Water processes and bottles spring water in the Green Hills park.
Graphics Packaging International (GPI) recently purchased Carded Graphics, a local company that had grown from a handful of employees to "an employer of 250 individuals," Robinson says. "It was bittersweet to see them be purchased." GPI has now announced a $20 million expansion to increase their production for the craft beer market and to add 42 new jobs.
"Our workforce obviously reflects the region and metros in proximity," says Robinson. People commute into Staunton from surrounding towns like Charlottesville, the home of the University of Virginia. Valley Vocational Technical School and Blue Ridge Community College help train workers to meet employer needs.