Wisconsin: Fiscal Responsibility, Can do Spirit
27 Jun, 2018
From a business-friendly tax approach and minority business funding to training grants and tort reform, Wisconsin is creating an environment that spurs investment and instills confidence in the future. With a balanced budget and a fully funded pension system, state leaders understand the importance of fiscal responsibility in helping business owners expand their operations in Wisconsin. Key industries include aerospace manufacturing, biohealth, energy, power & control, food & beverage, and forest products.
A significant investment in workforce development ensures that workers in Wisconsin are ready to do the jobs that drive a business. That is for today and tomorrow. This spirit helps
Wisconsin to be poised to lead new industry advancements across many sectors. The blend of public-private partnerships across industry, government and academia are key ingredients which help fuse this state into an economic development powerhouse.
Wisconsin by the numbers:
Number one paper making state in the country
17 engineering related schools
Produces 1/3rd of all cheese consumed in the U.S.
The land of 10,000 lakes actually has 15,000 lakes
Leads the nation in exports of cranberries, whey, ginseng
root and sweet corn
Madison Region Economic Partnership
By Paul Jadin, CEcD, President, Madison Region Economic Partnership
You may know Madison as the Wisconsin State Capitol, Wisconsin Badgers, and a community on the shores of four beautiful lakes with the heart of the city resting on an isthmus.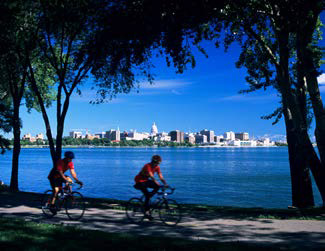 Did you also know that Forbes ranked Madison Region in their Top 50 Best Places for Business and Careers and listed as the top city for Tech Talent Growth in CBRE's annual list of tech momentum markets?
There are many reasons that the Madison Region is the best place to live, work, invest and play. Here are my top five:
5.  Infrastructure: The Madison Region is centrally located with easy access to major interstates, rail, air and ports. Airlines continue to add direct flights between Madison and other major cities.
4.  Natural resources: Our ample access to open spaces and plentiful water makes the Madison Region the perfect place for successful agriculture, food and beverage operations as well as outdoor adventures.
3.  Talent: It's widely known that Wisconsin's heritage includes a work ethic second to none. Thanks to our University and technical college systems, the Madison Region is home to educated and hardworking people in traditional and high-tech industries.
2.  Entrepreneurial Ecosystem: The Madison Region is teeming with resources for entrepreneurs including accelerators, mentors, space, networks and capital.
1. University of Wisconsin – Madison: The University continues to remain a research powerhouse, ranking sixth in research activity with just under $1.1 billion in annual expenditures for research across all fields. In fact, just last year, it was ranked as the 18th most innovative university in the world in the ARWU (Academic Ranking of World Universities) conducted by Shanghai Jiao Tong University.
My community offers world-class research facilities, exceptional technical colleges, an absurdly convenient airport and easy access to major metro areas. If you've never been, I encourage you to plan a visit. Enjoy a football game at Camp Randall Stadium, a scenic drive through the Baraboo Bluffs and stop by New Glarus Brewing Company. You won't have trouble imagining a life that includes Madison.
Portage County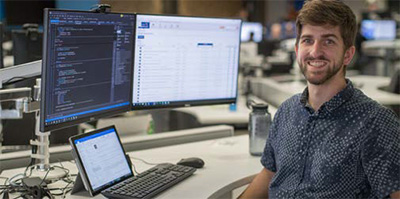 Portage County's economic development message is short and sweet: Where Economic Vitality Meets Quality of Life!
With the Wisconsin River flowing through the county offering all sorts of water sports complemented by hiking trails, mountain biking areas, skate parks and more, it's easy to see where the term "Quality of Life" came from. "People can ski here 12 months out of the year—sometimes on snow and sometimes on water," says Portage County Business Council Executive Director Todd Kuckkahn with a smile. "Our recreation is year-round."
Those recreational opportunities got the area voted as a "Top 200 Town for Sportsmen" by Outdoor Life. And the accolades for Portage County don't end there. It's also one of the "Top 10 Places to Live" by Relocate America, voted "#6 Best Small City for Families" by Forbes.com, a "Top 10 Dream Town" by Bizjournals, and one of the "Top 25 Places to Retire" by CNNMoney.com. "We are a small but proud community, and we have a strong work ethic," Kuckkahn says. "We're also a community that likes to support each other, and we want people to feel welcome when they come here."
Numerous businesses and corporations have also made the area home, especially those in information technology, manufacturing, and agriculture, Kuckkahn says. And many of those companies are expanding. Sentry Insurance is currently constructing a new seven-story building near its existing campus, and will hold approximately 500 employees. "It will house the company's claims department, and includes a restaurant and other amenities. It's going to be a great addition to our community," he offers.
Portage County has been welcoming thousands of students to the area, who attend either Mid-State Technical College or the University of Wisconsin-Stevens Point. "That is a huge advantage for the area that we offer both a two-year technical college and a four-year university," Kuckkahn says. "We're attracting about 8,400 students to the four-year university, and only about 20 percent of those are actually from the immediate area. And about 80 percent of students at the two-year college are staying here. So we are offering a good pipeline of skilled workers to local companies."
Another exciting development in Portage County comes from the University of Wisconsin-Stevens Point. This fall the university will open a new chemistry and biology building. "The university has one of the strongest STEM programs among our state schools and is very excited about the new opportunities this fall."