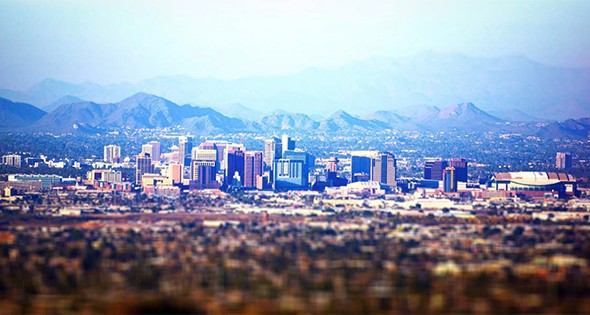 ARIZONA: Economy Continues to Rank Near the Top
02 Oct, 2019
According to the Phoenix Business Journal a new study (from WalletHub) ranks Arizona's economy as among the best in the country listed ahead of one of its chief rivals (Texas) for attracting relocating companies. It goes on to say that the state has added nearly 300,000 jobs since 2015 and Arizona posted the fourth-best GDP growth in the country last year with more people moving to Maricopa County and the city of Phoenix than anywhere else in the nation, according to recent Census data..
Arizona has lowered taxes, streamlined regulations, and established incentives to support corporate growth and expansion. The Arizona Competitiveness Package, groundbreaking legislation adopted nearly a decade ago, makes it easier for existing Arizona companies to prosper and establishes the state as one of the most desirable places for expanding companies to do business.
Arizona's economy is projected to outpace U.S. economic growth over the next several years as the state's population, employment and personal incomes are expected to increase faster than the national average. As the number of technology, aerospace, defense and bioscience companies making Arizona their home increases, science, engineering, mathematics and technology jobs are projected to continually increase. To meet the needs of that accelerating job market, Arizona has created a wide variety of skilled workers and a growing influx of talent. Job Training grants reimburse up to 75% of eligible training expenses for employers creating new jobs. National rankings place Arizona second in workforce quality and availability and first in higher-education degree output.
Arizona's most important and fastest-growing sectors include technology and innovation; aerospace and defense; bioscience and health care; and advanced manufacturing.
Arizona's technology sector is comprised of a wide variety of companies employing cutting-edge technology, and the state is home to a number of specialized IT clusters, including educational software, nanotechnology and photonics. Aerospace and defense employment is projected to increase by 10% annually through 2019. Major defense contractors, such as Raytheon, Boeing, General Dynamics and Honeywell have received more than $6 billion in defense contracts for work being undertaken in the state.
Another important aspect of Arizona's economy is that it is the only state immediately accessible to Mexico, Texas and California, three of the world's largest economies. The state fosters cross-border relationships through organizations such as the Arizona-Mexico Commission, a strategic partnership with Sonora, Mexico, to facilitate cross-border trade, business and networking.
ARIZONA: FLAGSTAFF
……………………………………………………………………..
Think of a destination for travelers from around the world which is also home to a population with over 1,220 patents in the last 40 years.
Think Flagstaff. Visit. Discover. Grow. Flagstaff.
As the U.S.A. is celebrating the 50th Anniversary of the Lunar Landing, every astronaut who set foot on the moon trained in Flagstaff.
Think of a place where you can see the North Rim of the Grand Canyon while skiing in the morning and then paddle board in the afternoon. Imagine a community that celebrates the arts and S.T.E.M., that delivers world class education and is home to industry. ATC Materials is an innovation company that has materials and technology on board the International Space Station as part of the Materials Space Station Experiment (MISSE) program. Flagstaff is America's First S.T.E.M. Community.
Think Flagstaff. Choose Flagstaff. The City of Innovation.
Flagstaff is a community of diversity, of industry, of passion for excellence and for service.
NASA is developing their next generation space suits. As they design the suits, NASA scientists and engineers have come to Flagstaff to go through the USGS (United States Geological Survey) astronaut classes to learn how their new suits will operate in geological efforts on the moon.
Astronomy is big in Flagstaff. Lowell Observatory has been in Flagstaff for 125 years introducing residents and visitors to the science and beauty of the skies. Lowell Observatory also serves as an astronomical incubator to astronomers from around the world who come to Lowell Observatory to study and research; after all Flagstaff is the First International Dark Sky Community. And then there is the Discovery Telescope and the Naval Observatory. People here look to the stars. Viewing inward, Symple Surgical is using microwave ablation as groundbreaking therapy to treat Barrett's Esophagus.
T-Gen North, also known as Translational Genomics Research Institute, has developed the only FDA approved genomic test for Valley Fever.
Electric Torque Machines or ETM delivers the biggest advancement in electric motors in decades. ETM motors deliver more torque using less energy allowing their motors to be a critical component in a growing number of products including MacroAir's Big Ass Fans and in the OneWheel.
And still there is so much more. W.L. Gore & Associates employs 2,300 Flagstaff residents. Joy Cone Company, the largest ice cream cone manufacturer in the world, has had numerous successful expansions. Machine Solutions is a Flagstaff startup that now employs close to 90 employees. SenesTech, another Flagstaff start-up, is the first publicly traded company for the community. Axolotl Biologix is using stem cells from placentas from cesarean sections to create regenerative fluid to encourage repair and regeneration in people. The General Services Administration added the complete line of Axolotl Biologix to the Federal Supply Schedule which allows all federal agencies including the Veterans Administration to use their innovative medical solutions. And Poba Medical's success continues to balloon delivering prototyping capabilities for balloon and catheter needs.
Think of entrepreneurial spirit, independence and collaboration, think of a life where innovation lives and breathes. Think Flagstaff. Visit. Discover. Grow. Flagstaff..
ARIZONA: MOHAVE COUNTY
………………………………………………
Encompassing 13,470 square miles of various landscapes, lively lakes and hardworking business communities, Mohave County is the second largest county in the state of Arizona and the fifth largest in the country. It's also one of the lowest taxed counties in Arizona.
With I-40, Highway 93 the future Interstate 11, and the BNSF, easy access to rail, air and highway transport make Mohave County a perfect launch pad for your product. With industrial parks in Bullhead City, Kingman, Lake Havasu City, and the I-40 Industrial Corridor, it's easy to find a property that fits your priorities.
From low business costs to available land, Mohave County has a lot to offer relocating and expanding businesses. Mohave County offers same-day access to suppliers and customers in California, but their business costs are as much as 70% less. Their taxes are some of the lowest in the state.
Major industries in Mohave County include Energy, Manufacturing, Distribution/Logistics/Transportation, Health Care Services, and Arts & Entertainment. Mohave County's vast desert areas offer some of the highest solar and wind power potential in the nation. Mohave County's manufacturing industry is involved in the production of high value-added hard goods ranging the gamut of materials from composites and metals, to plastics and refractory materials.
Several new companies are making their home in Mohave County. Pegasus Group Holdings, LLC and Plus Minus Power, LLC a $3 billion completely solar data center will be complete before the end of 2019 and is the largest project in Arizona.
The Mohave region's distribution/logistics/transportation industry cluster currently is in a strategic position for growth as Pacific ports and other west coast inland ports continue to reach capacity and push eastward. Mohave region boasts four hospital facilities and multiple medical facilities and offices and is poised to add additional healthcare facilities as the population grows.
For more information on all the economic development opportunities in Mohave County, please visit their website at mohavedevelopment.org or contact Tami Ursenbach at 928-757-0960 and tami.ursenbach@mohavecounty.us .
ARIZONA: SIERRA VISTA
…………………………………………….
With open skies, a tech-ready workforce, and premier educational opportunities, Sierra Vista offers space to soar. This southeastern Arizona community is home to Fort Huachuca, an Army post with a long history of tech-heavy aviation programs, strategic missions, communications testing, and intelligence operations that are now more vital than ever to national defense.
Located in Southeastern Arizona, Sierra Vista, at 4,700 feet, boasts a 360-degree mountain view. The high elevation and expansive valley create a pristine airspace, perfect for communications and aviation testing. An impressive, joint-use airport shared by the City of Sierra Vista and Fort Huachuca hosts both general aviation and military missions.
The airport's 12,001-foot runway— along with the 964 square miles of restricted airspace, high elevation, and favorable weather—enables unique training and testing operations, along with unbounded business and general aviation opportunities.
In addition to impressive runways, the Sierra Vista Municipal Airport (FHU) boasts a 7,000 square foot terminal, more than 250 parking spaces, and over 13 acres for industrial expansion, along with aviation fuel services, hangars, and tie-down sites.
"FHU is more than just it's infrastructure," says Tony Boone, economic development manager for the City of Sierra Vista. "The high elevation offers a unique training and testing facility, and Sierra Vista's 280-plus sunny days per year gives FHU a vast untapped potential for private investment and growth."
Leading-edge education and a ready workforce
Home to five higher education institutions, including one of the first nationally recognized Cyber Operations programs and one of the top ranked community colleges in the country, Sierra Vista offers another business advantage with its highly skilled, educated workforce.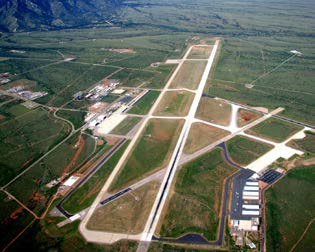 Sierra Vista is home to the University of Arizona's College of Applied Science and Technology, joining an exclusive group of only 20 programs that have earned designations as a Center of Academic Excellence in Cyber Operations and Cyber Defense by the National Security Agency. Students emerge from this state-of-the-art program with hands-on expertise in intelligence, cyber, and information operations in a first of its kind program.
Bolstering the university program and meeting the more immediate employment needs, Cochise College offers 90 degrees and technical certificates, including in demand professions like registered nursing, cyber security, aviation, and engineering. Named the second-best community college in the country in 2017 for its affordability, return on investment, and student success rate, Cochise College prepares over 11,000 students for the workforce or advanced degrees.
Sierra Vista is business-ready
Sierra Vista offers wide-open opportunity, whether for a business startup, expansion, or relocation. Far enough from the beaten path for an affordable and relaxing lifestyle, its four seasons, temperate climate, and stunning outdoors offer an affordable and relaxing lifestyle off the beaten path but with easy access to Interstate highways and air travel. With a highly skilled, ready workforce, available commercial property, and designated Opportunity Zone acreage, Sierra Vista is ready for business.
Learn more about Sierra Vista at SierraVistaAZBusiness.com.
ARIZONA: AEROSPACE ARIZONA ASSOCIATION
………………………………………………………………………..
Leading the Unmanned Aircraft Systems (UAS) industry in Arizona.
Aerospace is a growing global activity and the United States has a mature and sizable industry to support its growing demands. The active defense posture and robust air transportation regulatory framework, combined with a relatively strong economy, poises the US to profit from the growing $650 billion-dollar aerospace industry.
As the Federal Aviation Administration accelerates opening U.S. airspace to commercial use of unmanned aircraft, enthusiasm for drones is growing, with the devices being used by everyone from farmers to firefighters to commercial photographers. Experts believe the projected windfall will reach $140 billion by 2025 is further spurring the race to enter the UAS segment nationwide.
Arizona is one of the largest and fastest growing aerospace and defense centers in the United States; coming in third for attractiveness with its ideal climate for aircraft testing and space observation, one of the best transportation infrastructures, and a tax policy congenial to business.
Additionally, Arizona ranks fifth among the top 10 states projected to experience the most gains over the next decade with over 4,000 new jobs generating $15.5 million in derived state revenue from a $3.4 billion commercial market nationwide.
Mignonne Hollis is the Executive Director for the Arizona Regional Economic Development Foundation which was at the origin of the Aerospace Arizona Association. Established in 2014, Aerospace Arizona is a non-governmental, non-profit, and independent association established to unify principal stakeholders, coordinate key academic and industry activities, and advocate for legislature geared to promoting and advancing the economic strength of the aerospace, space and unmanned systems industry throughout the State of Arizona.
"We saw an opportunity to acquire, repurpose, or refurbish depreciated assets to help bolster the flourishing and robust aerospace industry," said Ms. Hollis.
The association is unique in its ability to bring together academia, corporations, businesses, and entrepreneurs to represent the industry on an equal footing. Professional industry roundtables, networking events, industry tours, forums, symposiums and conferences organized by the association provide excellent opportunities for gathering, associating, and coordinating activities and ideas that directly relate to advancing the industry. This leadership positions and allows Aerospace Arizona Association to play a principal role on key projects that require coordination between state agencies, industry, academic institutions and local governments, including but not limited to aerospace technology research, development, testing, manufacturing and commercialization.
Moses Koyabe, President of the Association's Advisory Board, points out some of the major achievements, accomplished quickly which have repositioned Arizona on a national and international map for UAS innovation. He states, "In partnership with local organizations such as Arizona Technology Council and the Arizona Commerce Authority, our association now boasts a geographic, technical, and policy breadth that is opening the door to opportunities that leverage Arizona's concentration in aerospace, space, and unmanned systems and its natural advantages for designing, manufacturing, testing and flying.
Under a Private-Public-Partnership with the City of Benson, Aerospace Arizona Association opened an Unmanned Aircraft Systems Innovation Center at the under-served airport in Cochise County. A growing number of tenants are now testing and flying new drone technology at the site.
The Aerospace Arizona Association will be hosting its fourth annual Summit & Expo at the Sheraton Mesa Hotel at Wrigleyville West in Mesa Arizona this November 7th-8th 2019 (unmannedarizona.org). Industry leaders and users from both the defense and commercial sectors of aerospace will gain access to the latest updates in policy, technology applications, and the most promising developments in Arizona and the industry in general.
Aerospace Arizona Association is excited about the potential it sees between academia, private industry, and government agencies as it continues to grow its membership roster.  Contact: aerospacearizona.org or info@aerospacearizona.org
ARIZONA: AMAZING OPPORTUNITIES IN PINAL COUNTY
………………………………………………………………………..
Centrally located between Phoenix and Tucson, Arizona, the communities of western Pinal County are strategically situated to meet the needs of relocating industries. With an excellent workforce, thousands of acres of available industrial land, access to rail and major interstates, great quality of life and rapidly growing communities, western Pinal County can provide strategic solutions to support expansion requirements in serving the western United States markets. Pinal County is expected to add 13,000 jobs by the year 2026.
Recent locates in Pinal County, including Lucid Motors and Nikola Corporation and LKQ Corporation have made it the hottest automotive technology market in Arizona. A glimpse at Pinal County will demonstrate the unique assets that set Central Arizona and Pinal County apart from many of its national peers. In fact, Pinal County is expected to add 13,000 jobs by the year 2026.
One of the region's most notable assets is Pinal Airpark. Pinal Airpark is a county-owned commercial aircraft storage, maintenance, repair and overhaul facility. Located in southern Pinal County and known for its seemingly unlimited days of sunshine, dry climate, and access to interstate and international rail line — Pinal Airpark is positioned as a leader in aviation commerce. Just off Interstate 10 between Phoenix and Tucson, the airpark is accessible to the public and provides general aviation services as well as services for aircraft types up to a Boeing 747-8. Services include storage, aircraft maintenance, fueling, part-out/tear-down, repair, overhaul, office space, warehousing, classrooms, and lodging. The Pinal Airpark Airport Master Plan sets a course for improvements to the runway and taxiway system and options for land use and facility development or redevelopment with goals for short-, intermediate-and long-term investment over the next 20 years. Coming improvements at the airpark will not only enhance the aviation experience but will increase the facility's current contribution to a statewide aerospace industry that contributes more than $20 billion to the economy each year. Pinal Air Park has the potential to be an incredible economic driver, attracting a wide range of aviation related businesses that could create 100s, perhaps 1000s of new jobs.
Another sector that has proven successful in Pinal County is food manufacturing/processing. Companies like Ehrmann Arizona Dairy, Franklin Foods, Daisy Brand and Abbott Nutrition, all located in the City of Casa Grande, play a very important part in the region's economy. Speaking of Casa Grande, the city's Airport Industrial Park has through-the-fence access to 40+ acres of shovel-ready sites.
The cities of Eloy and Maricopa also offer many opportunities. Eloy is noted as Arizona's key southern transportation hub for Interstate Commerce. Eloy's key employment areas are also part of the newly created Opportunity Zones and eligible for Foreign Trade Zone status adding significant value to Eloy sites! Maricopa and Eloy both boast a large supply of developable commercial and industrial property with highway access. Because of their designation as rural communities, projects locating in most Pinal County communities are eligible for state incentive programs at significantly lower investment thresholds than in Metro areas.
The communities in Pinal County are eager to assist you with exploring sites and identifying the tools to best benefit your project, including Industrial Development Authority bonds and participation in demonstrated and enduring pro-business development programs. For complete details on conducting business in Arizona, visit: www.azcommerce.com or www.pinalalliance.org