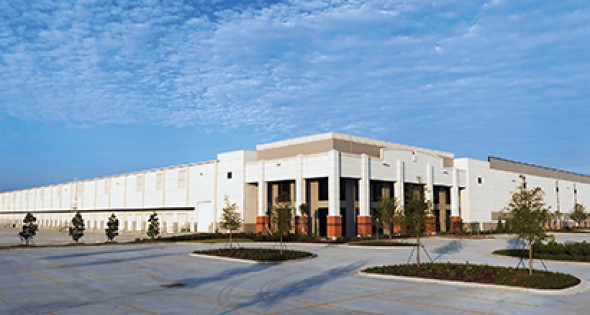 Booming Logistics
07 Feb, 2018
High consumer expectations continue to create more opportunity in this thriving field.
The business of getting an in-demand product to another location has been under intense scrutiny in recent years, with data analytics and algorithms playing a more significant role in some of the major advancements being enjoyed by consumers across the country.
Beyond the bare facts of logistics in the U.S. – the 50,000 mile interstate highway system, the 25,000 miles of navigable waterways, the 300-plus U.S. seaports handling over 2.3 billion tons of cargo each year, and the 140,490 miles of freight rail moving 40 percent of U.S. freight – are some pretty significant changes coming to logistics operations.
One of the prime examples of course is Amazon, quickly jumping into the forefront of more expanded delivery service offerings to the U.S. and around the world, and being closely watched by analysts after its purchase of Whole Foods.
In an article about logistics, Forbes magazine wrote that Amazon "is hustling logistics players down this road to more customized delivery options as the company seeks to differentiate itself and keep customers under its banner throughout the entire shopping process."
Forbes reported that large consumer markets like the U.S. and Europe lack enough sorting and last-mile delivery capacity to take care of the growing number of parcels coming as a result of e-commerce, and that Amazon is investing heavily in regional warehouses and information technology.
"Amazon is gauging its strategy country-by-country with the goal of securing capacity and increasing customer convenience," the article in Forbes noted.
Last year, the company introduced AmazonFlex, an Uber-like cargo service in major U.S. cities that registers private drivers to deliver Amazon parcels.
According to a white paper written by Dr. Donald Ratliff, executive director of Supply Chain and Logistics for the Georgia Institute of Technology who spent over 30 years developing and implementing supply chain and logistics technology, supply chain and logistics optimization is neither easy nor cheap but is the biggest opportunity for many companies to significantly reduce their cost and improve their performance.
"For most supply chain and logistics operations there is an opportunity to reduce cost by up to 40 percent by making better decisions," Ratliff wrote. He follows that observations with a list of ten rules that are essential to succeed in logistics management. Among them are the following:
Objectives must be quantified and measurable.
Models must faithfully represent required logistics processes. Models are the way to translate operational requirements and constraints into something the computer can understand and use in algorithms.
Data must be accurate, timely and comprehensive. Data is what drives supply chain and logistics optimization. If the data is not accurate and/or it is not received in time to include it in the optimization, the resulting solutions will obviously be suspect.
Integration must support fully automated data transfer.
Delivery must provide results in a form that facilitates execution, management and control.
Web based interfaces are becoming the medium of choice for both management and execution.
What's next in logistics technology?
Beyond the physical locations of distribution centers – generally positioned for good access to major interstates, ports and rail – is what is happening inside them.
There are constant improvements to logistics and the technologies used to support them.
But even more other-worldly is what is happening with augmented reality, or AR, defined as a live direct or indirect view of a physical, real-world environment whose elements are "augmented" by computer-generated or extracted real-world sensory input such as sound, video, graphics or GPS data.
An article in Venture Beat written by Michael Park, CEO of an augmented reality platform company, gave an example of AR in logistics operations, where emerging computer vision and machine learning solutions can identify where a product is located and whether it is the correct product at a much faster pace than could otherwise be achieved by a human.
AR applications could streamline the time it takes to identify packages and determine their route and destination. For example, an AR mobile app or wearable device can project information about the type of goods being transported, each package's weight, and whether it is fragile.
The device could then calculate the space required for the package and search for a suitable spot in the driver's vehicle, taking into account the planned route. Moreover, once the driver is en route, AR applications could display digital directions into the immediate environment.
A sampling of the logistics operations in the U.S
With all the development behind the scenes and within the distribution centers, there are still the physical realities of where a distribution center is located and how it moves products.
Take for example the 3,212-acre Quonset Business Park, which is home to over 200 companies and 11,000 jobs. Advantageously located near the population centers of the Northeast, the Quonset Business Park has world-class infrastructure and is rich in amenities, location and history. Located on Rhode Island's Narragansett Bay, the Park boasts direct access to Rhode Island State Route 4 and Interstate 95 from a four-lane highway (Route 403), and proximity to major airports including, T.F. Green (Rhode Island), Boston Logan (Massachusetts), and Bradley International (Connecticut).
Managed by the Quonset Development Corporation (QDC), the Business Park is a manufacturing magnet. A recent study conducted by Bryant University found that businesses located within the Park account for over 5,700 manufacturing jobs – or 14 percent of all of Rhode Island's manufacturing employment.
According to Steven J. King, Managing Director of the QDC, his team works tirelessly to support manufacturing growth in the Park. The QDC recently embarked on a new flex industrial campus initiative designed to help current and future manufacturing tenants grow their businesses. Each flex industrial building will range from 25,000 to 50,000 square feet, and will contain office space, restroom facilities, and high bay (24-foot clearance) manufacturing/assembly/warehouse space. The QDC broke ground on the first flex industrial building in 2017, and the overall plans for the flex-industrial campus include the construction of multiple buildings that will be phased in over several years.
With over 200 companies located at the Park, Quonset is also home to a variety of industries including distribution, logistics, light industrial and even indoor recreation. From having medical testing leaders, to being home-port of the Okeanos Explorer – NOAA's premiere deep sea research vessel, the QDC strives to meet the unique demands of each tenant. Additionally, Quonset's Port of Davisville is one of the top 10 auto-importers in North America.
Down south in Indian River County, Florida, located near the middle of the east coast coastal area of the state, is a 400,000 square foot CVS distribution center employing 250 located within the 150-acre Indian River County Industrial Park. "We still have 90 acres left for development," Helene Caseltine, director of economic development for the Indian River County Chamber of Commerce, says. "And the CVS guys would love to get a new neighbor."
She says that they would like to get some aviation-related businesses in that park, since Vero Beach, the seat of Indian River County, is the headquarters of Piper Aircraft. They would also like to see any business that is consumer related. "That would be ideal," she says. "Because we are within three hour's delivery time of 90 percent of the state of Florida's population – that's 18 million people."
Michele Johnson, senior vice president of economic development for the Toombs County Development Authority in Vidalia, Georgia, says that they have 96 logistics providers in the area, with 985 logistics users. "What we tell folks as far as road delivery goes is that cargo is within two days to 80 percent of U.S. consumers," she says.
Seafood is one of the larger commodities moving through the state and the logistics system there, she says, with companies located to take advantage of the Port of Savannah, which is the largest single container terminal in North America.
There is a $20 million Chicken of the Sea tuna cannery in Lyons, Georgia, in Toombs County. "We are just far enough inland that we have low labor costs and low land costs, and we are very pro-business," Johnson says. The area is located between the large population areas of Atlanta and Jacksonville, with access to ports in Jacksonville in addition to Savannah.
Another area of the state, Hinesville, Georgia, has had several distribution operations locate there in the past decade in an assortment of five business parks, according to Ron Tolley, CEO of the Liberty County Development Authority.
In the Midway Industrial Park is Hugo Boss, from Germany, that started out with a 165,000 square foot facility then expanded to 330,000 and employing 200.
The largest is a Target regional distribution center, at 1.5 million square feet and employing 475 in the Tradeport East Industrial Center.
There is a global logistics company, Pactra/Hankook, with a 500,000 square foot building also in the Tradeport East Business Center.
The bonus of their location is that they are near Fort Stewart, a $1.85 billion annual economic generator for the state with 19,000 soldiers stationed there, where exiting service members are naturals for logistics work. "The military has a variety of functions that they serve, including logistics, which is really about moving the army," Tolley says. "And they are really good at it. Fort Stewart is a rapid deployment operation, and that occurs on highways, on rail and thru shipping. So we have a great resource of people there."
The other three parks include the Tradeport West Business park, with large rail-served sites just 35 minutes from the Port of Savannah; the Walthourville Industrial Park, the area's oldest park; and Hinesville Technology Park, home to the Savannah Technical College's Liberty County Campus.
In the middle of the country, Arkansas, is the 7,000-acre Chaffee Crossing. The area was a former 72,000-acre Army base (most of the other acreage was leased to the Arkansas Army National Guard for training), but now has a lot going on in that area and in nearby Fort Smith, Arkansas. "We have everything we need to become a distribution center location," Ivy Owen, executive director of the Fort Chaffee Redevelopment Authority (FCRA), says. "We have the river, and the new Interstate 49," he says.
There is an intermodal transportation authority board that is now seeking to find a developer to build a new port on the Arkansas River to handle traffic from the Panama Canal coming into the area, he says. "There is a lot going on but we need to get the highway finished with a bridge over the Arkansas River," he says. "We'd like to speed that up a bit." He says they are working with a port consultant now to figure out the best course of action for their port, such as what cargo they can handle and when they can be operational.
"We just want people to know where we are and what we have in the center of the U.S. with every mode of transportation available to make distribution a piece of cake."
For more information about logistics and the companies represented in this article, contact: