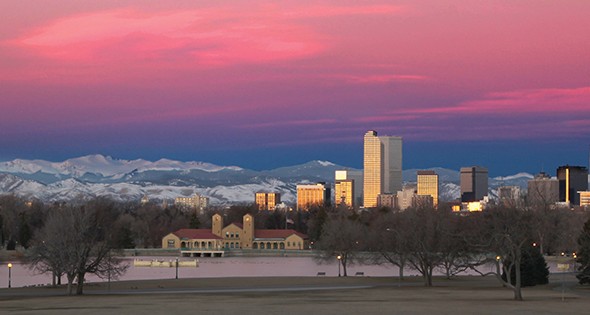 Colorado: STEM-Based Advanced Industries
15 Feb, 2018
Colorado continues to top the charts for job and economy growth. Ranked as the best in the nation, Colorado's labor pool is essential to the innovation and drive of the state's economy.
Colorado has fourteen major industry sectors, including seven STEM-based advanced industries like advanced manufacturing, aerospace, bioscience, creative industries, defense and Homeland security, electronics, energy and natural resources, financial services, food and agriculture, health and wellness, infrastructure engineering, technology and information, tourism and outdoor recreation, and transportation and logistics. Diversity helps this great state mitigate economic downturns.
Denver International Airport is a top-ranking hub offering 1,500 flights each day and serving almost 54 million passengers a year. The state is also a major national crossroads for Interstate Highways I-25, I-70 and I-76. And, BNSF Railway and Union Pacific Railroad own and operate thousands of miles of track.
Ranked among the most educated states in the country, 38 percent of Colorado's population has at least a bachelor's degree, the second highest college attainment rate in the country, and 14 percent hold a graduate or professional degree.
The Colorado Innovation Network (COIN) is a catalyst for innovation with the mission of advancing connections in the global innovation ecosystem whereby Colorado is recognized as the most innovative state in the nation. COIN is a physical and virtual network of more than 2000 global leaders supporting the innovation ecosystem, growing companies and creating jobs.
"We are seeing a larger decline in optimism about the national economy than we are about the state economy," said Richard Wobbekind, Executive Director of the CU Boulder's Leeds School of Business Research Division. "The state economy is still considered healthy and a larger percentage of respondents believes it is expanding rather than contracting."
Colorado's job market remained a bright spot as the state continued to exhibit strong employment growth. Jobs increased 1.8 percent year-over-year in August 2017. Meanwhile, the state unemployment rate continues to outperform the nation as a whole, coming in at just 2.5 percent.
Colorado's low unemployment rate, however, could make it difficult for employers to fill vacant or new positions, leading more than one-quarter of survey respondents to name it their top economic concern. Housing was the second most frequently mentioned issue, specifically high real estate prices and a lack of affordable housing that could discourage potential employees from relocating to Colorado. These issues are being addressed  in a number of ways not least of which smaller counties and municipalities with more modestly priced real estate are activing recruiting companies both in more populated areas and from outside the state.
Brighton
Brighton is one of the fastest growing cities in the nation with a well-educated workforce and a diverse industry that includes energy, healthcare, retail, hospitality, higher education, agriculture and manufacturing. Brighton also offers lower taxes and sustainable growth. Located just 20 minutes from the Denver International Airport and downtown Denver, Brighton is ideally situated for future growth near several major highways and two rail lines.  Brighton has several major developments available including industrial, commercial, office and retail including the mixed use Adams Crossing, Bromley Interstate Business Park and Prairie Center, a 2000 acre master planned community.
Sidebar



Facts and Figures
Number 1 for labor supply (Forbes, 2016)
Most active state (United Health Foundation)
2nd fastest growing state (24/7 Wall St.)
3rd most educated state (Forbes, 2017)
1st in Private aerospace concentration
4th in startup activity
3rd in concentration of high-tech workers
Median Age: 36.2
Population: 5.5 Million
Gender: Male: 50.2%, Female: 49.8%