NEW BRUNSWICK: Low Cost, Educated Workforce
23 Apr, 2019
Located on the Atlantic Coast of Canada, the province of New Brunswick has a population of 759,000, 63 percent of which is within the typical working ages of 15-64.
The primary economic drivers in New Brunswick are the health care and social assistance sector, as well as retail and wholesale trade, accounting for a combined 32.4 percent of total employment. Over a 20 year period from 2007 through 2017, the health care and social assistance sector grew by more than 20 percent, far outpacing other industrial sectors in New Brunswick. Other growing sectors in the province include public administration and finance, insurance, real estate, rental, and leasing.
The need for an educated workforce is of paramount importance in New Brunswick. From 2007 through 2017 job sectors typically requiring post-secondary education grew by five percent while sectors not requiring such education saw a nine percent decrease during the same period.
Currently, New Brunswick has 11 colleges and universities granting degrees, however, the province has developed apprenticeship programs for 71 occupations designated under the Apprenticeship and Occupational Certification Act allowing residents to earn a wage while learning the skills needed in the modernizing labor market.
With an abundance of coastline and large amounts of undeveloped forest, New Brunswick is a popular relocation destination for retirees and those looking for a slower pace of life and outdoor recreation. Home prices are among the lowest in Canada with the average price for a home in New Brunswick only $192,000, according to the Canadian Real Estate Association.
NEW BRUNSWICK: PORT OF BELLEDUNE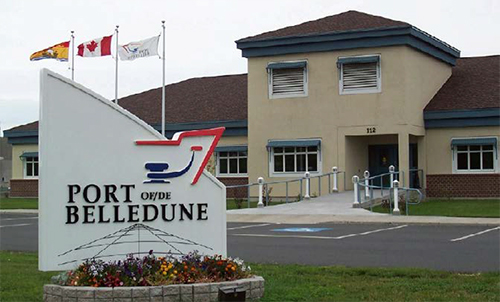 The Belledune Port Authority offers modern equipment and infrastructure which includes a barge terminal, a Roll on-Roll off terminal, and a Modular Component Fabrication Facility. This is a year-round, ice-free and deep-water port that offers efficient stevedoring, always ensuring the integrity of your cargo. The port has ample outdoor terminal storage space and several indoor storage facilities- a definite competitive advantage for bulk, break-bulk, and general cargo handling.
Originally built in 1968 to address the shipping needs of what was then the Noranda Smelter (Glencore), the Port of Belledune has grown and evolved from the single terminal facility it was to a four-terminal port. It still provides the gateway through which concentrates move across the globe from its original terminal, but having expanded three times, the Port of Belledune has assumed a greater role in the economy of the surrounding regions. It has, in striving to fulfill its mission, become one of the cornerstones of the local economy and provides direct and indirect employment for many local residents.
Due to its ultra-modern facilities and strategic location for accessing large North American markets, Port of Belledune has significant advantages to offer potential clients. This, together with being able to offer some of the shortest shipping routes between Europe and North America make the Port of Belledune very attractive to shippers.
In 2010, a Roll on-Roll off and Barge Terminal was built in order to attract a diverse range of cargo to further diversify and increase business at the port.
The port has steadily expanded the scope of its services and has handled general cargo of all shapes and sizes, high and heavy project cargoes, break bulk, forest products, paper products, consumables, and bulk cargoes. It deals with shipping companies and clients from across the world and has steadily broadened its client-base resulting in more diversified clientele and greater volumes. The team at the port continually strives for flexibility in addressing the unique needs of its clients. The mission of Port of Belledune is to leverage commerce to drive prosperity in Northern New Brunswick and to be the best bulk and breakbulk port in Eastern Canada.
For more information, 506-522-1200, info@portofbelledune.ca or portofbelledune.ca.