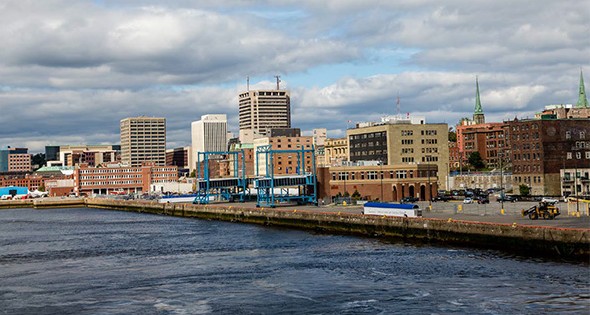 NEW BRUNSWICK:Mountain State Stronger than Expected Growth
23 Apr, 2018
The New Brunswick economy grew 1.3 percent in 2017, according to the Department of Finance, and it is expected to continue growing in 2018. Stronger than expected growth in 2017 took place in retail trade, tourism, housing construction and manufacturing.
Employment grew for the first time in four years, and retail sales are up, particularly in motor vehicle and parts dealers and gasoline stations. Combined, these two subsectors are responsible for more than 75 percent of the increase in 2017. The manufacturing sector is strong, with sales of nondurable goods leading the way.
Tourism has been boosted by recent celebrations in the area, including Canada's 150th anniversary of Confederation, the Rendez-Vous 2017 Tall Ships Regatta and the East Coast Music Awards. Investment through the New Brunswick tourism growth strategy, New Tourism Economy, will provide support for continued development.
New Brunswick's forestry sector is another strong part of the economy due to sustained strength in U.S. housing activity, high wood prices and a low Canadian dollar.
High prices for fish products has strengthened the fishing and aquaculture sectors and continues to support jobs and incomes. Further investment will assist growth through the implementation of more sustainable and productive fishing methods.
Activity in the agricultural sector is expected to increase with a rising demand for potatoes coming from the new production line at McCain Foods. Increased blueberry production and growth in maple syrup operations may also bolster the sector.
Sackville, Canada
Briefly give us an overview of companies who dive growth now in Sackville?
Our largest businesses are: Moneris Solutions, Mount Allison University, the Sackville Memorial Hospital; and the Drew Nursing HOme. We have a large number of small but important cultural institutions including: Owens Art Gallery; Campbell Carriage Factory Museum; Fog Forest Gallery; Live Bait Theatre; the Sackville Festival of Early Music; and  Sappyfest Independent music festival. We have a Sackville Commons co-working space that has become an important business development organization in Town. We have recent additions to our business sector that are in fields we would like to see expand; Karen Phytoplankton and Cam Tran which is an up and coming business with potential for export markets. Soricimed Biopharma has been here for a few years, but we would like to see expansion in life science businesses in general.
Are you targeting certain industries for the future?

We also see ourselves as having two main potential areas of growth. 1. Young-ish entrepreneurs who value a good quality lifestyle (we have low housing and living costs, great cultural and natural resources, excellent schools and one of the top universities in the country) and 2. Businesses that value the above but also see we are at the centre of the Maritime provinces (NB, NS and PEI) and less than 2 hours from all major centres in those provinces, as well as on a rail line and ½ hour from an international airport. We're also about two hours from the ports of Saint John NB and Halifax NS.

How does quality of life manifest itself in Sackville?
As above; excellent schools, top ranked university (Mount Allison University); many parks and recreation facilities (visit www.sackville.com/explore); low cost of living especially housing; cultural institutions as above; a lot of young entrepreneurs, loads of activities and programs for young people, families and seniors

Describe the quality of your workforce?
We have a: well-educated workforce (university here in town); potentially bilingual (English and French); also many people capable of manual or less skilled work (significant work force available, including in neighboring communities)

How important is Mount Allison to your area?
Essential, an important part of our tax base, brings vitality and richness to the Town. Major employer, researcher, community minded.

What type of recreational activities are there in or around the area?
The major asset is our Waterfowl Park, an exceptional experience right in Town (www.sackville.com/waterfowl). We are also ½ hour from Parley Beach in Shediac, the warmest waters north of Virginia. And also we're within an hour of two national parks, ½ hour from a major city (Moncton NB), and located on the TransCanada Trail.

What is your K -12 school system like?
Excellent, provincially recognized for innovation.

What else should we know about Sackville?
We are eager to welcome new businesses and will assist in whatever way we can. People who visit Sackville or live here love the Town and believe that it's one of Canada's hidden gems, a really fantastic place to live or do business. Have a look on our website for more things going on/point of interest. Sackville.com
City of Miramichi, Canada
The City of Miramichi is ready to discuss relocation or expansion needs for companies who are interested in developing the next stage of their business plan. Located in Northeastern New Brunswick, Canada, the City is known for its excellent quality of life as well as a vibrant and skilled workforce. Considered the "gateway to the north", Miramichi has a rich industrial history anchored in the natural resources that have been the traditional base of economic activity. Today, the City is the home to major aerospace and defense suppliers; advanced manufacturing and government services. In 2018 the Conference Board of Canada projected more of the steady strategic growth that has been prevalent in recent years. In other words, Miramichi is on the move!
Miramichi has garnered serious attention most recently by investors interested in taking advantage of the ever expanding medical and recreational cannabis production industry. Impressed by the central location and the willingness of municipal officials to proactively assist in the development of this new industry in the province, people are taking note of this small City in the Northeast and their willingness to meet the needs of investors.
The City of Miramichi offers investors access to serviced properties that are zoned light industrial and ready for development. Miramichi has multiple transportation system options, so moving your goods to your market becomes easier. Whether it is by air, The City of Miramichi has the longest runway in New Brunswick at 10,006 ft.; by road, the City is located at the intersection of from Highways 8 & 11; by rail, or by water; the mighty Miramichi River is one of the oldest used waterways in the Province; the City of Miramichi has the infrastructure to handle your needs. The members of the Economic Development team will work with you to develop a cohesive plan that can see you establish your business in one of the most picturesque parts of New Brunswick.
Companies that are in target sectors can also take advantage of financial incentives available through the Province of New Brunswick's $50 million Miramichi Regional Economic Development and Innovation Fund as well as the $200 million Northern Development Fund. Labour incentive programs are also available through the Department of Post-Secondary Education, Training and Labor and the Government of Canada, through the programs of the Atlantic Canada Opportunities Agency, also provides financial assistance and incentives to qualified manufacturers. Add tothis the low costs of operating in the City of Miramichi, and the newly created municipal development incentives offered by the City then considering Miramichi for expansion or relocation just makes sense. If you are interested in this opportunity, then contact City of Miramichi Department of Economic Development & Tourism today to begin the process and investigate the possibilities. Miramichi.ca
Fredericton, Canada
Located alongside the beautiful Saint John River, Fredericton is said to be the perfect marriage of both beauty and brains. Housing four universities, over 60 research institutions and organizations, and being one of the most forested jurisdictions in North America are only a few of the reasons why companies like Salesforce Inc. and Siemens choose to reside in New Brunswick's capital.
With a region population of over 110,000, Fredericton leverages its small city nimbleness to provide the perfect environment for digital product development and innovation, serving as a testing ground for many of North America's technology products and services. Acknowledged as the North American sandbox for innovation, Fredericton offers innovators a scalable and repeatable environment in which to develop, refine, and launch products with global potential.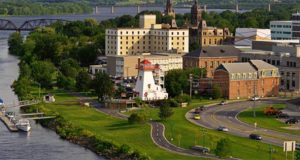 From smart grid energy products to cybersecurity software, Fredericton's Innovation District, a two-kilometer-radius of world-leading research and development (R&D) teams, makes it an ideal development and testing ground for game-changing technologies and services. The New Brunswick Innovation Foundation alone, located near the heart of the Innovation District, has invested over $62 million in the last five years in start-ups and research with commercialization potential.
Thanks to a rich talent pool, impressive R&D capabilities and advanced digital infrastructure, Fredericton produces success stories in almost every sector. But in certain sectors, Fredericton offers a distinct competitive advantage over other regions. Due to the strength of its information technology and commercialization communities, Fredericton's cybersecurity field produces and deploys cutting-edge innovations around the world. There's a reason why many private-sector innovators, startups and technology giants, like IBM, have chosen Fredericton's cyber community as a development testing ground for their products and services.
Fredericton's natural resource sector is another that is bountiful and poised for growth. Keeping the natural resources sector globally competitive is with more than 350 engineering, ICT, biotechnology and advanced manufacturing companies in the region — one reason why Fredericton was named a "Resource City" by the Canadian Chamber of Commerce. With the most diverse biomass in Canada, Fredericton has a proven track record of innovation in biotechnology, and in the past decade was shown to have quadrupled the number of local biotech companies.
Supported by a robust research facility and talent pool, Fredericton's biotechnology sector is led by BioNB, an organization focused on promoting a supportive business environment for bioscience ventures, and an organization in which sees significant success with emerging and established commercial operations. Fredericton has the lowest biotech business costs in the G7 and an array of privately-held forests, coastlines, and agricultural lands, making it the destination of choice for many in industry.
The region's bioeconomy and cybersecurity sector is boosted by Fredericton's market access advantage. Fredericton's geographic proximity to major centers like Boston and New York provides access to 100 million consumers within a day's drive, allowing export-driven companies to thrive. Entrepreneurs and business leaders also benefit greatly from direct access to government decisionmakers, which work closely with companies to ensure success. With the perfect combination of digital infrastructure and R&D capabilities, businesses across all sectors are able to flourish in Fredericton. ignitefredericton.com