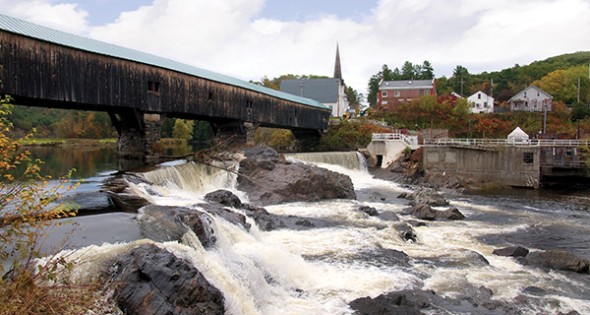 New Hampshire: Riding the High of a Budget Surplus
21 Nov, 2016
By Lori Culpepper
With a deep water port, the Manchester-Boston Regional Airport, a rail network and three interstate highways, New Hampshire is a strategic location in the heart of New England, close to markets and industries in Boston, New York and Montreal.
Gov. Maggie Hassan says New Hampshire's unemployment rate continues to fall and is currently around three percent, one of the lowest in the country and the lowest level for the state in nearly 15 years. For the third year in a row, New Hampshire was ranked as the strongest state in the Union based on more than a dozen measures related to the economy, the safety of communities and quality of life.
Hassan says that it's a strong economy and careful management of the state budget that led to finishing the fiscal year of 2015 with a $62 million surplus. This allowed the state to double its Rainy Day Fund to its highest level since fiscal year 2009.
In order to keep up this momentum, she says the state needs to ensure that the workforce has a strong pool of highly skilled workers, along with modern transportation infrastructure and a more affordable energy future. A strong, highly educated workforce remains the number one need of businesses and employers.
As always, a strong workforce begins with a strong education at all levels. New Hampshire has one of the highest percentages of college-educated citizens in the nation and ranks consistently high for the rate of people employed in science and technology. Strong partnerships between community colleges, state universities and industries lead to customized training programs that develop strategic pipelines of talent to maintain competitiveness.
A new partnership is bringing state and local government together with the education community and other stakeholders to work toward a new 65 by 25 goal. This means making sure that 65 percent of New Hampshire's population holds a postsecondary credential or degree by 2025.
The new Gateway to Work plan is aimed at developing and expanding the workforce.  It involves repurposing existing federal funds to strengthen job training, creating new apprenticeship opportunities, removing barriers and helping young people start working on their futures.
This is important because many of the best jobs at innovative employers like Dartmouth- Hitchcock, Albany/Safran and Dyn require more than a high school education. Gateway to Work will help establish a partnership between the community college system and the business community to create apprenticeship programs in high-need areas such as advanced manufacturing, information technology networking and health care.
New Hampshire has also been ranked as the fifth-best state for entrepreneurship. Through the Live Free and Start program, business leaders and entrepreneurs come together to make it easier for innovative companies to start up and grow. The state has modernized security regulations, eased the process for registering a business and connected the start-up community with angel investors to increase access to capital.
City of Dover
By Rachel Hamilton
"We have over $100 million of development going on right now and more in the wings," says Dan Barufaldi, director of economic development for the City of Dover, noting that the city has a number of infill projects as well.
Dover is located just northwest of Portsmouth, and is the "fastest growing city in New Hampshire," with the "youngest median aged population," according to Barufaldi.
That growth may be at least partially attributed to the "unbeatable" quality of life in the city, which is 30 minutes from the nearest beach, an hour from mountains, and halfway between Boston and Portland, Maine, as Barufaldi says. Three rivers run through the town, "with a water fall in the center."
The unemployment rate in Dover is approximately 2.5 percent, but approximately 6,000 of its 19,000 workers commute out of Dover. Enterprise Business Park is fully occupied by 15 businesses employing around 750 workers total. "We're looking to replicate that with another business park," says Barufaldi.
Dover's "burgeoning" industries include health care and medical device manufacturers, retail, aerospace and service companies, he adds. Liberty Mutual and Academic Testing Company are both very large employers in the area, but now Dover is "concentrating on small to moderate sized companies," particularly ones with educational or technical skills requirements.
Companies moving to Dover can benefit from its student population and from the city's access to passenger rail. "We're fortunate being about three and a half miles from the University of New Hampshire," Barufaldi says. Students living in Dover can take the Downeaster rail service, operated by Amtrak, and "be on campus in three minutes." The Downeaster also allows commuter travel to Boston's North Station in about 55 minutes.
City of Rochester
By Rachel Hamilton
Just northeast of Dover on State Highway 16 is Rochester, which is best described as a "progressive New England city," according to Karen Pollard, economic development manager for the City.
In June, Rochester opened phase one of a new 500,000 square foot shopping center called The Ridge. It is anchored by Hobby Lobby, Marshalls and Market Basket, an 82,000 square foot grocery store. Those stores and the other retailers "have beaten their expected numbers," says Pollard. Plans for phase two include a movie theatre and public park space.
Eastern Propane and Oils Corporation has recently expanded its corporate headquarters in Rochester by adding "a corporate training center and visitors' center" as well as an outdoor pavilion for events, says Pollard.
The city has "about 2,000 units of housing approved for construction," and that is necessary for new workers. "We hope the folks that move in will give us new employees for our businesses in the area," Pollard says. "We are far ahead of our neighbors in getting housing approved."
"The other thing the city is working on is expanding our industrial park — Granite State Business Park," she adds. The park began at 125 acres in 2010, and has continued to grow; with the 47 acres the city is in the process of acquiring, the park will have nearly 300 acres altogether.
Safran Aerospace Composites, a manufacturer of composite aerospace components such as fan blades, is growing in the park and plans to have 500 employees by 2020. "You don't have to be an aerospace manufacturer to join the industrial park," says Pollard. "But if you were, you would have multiple built-in customers because [Albany International Corp.] is also in the same industrial park."
City of Claremont
By Rachel Hamilton
"We've had a good news year," says Nancy Merrill, planning and development director for the Claremont Development Authority (CDA). The CDA's Syd Clarke Industrial Park has seen completion of its first major building with a second under construction; North Country Smokehouse has purchased three more lots. Those lots and the remaining nine have water, sewer and road in place.
The city, which is near Interstate 91 along the border with Vermont, has a "lot of old brick mill buildings" undergoing rehabilitation. One example is a 10,000 square foot building rehabbed by Ink Factory, a shirt designer.
Another building of the same size will be home to a space for metals and wood workshops. "They tend to be two of our strong clusters here," Merrill says, noting that the building will contain training opportunities for those clusters.
"There is still a lot of manufacturing in the city," says Merrill. "We have [Canam-Bridges] which builds bridges," and those bridges are large — the Tappan Zee Bridge spanning the Hudson River in New York is one example.
Claremont's is a "pretty diverse economy," says Merrill; it has "a number of small precision companies," many of which depend on woodworking, a healthcare sector and a technology sector that includes the Red River Computer Company.
River Valley Community College and a technical high school supply trained workers to local businesses, a concern with New England's trend toward an aging workforce, as Merrill says. The CDA takes a proactive approach and gathers together all stakeholders to meet training and workforce needs for a business.
"We're a community that wants growth in terms of business and people," Merrill says, asserting that the city's infrastructure has capacity for 1,000 more people to join the "outdoor, active community" of about 13,300.