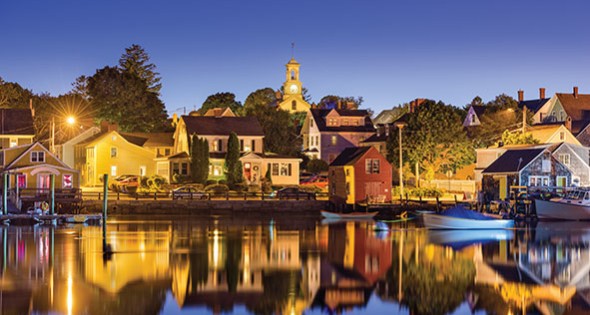 New Hampshire: Smart Manufacturing & High Technology
04 Dec, 2017
Less than an hour south of the international border with Canada, New Hampshire is a business-friendly state where taxes are low and government is accessible. The state enjoys top national rankings in health, education and quality of life.
The state's three interstates, rail corridors, Manchester-Boston Regional Airport and a deep water port are well-positioned to keep businesses competitive within the U.S., just over the border in Canada and in global markets around the world.
New Hampshire has one of the highest percentages of college-educated citizens in the nation and ranks consistently high for the rate of people employed in science and technology. Strong partnerships between community colleges, state universities and industries allow for customized training programs. New Hampshire has 28 Career and Technical Education (CTE) centers.
Safran Aerospace Composites and Albany Engineered Composites recently opened their composites manufacturing plant in Rochester, joining more than 300 companies around the state connected with the aerospace and defense industries.
A few industries act as main drivers for the state's economy including smart manufacturing/high technology (SMHT). This is the largest and most important sector of the state's economy. New Hampshire's SMHT sector is mainly known for using high-tech equipment to produce electronic components. Much of the SMHT activity is concentrated along the Seacoast and in the Upper Valley.  The Merrimack Valley and Monadnock Region also host a number of manufacturing operations.
The Seacoast is also a major hub for biomedical research. With Dartmouth-Hitchcock Medical Center, the Upper Valley has become a center for biotech and other medical research.
Regional Sidebars
By Rachel Hamilton
City of Rochester
Rochester is on the border of New Hampshire and Maine, an area not renowned for manufacturing, but "it is about 20 percent of the jobs and a big engine for the local economy" in Rochester, says Economic Development Manager Karen Pollard of the Rochester Economic Development Commission (REDC).
"Our specialty is composite materials," Pollard says. Albany International's aerospace composites facility and headquarters are in Rochester; components made in that plant go to Airbus, Boeing and other global aerospace companies.
"Another major composite manufacturer is Safran Aerospace Composites," says Pollard. Safran's products include fan blades, blade coverings and landing gear; the company is expanding and "hopes to have about 450 employees by 2020."
Great Bay Community College's Advanced Technology and Academic Center (ATAC) is a satellite campus in Rochester with live and simulation lab spaces to train students in composite materials—particularly in non-destructive testing (NDT), says Pollard.
Companies can send incumbent workers or students for training at ATAC; the state offers scholarships for individual students and for businesses that are sending workers for training, Pollard explains.
Rochester is investing $18 million in remodeling its Creteau Regional Technology Center (CRTC) which is attached to the high school, says Pollard. The CRTC will offer simultaneous high school and college credit in many areas including hospitality, information technology, insurance and business needs, drafting, engineering and robotics.
High school students "can go on to complete their degrees or become part of the workforce," explains Pollard. "With unemployment as low as it is right now, tapping into the next generation of workforce is very important."
Rochester has added 97 acres to its Granite State Business Park (GSBP) near the Skyhaven Airport. The land is "shovel-ready and we are actively searching for companies who want to locate here," Pollard says. Albany International and Safran are both already located in the park, which has utilities and access to active freight rail.
The aerospace industry has a need for diverse support companies, says Pollard, explaining that "One of the reasons we bought that land at the industrial park was for more support companies in the [aerospace] cluster."
City of Claremont
One of the biggest projects in Claremont this year is the completion of a new 67,000-square-foot facility by North Country Smokehouse, says Claremont's Director of Planning and Development, Nancy Merrill.
Another big project in Claremont is the completion of a 24,000-square-foot expansion by National Field Representatives, a mortgaging services firm, says Merrill.
New Hampshire Industries (NHI), which manufactures pulleys and similar mechanical components, has moved into an existing 137,000-square-foot building in Claremont, Merrill says. NHI has relocated and created jobs so they now have approximately 100 employees in Claremont.
The Claremont Maker Space will be housed in an 11,000-square-foot refurbished mill building, set to open at the end of November 2017. The facility will be for use by local entrepreneurs, artists and craftspeople looking to learn and grow their businesses.
"Claremont has business clusters in advanced precision machining as well as wood-based manufacturing," says Merrill. "The Maker Space will be offering shared tools that support those clusters, so we feel that there is a potential job training component to the facility as well."
The facility will offer classes in use of the tools it provides, and it will function as a hub for networking and creative problem-solving for the artists and makers of the region, "which has a strong history of both," as Merrill says.
"Because we also have a long history of precision machining, we do have a workforce with those skills," Merrill says. The Claremont Development Authority and the community are also working on training upcoming generations in the workforce to continue that machining tradition.
The Sugar River Regional Technical Center, "is a program within the local high school offering a wide array of technical training programs," says Business Development Specialist Rebecca Vinduska. "They have some fantastic partnerships with local businesses which allow students to get real, hands-on experience."
"We are part of the Upper Valley, and we're in a great location for transportation to Montreal and New York," Merrill says. "It's a wonderful place to live and to do business. This is a beautiful part of the world."
City of Dover
Both the Piscataqua River and State Highway 16 connect Dover to Portsmouth, and the area offers access to both the Atlantic Ocean and the White Mountains. Dover "is a beautiful place to live," says Director, Dan Barufaldi, of Dover Economic Development.
Young professionals seem to agree, because Dover is the fastest growing city in the state of New Hampshire with a current population of about 30,600; the population's median age is 37.7 years, Barufaldi says. "We are booming. We have over $100 million worth of development going on currently."
That development includes revitalization of the city's downtown area, work on infill projects and infrastructure improvements, he adds. Existing mill buildings have been turned into modern, mixed-use facilities providing housing and commercial space in the downtown area. "In the last year, we brought in 15 new restaurants."
The goal for revitalization is to attract "fast-growing, job-growing small- to moderate-size industries," says Barufaldi. Dover is targeting businesses particularly in advanced manufacturing, high-end business services, healthcare professionals, manufacturing and tourism.
"We brought companies in those categories also because they have the requirement for technical training—so wages are higher," says Barufaldi. Many of the mill buildings downtown are full, so "we want to attract those types and sizes of companies into our business parks," Barufaldi says; there are three in the city: Industrial Park Drive, Crosby Road and Enterprise Park.
Dover has also attracted larger businesses including specialty food company Stonewall Kitchen LLC, which is in the second of three construction phases that will eventually put 275,000 square feet under roof for their production and distribution. Rand-Whitney Container's 120,000 square-foot facility is located nearby.
Besides its beauty, restaurants and accessibility from the Amtrak Downeaster commuter rail, says Barufaldi, Dover is also home to the Children's Museum of New Hampshire, one of the region's only public Olympic-sized swimming pools and an ice arena for hockey tournaments.
The pool and the ice arena host tournaments that usually last an entire weekend and typically fill all six of the city's hotels. "Each event brings in about $300,000 to local merchants," Barufaldi adds.