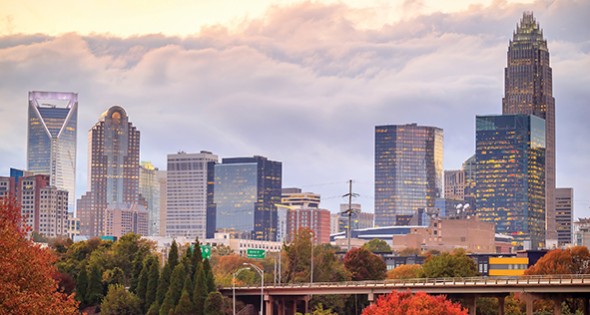 North Carolina: Education Opportunities Lead to Growing Workforce
21 Feb, 2018
North Carolina is consistently recognized for being pro-business with a competitive tax climate, the lowest corporate income tax in the United States, a favorable legal and regulatory environment and a growing workforce.
In fiscal year 2017, the Economic Development Partnership of North Carolina and its partners helped close deals on 137 business recruitment and expansion projects resulting in the announcement of $3.83 billion in investment and 15,748 new jobs statewide.
North Carolina has 53 colleges and universities, among which are three Tier 1 research universities — North Carolina State University, Duke University and the University of North Carolina at Chapel Hill. The publicly-funded University of North Carolina System draws students from all over the world to its 17 institutions.
Pioneering the nation's most advanced programs in vocational and technical education, the North Carolina Community College System (NCCCS) is regarded as offering some of the most comprehensive and advanced vocational and technical programs in the U.S. More than 800,000 students enroll at one of NCCCS's 58 campuses each year.
NCCCS and North Carolina's Department of Commerce developed NCWorks, a free, customized job training and recruiting program for new and expanding businesses. NCWorks offers comprehensive training support ranging from NCCCS's extensive catalog of established programs to customized curricula tailored to address specific business needs.
Regional Sidebars
Cape Fear Region

By Rachel Hamilton
The Cape Fear Region is made up of Brunswick, Columbus, New Hanover and Pender Counties in southeastern North Carolina. "We have come together only recently as a region to market the assets we have to offer; we want to share those assets with folks looking at making an expansion or move," says Greater Wilmington Chamber of Commerce President and CEO, Natalie English.
The Choose Cape Fear campaign's mission is to raise awareness of the region's business infrastructure and to "give the private sector the energy and support it needs to create high-paying jobs. Our County Commissioners have identified that as a priority we are to advance every day," says County Manager, Chris Coudriet.
To do all that, the Cape Fear Region has adopted a comprehensive plan (PlanNHC) for ongoing updates to the counties' land development regulations, its infrastructure and for support of innovation.
The region has secured $1.6 million in funds for a design project to extend water and sewer service along the U.S. Highway 421 corridor. A bid for that construction was approved in December 2017, according to County Commissioner Skip Watkins.
The Port of Cape Fear has historically been a cornerstone of the economy of the region; first as an export hub for cotton and now as a hub for marine biology and life science innovation.
Cape Fear is also partnering with the state-level InnovateNC initiative with a focus on marine and life sciences. "The University of North Carolina Wilmington has a tremendous marine biology program," says Watkins.
All beaches in North Carolina are publicly owned, and state and federal representatives prioritize storm damage reduction and beach renourishment, which Watkins says, "helps local citizens have great quality of life — and it's great for tourism."
In addition to tourism, the region's citizens have historically worked to attract diverse, innovative manufacturers — such as General Electric Inc and Corning Inc — and to make the region's permitting process as business-friendly as possible.
"That foundation from all those years ago is helping now," says New Hanover County Board of Commissioners Chair, Woody White. "Our new generation of growth is in pharmaceuticals and other bio sciences."
Pharmaceutical Product Development (PPD) LLC's world headquarters is in the region, along with facilities for forty other clinical research businesses. Castle Branch, Live Oak Bank and nCino Software all have moved into the region and benefited from its fiber optic internet, transportation and education infrastructure.
Regional political support is behind businesses and education. "This community, hands down, works together," says Chief Communications Officer of New Hanover County, Ruth Smith.
The University of North Carolina at Wilmington ranks highly in metrics such as number of degrees sought and cost efficiency for students. North Carolina's community college network "is ranked at or near the top in the country in terms of developing workforce, and ours [Cape Fear Community College] is at or near the top of those," White says.
"We have the highest increase in salary growth in North Carolina, which means we are a relatively underutilized market. Lots of folks here are very talented and ready to go to work," says Smith.
"Our public education system increased funding by 21 percent in the last five years," says White. "This county government is committed to its education and works to retain the best teachers in North Carolina who want to live at the beach."

Charlotte Douglas International Airport
By Loyd McIntosh
Largely recognized as one of the largest banking cities in the nation, the City of Charlotte began a process to diversify its economy during the great recession over the last decade. Perhaps no other asset in the region has been as important to that transformation as the Charlotte Douglas International Airport (CLT).
"Overall the connection of our airport has driven a lot of the diversification of the economy and allowed us to go from a banking town to a more diverse regional economy," says Stuart Hair, Economic & Community Affairs Manager for CLT.
In 2015, CLT commissioned a study by the Center for Transportation Policy Studies at UNC Charlotte to measure the airport's economic impact on the region. The study shows that CLT generates $16.2 billion annually to the greater Charlotte economy, over two-thirds of which is indirectly related to airport activity.
Hair says many companies, such as Brighthouse Financial, have cited CLT as a major reason to relocate its headquarters to the city. "The airport has enabled new businesses, the energy cluster, medical and manufacturing clusters, and others to grow here in the past 10 to 15 years," says Hair.
CLT's operations are growing as the airport looks into new areas for expansion, such as cargo transportation, private air travel and even military aviation. Recently CLT has acquired property surrounding the airport and is working diligently to ensure the property's future use is suited for its location and purpose. "We spent a large amount of time and energy identifying what is compatible land use for us and is financially self-sufficient," Hair says.
In 2015, CLT saw record passenger growth, serving 44.8 million passengers. The airport is the second largest hub to American Airlines and also home to several other major carriers, 15 regional carriers and three foreign flag carriers. As a result, the airport's operations experienced unprecedented growth and ranked as the 5th busiest airport in the U.S. Owned and operated by the City of Charlotte, CLT is a self-sustaining enterprise and does not use local tax dollars. Operating funds come from revenue generated at the airport including parking, concessions, landing fees, rental car, advertising, cargo, fixed based operator and retail.
Transylvania County
By Loyd McIntosh
Blessed with a convenient location to several major Southeastern cities, scenic beauty and increasing job availability, Transylvania County has become a go to destination for living and working in the Tarheel State. Situated in the southwest corner along the Blue Ridge Mountains, Transylvania County's reputation as an outdoor paradise is recognized around the world.
With more than 250 waterfalls, 300 miles of mountain biking trails and 50 miles of fishable mountain streams, the area offers a healthy quality of life to a well-educated, entrepreneurial and socially active population.
Several key influencers have taken note of Transylvania County, and its county seat Brevard, of late. For instance, Bike Magazine named the county Bike Capital of the South, National Geographic named Brevard America's 10 Best Mountain Bike Towns and Livability.com named Brevard one of the 100 best small towns in the nation to live. The community's livability also makes it attractive for business, large and small, to call Transylvania County home.
The county is ranked as one of the top communities in North Carolina to start a business, with some of the lowest property taxes in the state, and a low unemployment rate, all factors in creating a competitive climate, particularly in outdoor gear manufacturing. Recently, several companies announced plans to expand in the area, including Flymen Fishing Company, Outdoor Gear Research Experts and Oakar Blues Brewery.
Finally, with a higher concentration of college graduates and various other skill levels above the state average, Transylvania County is ready to benefit from its natural advantage.
Halifax County

By Loyd McIntosh

Strategically situated along Interstate 95 halfway between New York and Florida, Halifax County, North Carolina, is a dream location for any business. However, the proximity to key transportation lanes isn't the only plus in Halifax's "pro" column. The County is also blessed with a motivated population, great weather and some of the lowest business tax rates in the country.
While Halifax County has suffered through many of the same challenges as other manufacturing communities over the previous decade or so, there are significant signs that the area is well past the rebound.
In the fall of 2017, the Virginia-based company Culpeper Wood Preservers reopened a plant shuttered by former owners, Georgia Pacific. Producing lumber products for other businesses in the area, the new facility has created significant jobs at an average salary of $45,850. The newly renovated plant also sends a signal to the economic community that Halifax County is open for business.
"It's really good for us because it takes a property that was abandoned and puts it back into productive use," said Cathy Scott, Executive Director of the Halifax County Economic Development Commission (HCEDC) in a news item in the Roanoke Rapids Daily Herald (rrdailyherald.com). "It really is just a win-win."
The HCEDC, in conjunction with the non-profit Halifax County Business Horizons, Inc., has spurred business activity bringing more than 1,000 jobs and over $200 million in new investment. With other projects in the works, like Amtrak passenger train service to the town of Weldon and Dominion Energy's plans to run its Atlantic Coast Pipeline straight through the county, the future looks bright for Halifax County.