RHODE ISLAND: Small State, Big Ambition
16 Dec, 2019
Contrary to its small size, Rhode Island is poised to make a tremendous impact on the nation's economy. Located in the highly educated, wealthy, and influential Northeast corridor, Rhode Island is an excellent region to launch a new business, expand an existing, or search for bigger and better opportunities.
From a transportation and logistics standpoint, Rhode Island's location is nearly perfect. Its proximity to the Interstate 95 corridor and major airports in the Northeast make it an ideal location to deliver goods to many of the nation's largest markets, such as New York, Boston, and Philadelphia. Additionally, Rhode Island's larger cities like Providence, Warwick, and Cranston are attractive locations for talented individuals looking for opportunities from neighboring states. In fact, according to the Rhode Island Commerce Corporation (RICC), close to 11 percent of workers in Rhode Island commute from other states.
One of the primary goals of the RICC is the ensure a reliable pipeline of available talent for businesses in Rhode Island's emerging tech sector. For instance, the Real Jobs RI initiative puts businesses at the forefront of targeted education and skills training so that workers will be ready for the tech jobs of the future. Rhode Island is also dedicated to preparing all students in the state's school systems to be tech-savvy. Te CS4RI: Computer Science For Rhode Island initiative is bringing together a coalition of organizations such Microsoft TEALS, Code.org, Project Lead the Way, and Brown University's Bootstrap, to offer an array of options for expanding computer science education in kindergarten through grade 12.
Known as the Ocean State, Rhode Island offers a perfect lifestyle for those interested in outdoor recreation. Sailing, kayaking, and other aquatic activities are available in abundance, as well as great golfing, more than 60 miles of off-road bike paths, and world-class skiing. There are plenty of reasons to work, live, and play in Rhode Island.
RHODE ISLAND: QUONSET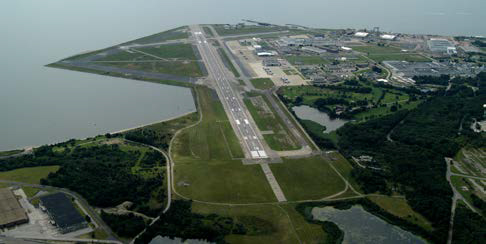 Quonset Business Park has created an environment for businesses to succeed since 2005. Once home to two navy bases, the park has now been transformed into the leading engine of economic development in Rhode Island that supports over 200 companies and nearly 12,000 jobs. The Park has been a leader in job creation and economic growth in the state, attracting over $2 billion in private investment. The Park also employs one out of every six manufacturing jobs in Rhode Island, with nearly 7,000 total manufacturing jobs at the Park. So what is it about Quonset that creates a climate for success?
Facilities: Our greatest strength has always been the different facilities that we offer to our companies. Our industrial park spaces have capacity to support large high-tech and industrial operations like, Electric Boat and Toray Plastics while the Commerce Park section accommodates some of the state's most successful corporations like Ocean State Job Lot. We have also created a brand new Flex Industrial Campus for new and growing companies who want to move into existing, affordable space that can adapt with the changing needs of their business. The first of three phases in this campus has been fully leased out and the second phase is currently under construction. Once completed, the campus will include multiple buildings, each between 25,000 and 50,000 s/f. They will be equipped with office spaces, restroom facilities, and high bay space for manufacturing, assembly or warehouse use, with ceilings up to 24 feet. Each building will provide full service utilities and was designed to allow tenants to customize spaces based on their own unique needs.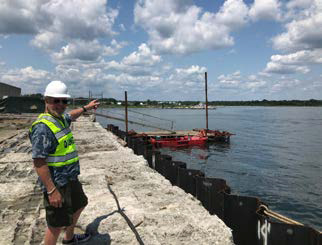 Location: Our location in North Kingstown, Rhode Island places businesses in the heart of the Northeast, giving them broad access to the region's largest customer markets. We are located halfway between Boston and New York, so companies can have a stake in both of the region's largest population centers. We are also minutes from major highways such as I-95; have the public Port of Davisville at the Park; and are adjacent to Amtrak's New England Connector.
Growth Mindset: The available land at Quonset could accommodate 3.6 million square feet of new building construction and we make it easy to make you our newest company. Our site readiness pre-permitted and pre-engineered program makes development easy by eliminating red tape and helping you get to the work that matters sooner. We have streamlined all permitting and development processes so you can get shovels in the ground within 90 days of signing a lease.
Transportation: Quonset's location places our companies at the heart of major shipping and travel routes in the region. The onsite Port of Davisville provides public access to a world-class port facility that is one of the Top 10 auto importers in North America. The park also affords access to 14 miles of freight rail lines traversing the Park and highways like RI Rte. 4 and I-95. With additional proximity to major airports like T.F. Green (RI), Logan International (MA), and Bradley International (CT) and train routes like the MBTA and Amtrak, businesses and workers alike have the options they need to access new markets.
Superb Public Amenities: To attract the best talent, you have to be a place where people want to work. Our facilities include an 18-hole golf course, four public beaches, a bike path, a daycare facility, and a free express bus shuttle service that connects us to Providence provided through RIPTA. Our Gateway Plaza also includes shopping options like Dave's Marketplace and Kohls. These amenities create an environment for success for our employees and are a benefit to our neighbors, as well.
Cleaner and Greener: Access to the Port of Davisville has made our park a magnet for clean energy development. The park has hosted the construction of some of the nation's most ambitious wind energy projects, including the nation's first offshore wind farm off the coast of Block Island. We are looking forward to welcoming new renewable energy companies in the coming year. Quonset was also recently recognized by the Rhode Island Office of Energy Resources for our commitment to investments in energy efficiency. We recently replaced all of the light fixtures in our facilities with LED, drastically reducing energy consumption, and saving companies money on energy costs. The Quonset Development Corporation's offices are also run 100% on clean energy generated by solar power.
Quonset Business Park is the premium location for business of all sizes and stages of development. Our diverse facilities, centralized location, and institutional support not only gives businesses at Quonset an edge in the competitive Northeastern markets, but also the resources they need to grow. For more information about starting your next venture at Quonset, visit us at: quonset.com.
RHODE ISLAND: WARWICK
Located in the heart of southern New England, Warwick is only an hour away from Boston, three hours from New York, and just 10 minutes from Providence. The award-winning development concept, City Centre Warwick, envisions the transformation of more than 100 acres surrounding T.F. Green International Airport into a pedestrian-friendly, transit-oriented "live/work/play" community. City Centre also capitalizes on Warwick's role as host to T.F. Green International Airport and its proximity to Interstates 95 and 295 as well as the InterLink intermodal rail station, which is connected to the airport terminal and offers MBTA commuter rail service.
Special zoning for the area encourages high-density, multifamily developments within walking distance of the InterLink and airport. In addition, tax stabilization agreements available for qualified projects make City Centre an attractive and feasible location for any number of industries. A market analysis has found that the area would support a number of industries, including, but not limited to, foreign trade, education, financial companies, distribution and high-end manufacturing.
This original vision has become a reality with completed largescale projects that include the $25-million Hyatt Place Hotel and the newly-opened Seasons Corner Market as well as plans moving forward for a proposed $30-million, 140-room hotel within City Centre Warwick. Smaller businesses are investing in façade and landscaping improvements on their properties, and niche industries, such as Proclamation Ale, are also finding terrific homes in the neighborhood. Other exciting proposals are in the development phase.
Warwick is also fast becoming a bio-medical hub. Construction is underway for OrthoRI's highly-anticipated medical office and surgery center. The facility is located next door to the global headquarters of BD's Davol division, which includes a 120,000 square foot biotech research and development center, at Crossings Office Park within The Carpionato Group's larger Crossings campus. To enhance the site as a premier biomedical destination complex, the company is investing $22 million in renovations at the Crowne Plaza Hotel, located adjacent to the Crossings Office Park on the campus.
And throughout Warwick, from the highly-traveled Route 2 retail and commercial corridor, to smaller shopping centers and standalone buildings, there are many development and re-development opportunities available for national and regional companies and small businesses alike.
To learn more about how Warwick is offering unlimited potential for the right kind of growth, contact Karen Jedson, director of Tourism, Culture and Development, at (401) 738-2014 or email Karen.jedson@warwickri.com.