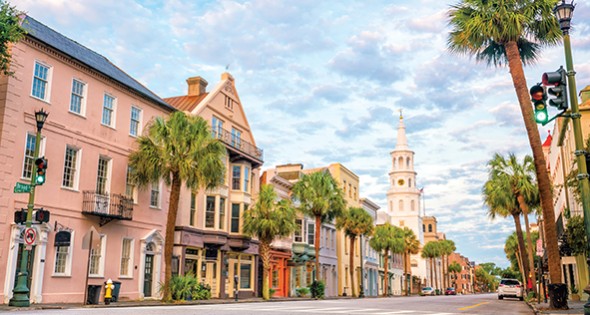 South Carolina: Competitive, Pro-Business Environment
02 Jun, 2017
South Carolina is consistently ranked among the most business-friendly states in the U.S., due in part to one of the lowest corporate tax rates in the nation, competitive wages incentive programs and opportunities that allow businesses to maintain low operating costs, such as no state property tax, no local income tax and no inventory tax.
In addition to these factors that make up the state's pro-business environment, companies succeed in South Carolina for its advantageous labor climate, which is ranked No. 3 for low labor costs and No. 5 for workforce development programs by Area Development magazine.
South Carolina also keeps companies connected to each other through SourceSC, a material and service locator program for vendors and buyers throughout the state.
More than 246,000 students are enrolled in the state's public and private learning institutions. The South Carolina Technical College system is comprised of 16 community-based technical colleges throughout the state. Home to the readySC™ program, the Technical College System serves close to 240,000 students and creates programs that meet the needs of area businesses and industries by providing well-trained employees to qualifying companies in South Carolina.
To go even further in staying competitive, South Carolina is also committed to research and development. The state offers many opportunities and support from universities to world-class research facilities such as Clemson University's International Center for Automotive Research (CU-ICAR), Southeastern Institute of Manufacturing Technology (SiMT), The Medical University of South Carolina (MUSC), University of South Carolina NanoCenter (USC) and Clemson University Restoration Institute.
Regional Sidebars
By Rachel Hamilton
Greenwood Partnership Alliance
Greenwood has been working on a "robust and proactive capital improvement program" since 1999, says George Martin, general manager of Greenwood Metro District, a special purpose district for treating wastewater in the Greenwood area.
The project has upsized and replaced main trunk infrastructure, Martin says, and improved the larger of Greenwood's water treatment plants. The smaller plant is permitted at 2.2 million gallons per day with an average daily flow of 1 million gallons per day, and the larger is permitted at 12 million gallons per day with an average daily flow of 4.5 million gallons per day.
"We moved from [an average daily flow of 8 million gallons to 4.5 million] simply by reducing inflow infiltration," Martin says. Inflow infiltration is when clear rainwater and storm overflow runs into sewers that are meant for sanitation.
"The real trick in trying to get public officials to spend money on things-not-seen was to show the possibility of economic growth," says Martin, explaining that while expanded infrastructure does not guarantee companies will always choose Greenwood, "If we do not have capacity, it's guaranteed that they won't."
Greenwood's "high level of compliance with state and federal water regulations" was a big factor in attracting the Japanese chemical, pharmaceutical and information technology company Teijin, Ltd., a $600 million investment which Martin says will be a "game-changer" for Greenwood.
Teijin's Greenwood location will be a carbon fiber manufacturing facility, which will support the automobile and aerospace industries in South Carolina, including the BMW plant to Greenwood's north.

Chester County Economic Development
"Since 2011, we've seen $899 million in capital investment and created 2,821 jobs," says Karlisa Parker, director of Chester County Economic Development. The largest project announcement for Chester County was one of $560 million from GITI Tire USA Ltd.; their new facility is expected to produce its first test tire in second quarter 2017.
Chester County is located along Interstate 77 approximately halfway between Charlotte and Columbia—an advantageous location, according to Parker. Interstate 77 connects to Interstate 26 in Columbia, which leads to the Port of Charleston.
The Charlotte Douglas International Airport is about 40 minutes from the intersection of Interstate 77 and State Highway 9, the site of the GITI facility. The county is also served by both CSX and Norfolk Southern Rail.
"We also have over 11,000 industrial zoned acres," says Parker. That includes the 112 acre Chester Technology Park, which is also near Highway 9 and offers rail access.
Chester County has diversified to plastics, glass, chemicals and metallurgy companies, according to Parker. The county's largest employers include plywood producers Boise Cascade Co., float glass manufacturers Guardian Glass, veneer stone producers Boral Stone Products and steel rod producers TDY Industries Inc.
Carolina Poly Inc. will be among those large employers as well, as their $100 million facility is expected to employ 300 and, as of deadline, is scheduled to open in April 2017.
"We've had several of our existing [companies] expand, not once but some of them three times," Parker says, citing both quality of life and access to workforce from both Charlotte and Columbia as contributors to the success of the county.