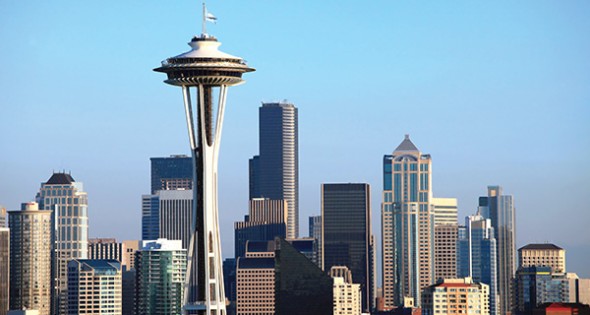 Washington: Continued Leader in Culture, Creativity and Collaboration
22 Nov, 2016
By Lori Culpepper
The Washington State Department of Commerce focuses on strengthening the state's key industries, expanding international trade, helping small businesses grow, providing training to a new generation of workers, providing access to funding and supporting the work of local economic development partners in all 39 Washington counties.
Washington's key sector strategy focuses on targeted industries that can spur rapid growth, including aerospace, agriculture and food manufacturing, clean technology, information and communication technology, life science/global health, maritime, forest products, and military and defense.
The state is the birthplace of highly recognized business names, such as Amazon, Boeing, Costco, Expedia, Microsoft, Nordstrom, PACCAR, Starbucks and REI. Washington is also known for its culture, creativity and collaboration that has allowed the state to become a leader in jet travel, international coffee culture and digital empires.
The Department of Commerce offers weatherization programs for businesses, grants to make public buildings more energy efficient and funding strategies for groundbreaking clean technology research and development to balance the state's energy profile and reduce its carbon footprint.
Thousands of businesses export from Washington, which is equidistant between Europe and Asia. In recent years, Washington exports have grown 20 percent. It is one of just a few states that has no personal or income tax. The state also offers companies incentives to spur growth through tax deferrals and credits for specific industries or activities.
The Department of Commerce spends more than $26 billion per year on energy, which is more than six percent of the state's economy. As the largest producer of clean, sustainable hydroelectric power in the country as well as an early adopter of alternative energy sources such as wind and solar, Washington offers businesses low-cost energy (as low as 4.25¢ per kilowatt-hour) and a stable, scalable grid that can meet demanding user needs.
One in three workers have a post-secondary degree and unique public-private partnerships between colleges, universities and businesses ensure a steady stream of highly qualified workers for key sectors.
Washington Gov. Jay Inslee says the state is still making milestones in space exploration. Nine years ago, propulsion engineers at Aerojet Rocketdyne in Redmond were working on the rockets for the New Horizons mission that sent spacecraft to Pluto last year to take photos. With companies like Blue Origin and Space X, he says they are still are the forefront as they bring the future of space travel to Washington.
Inslee has also focused on the transportation industry in the state, passing a $16 billion package, which was the largest and greenest in the state's history. Another $15 billion has also recently been authorized for the Sound Transit light rail expansion. The aim of this funding is to help congestion and support 200,000 family-wage jobs across the state.
Washington continues to rank in the top five states for job growth, and it has had the fastest gross domestic product growth in the nation, more than twice the national growth rate, according to Inslee. Since Inslee took office in 2013, they state has added nearly a quarter million jobs.
City of Edmonds
By Rachel Hamilton
Edmonds, Washington, is close enough to the metro area of Seattle that they "practically run together," according to Patrick Doherty, director of economic development for the City of Edmonds.
"Our environment and quality of life here is our calling card," Doherty explains. Office space in the "historic, seaside town" can offer a beautiful place to work with views of Puget Sound and the surrounding mountain ranges.
Edmonds can also offer relief from Seattle's congestion and pricier commercial property market. "If [businesses] want to be part of that action, but don't want the costs of downtown Seattle, Edmonds is in the next tier," says Doherty. "This is definitely a tourist destination as well. There is room for growth."
"We've got a highly skilled and affluent workforce in Edmonds. The vast majority, somewhere upwards of 70 percent, commute from Edmonds each day to work," Doherty says. "We're attracting a lot of refugees from Seattle — from the north side especially."
The area does not "have a big manufacturing or industrial base," he adds. Instead, retail and office are target clusters. He explains that while the county has the state's fastest growing aerospace cluster, Edmonds, with its character and office space, attracts the white-collar workforce that supports advanced manufacturing.
Edmonds does have some economic diversification. Its healthcare sector is anchored by Swedish Hospital Edmonds, which Doherty notes is growing. There is also a small but growing engineering and design cluster, including civil engineering and environmental design.

City of Spokane Valley
The City of Spokane Valley was incorporated in 2003; it shares its western border with Spokane, and Interstate 90 bisects the city on its east/west route between Seattle and Billings.
Spokane Valley's population is around 95,000, but the city has fewer than 100 employees because it contracts out as many duties as possible. "We pride ourselves on that," says Gloria Mantz, development engineer for the City of Spokane Valley.
That small size helps make the city's permitting process much nimbler than it had been before incorporation, according to Mantz, noting the city is setting up for future improvements.
"We are in the process of updating our comprehensive plan," Mantz says. The plan will lay out a strategy for the next 20 years to improve business support tools and make "permitting and development flexible and predictable."
The region will see transportation infrastructure improvement soon, as the state has provided funds to connect State Highways 2 and 195 in neighboring Spokane, creating greater accessibility for north/south traffic, Mantz says.
Spokane Valley's distribution cluster benefits from Spokane Business and Industrial Park's proximity to I-90 and State Highway 290, access to two rail services and from its proximity to Spokane International Airport.
Approximately 500 acres of vacant land near the industrial park will also access those assets, as the City of Spokane Valley, in partnership with Spokane County, is investing in infrastructure improvements to that land, according to Mantz.
Spokane and Spokane Valley together make a large medical and retail hub. Riverpoint Campus, home to three universities including "extensions of the medical and dental schools at the University of Washington" is adding a medical program, which will "keep   physicians in the region and help attract biomed companies and research."