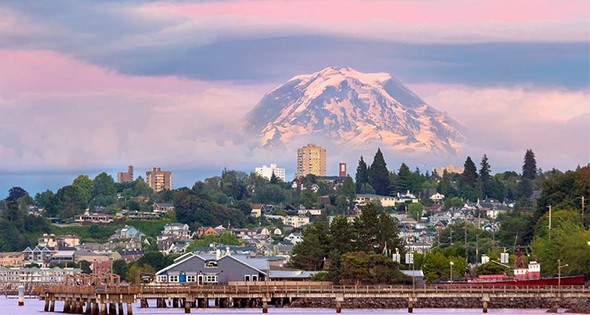 WASHINGTON: Economy Enters the Top Ten
18 Dec, 2019
One of the fastest-growing economies in the nation, the state of Washington is rapidly developing into a major player on the world stage. Thanks to the presence of technology giants like Microsoft, Apple, and Amazon, Washington's economy expanded by 5.7 percent in 2018. With a GDP of $5.24 billion, The Evergreen state's economy is now the nation's 10th largest, knocking Massachusetts to 11th, and marks the first time Washington's economy has entered the U.S. Top 10.
As for livability, Washington is considered one of the top states in the U.S. for overall quality of life. In the 2018 U.S. News & World Report Best States annual list, Washington was ranked #1 overall up from #6 in 2017. With a well-educated population – 46 percent of Washingtonians have a college education – and a median household income of more than $70,000 per year, Washington is an ideal location for businesses looking for talented staff and high-earning customers.
Technology may be the high-profile sector, but aerospace is where Washington truly shines. According to data provided by the Washington Workforce Development Board, the state is home to one out of five of every aerospace-related jobs in the nation. Of course, Boeing accounts for much of the state's aerospace activity, however, there are currently 10 additional aerospace companies now based in Seattle alone.
Other sectors leading to Washington's vaunted status include health care, higher education, and agriculture which provides the nation with everything from apples to wheat and hops for the state's exploding craft beer sector.
Washington is also known as an outdoor recreation paradise. With 157 miles of coastline, some of the most majestic mountains in the continental U.S., and millions of acres of unspoiled wilderness, Washington is truly a great state to work, live, and enjoy life to the fullest.
WASHINGTON: LAKEWOOD
By Becky Newton, Economic Development Manager
In Lakewood, Washington opportunity and equity abound. Here building the American Dream is not only alive, it's more achievable.
That's because at the city's formation in 1996 its leaders were deliberate in developing thoughtful codes and zoning to support existing business and foster future economic development. Lakewood is rich in history and has a reputation for business-friendly government. The city's extreme natural beauty and its proximity to so many South Puget Sound attractions makes it the ideal location to call home.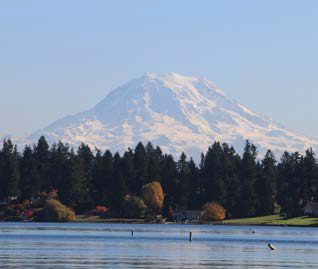 Here leaders embrace diversity and encourage volunteerism. Great companies thrive and family wage jobs are accessible. Lakewood has a robust talent pool, drawing from skilled workers transitioning from military service from our neighboring Joint Base Lewis-McChord and our surrounding higher education institutions, technical colleges and the larger Seattle region as a whole.
City leaders know that providing a welcoming business environment and low taxes benefits everyone in the long run. After all, small business is the backbone of the economy and working together affords great outcomes.
While other parts of the Puget Sound region have seen housing prices skyrocket, your dream home is achievable in Lakewood. Homes range in price from affordable to high-end living on the lake – we have seven.
With 14 parks, access to lakes, close proximity to iconic Mount Rainier, snow (and water) sports, a grub crawl-worthy International District, family-friendly events and activities and adventures you can only experience in the Pacific Northwest, Lakewood is the ideal place to call home.
Whether you're looking for a home or to build a business, Lakewood has you covered. We look forward to helping you find Your Better Here. So, dream big and explore all that Lakewood, Washington has to offer. For more information: 253-983-7738 FB: @lakewoodwa;| Instagram: @cityoflakewoodwa Twitter: @cityoflakewood