Arizona: Business is Sky High
15 Oct, 2018
Businesses in Arizona find a low-cost tax structure, less regulation and a higher-education system focused on creating a talented workforce. The state's growth agenda includes tax and economic development incentives and programs to assist with job training, job creation, research and development, facilities construction and expansion, energy conservation and capital investment.
Arizona's economy is projected to outpace U.S. economic growth over the next several years as the state's population, employment and personal incomes are expected to increase faster than the national average. With a favorable tax and regulatory climate and an ideal location, Arizona is actively pursuing a pro-business growth agenda.
To meet an accelerating job market, Arizona has created a wide variety of skilled workers and a growing influx of talent. National rankings place Arizona near the top in workforce quality and availability and first in higher-education degree output. Among the state's differentiators is an integrated approach to developing talent for employers in need of specialized skills.
Combined with the state's quality of life, the rapidly growing employment market is attracting workers from around the country, and in 2012, the state ranked third in terms of population migrating into the state from the other 49 states.
Arizona's most important and fastest-growing sectors include: technology and innovation; aerospace and defense; bioscience and health care; and advanced manufacturing.
Arizona State University
 Location. Location. Innovation.
Innovation Zones at ASU is a unique development portfolio that offers companies an opportunity to partner with Arizona State University – a global leader in innovation. ASU is a different kind of university. One of the nation's most innovative and productive research institutions, it is generating new ideas, technology and business at among the highest rates in the U.S. drawing from a diverse pool of creative talent.
From startups to established leaders, companies that locate here benefit from direct connections with ASU's students and world-renowned researchers. Businesses have the opportunity to collaborate with leading national experts in artificial intelligence and wearable technologies, biosciences and health, business, cybersecurity, logistics and supply chain, materials and manufacturing, space exploration, sustainability and more.
ASU offers companies a choice of six distinct, Class A locations in Greater Phoenix.
SkySong, The ASU Scottsdale Innovation Center
New and established technology businesses make up the heart of this innovative community. This 37-acre campus offers opportunities for companies that would benefit from a strong connection with ASU entrepreneurial and research-based initiatives in technology-driven markets, including IT, education and health care.
ASU Research Park
A prime location for headquarters or regional offices, ASU Research Park offers connections to an established commercial corridor and ready access to area transportation networks. It is a premier area for R&D, medical research, data centers and communication networks.
Arizona Health Solutions Corridor
ASU and Mayo Clinic are creating one of the nation's largest research and technology centers focused on medical technologies. The corridor's proximity to research facilities, world-class clinical care, award-winning academic programs and private industry players offers unprecedented opportunities for innovation.
ASU West Campus
Located in the heart of the West Valley's emerging distribution and logistics hub, the ASU West campus is a future mixed-use development that blends liberal arts education with 21st-century workforce preparation in collaboration with private industry.
ASU Polytechnic Campus
Future home of the ASU Polytechnic Research Park, the campus specializes in hands-on exploration of innovative solutions in aviation, alternative energy, human-technology integration, comprehensive commercial printing and design services, and on-demand digital manufacturing.
Novus Innovation Corridor
A multi-phased, mixed-use, sustainable development site integrated with Arizona State University's Tempe campus, the Novus Innovation Corridor offers companies flexibility and freedom to build an intentionally designed, next-generation headquarters in the urban core of a major metropolitan area.
ASU offers both location and innovation. Three of the largest economies in the world, California, Mexico and Texas, are easily accessible via short flights or drives. Companies can also leverage the advantages of being associated with ASU's innovative leadership that is committed to partners' growth and success.
More information regarding Innovation Zones at ASU is available at innovationzones.asu.edu.
Phoenix-Mesa Gateway Airport
Phoenix-Mesa Gateway Airport (Gateway Airport) is ideally situated in the Greater Phoenix metropolitan area, which is comprised of 23 cities and towns in Maricopa and Pinal counties in the southern part of Central Arizona. Companies such as Honeywell, Intel, The Boeing Company, American Express, Fender, Knight Transportation, Northrup Grumman, MD Helicopters, Textron Aviation, GoDaddy, and JP Morgan Chase all operate within a 30 minute drive of Gateway Airport. Not surprisingly, the area generates 75 percent of Arizona's gross domestic product (GDP), roughly $198 billion.
Over the last decade Gateway Airport has solidified itself as the premier site for aerospace and aviation companies to be located. The unmatched amenities available at Gateway Airport are why industry leaders such as Cessna, Embraer, Textron's Able Aerospace Services, and Constant Aviation are choosing to locate in Arizona and finding success. Open airspace, 300+ days of sunshine, available real estate and a great workforce are just a few of the top reasons cited for relocation. With these amenities combined with three 10,000 foot runways, Foreign Trade and Military Reuse Zone tax credits, and robust onsite aviation programs from Arizona State University and Chandler Gilbert Community College, Gateway Airport is the best place for aerospace companies to locate in the Western United States.
In addition, Gateway Airport will be home to SkyBridge Arizona, the nation's first international air cargo hub to house both Mexican and United States customs. The first-of-its-kind service, operated out of airport, will enable E-commerce companies, manufacturers and other commercial interests conducting business in Mexico and throughout Latin America to more efficiently and cost-effectively transport goods between countries, while ensuring proper inspections and safety controls.
The new services provided by SkyBridge Arizona at Gateway Airport will allow users to send products anywhere in Mexico without having to go through the cumbersome and inefficient international customs center in Mexico City.
With a growing economy, plenty of sunshine and 1,000 acres still available for development, Gateway Airport will continue to build upon its track record and be THE place for aerospace and manufacturing firms well into the future.
An Introduction to Maricopa, AZ: Building the New American City
The City of Maricopa is a community with a Proud History and a Prosperous Future. Strategically located between Phoenix and Tucson in the high-growth Sun Corridor, Maricopa is poised for continued success. Since becoming Arizona's 88th municipality in 2003, it has been the state's fastest growing community, transforming almost overnight from 5,000 to over 50,000 residents in just 15 years.
Maricopa maintains its charm and small-town feel while simultaneously attracting both high tech and agritech industries and growth. Volkswagen and Nissan located their North America proving grounds in Maricopa, where they put vehicles to the test under extreme heat and sun conditions. Maricopa is emerging as a regional hotbed for the agritech industry and is home to a thriving cluster of local agritech businesses and research facilities, including the USA Arid-Land Agricultural Research Center and the University of Arizona Maricopa Agricultural Center. Leaders in the renewable energy area have also been drawn to Maricopa.
Maricopa offers incredible access to markets throughout the Southwest. Interstate 10, the southernmost coast-to-coast highway in the United States, meets State Road 347 just minutes from Maricopa; Interstate 8 runs south of the city, both giving access to Arizona's largest cities and the major ports of the west coast. Roughly 50 freight trains operate daily through the Maricopa, carrying nearly 20 percent of Union Pacific's total freight traffic. Maricopa also offers passenger rail access via Amtrak's Orlando-Los Angeles Sunset Limited, the only stop in the Phoenix Metropolitan area. The City is just 32 miles from Phoenix Sky Harbor International Airport, one of the 10 busiest airports in the United States.
Their residents consist of highly educated workforce with over 46 percent holding a bachelor's degree and small business pioneers, who maintain a fabulous family culture to nurture the professionals and who live and work in Maricopa. To support this, a number of exciting projects have recently been completed in Maricopa, including the opening of Central Arizona College's Maricopa Campus, a new City Hall and Public Administration Building and the 98-acre Copper Sky Multigenerational/Aquatics Center and Regional Park.
Peoria
Why sacrifice three hours of your day? That's the commute from the place where people want to live to the place where companies have chosen to cluster.
But what if it were different for your company.
Flip the script, why can't you experience life in the same place where you earn the right to have those experiences. Get off work and drive for 90 minutes in traffic or play the back nine at Blackstone. Spend 90 minutes with your family or with the radio. Love where you live, work where you live.
A cluster starts with one, are you going to lead or follow? One of many, or the one that leads the many. Untapped is cliché but real. The labor force is clamoring for a new place, a close place. They want their three hours back. You are not listening.
Why cluster in a hyper-saturated area with a depleted labor pool and a textbook example of sprawl. We have the workforce, the sites and, most importantly, the lifestyle you crave.
Why Peoria?
Stunning natural beauty, talented workforce, activity-centered lifestyle, premier development sites and a business forward city leadership—Make the SMART choice.
Why Arizona?
Peoria is a low-cost option for both business and workforce attraction when compared to Austin, Dallas, Denver, Salt Lake City, San Diego, San Francisco and Los Angeles.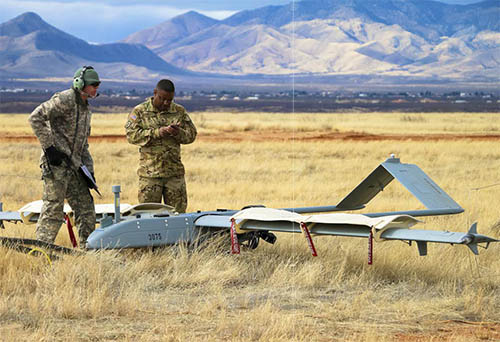 Sierra Vista boasts big skies, bigger opportunities
Boasting open skies, a tech-ready workforce, and premier educational opportunities, Sierra Vista offers space to soar. This southeastern Arizona community is home to Fort Huachuca, an Army post with a long history of tech-heavy aviation programs, strategic missions, communications testing, and intelligence operations that are more vital now than ever to national defense.
The City of Sierra Vista and Fort Huachuca share a joint-use airport with a variety of general aviation services on the municipal side, while as many as 135,000 air missions are run each year from Libby Army Airfield. A 12,001-foot runway — along with the 964 square miles of restricted airspace, high elevation, and favorable weather — enables unique training and testing to occur. The airfield services military aircraft, including the U.S. Army's MQ-1C  Gray Eagle to the Air Force's F-16 Falcon, A-10 Warthog aircraft, and even the Missouri Air National Guard's C-130 Hercules transport aircraft.
Federal agencies also operate, fly, and train in Sierra Vista's airspace to include the U.S. Forest Service's wildland firefighting aircraft and the U.S. Border Patrol's rotary and unmanned aircraft.
"With adjacent developable property, available hangar space, and close proximity to Interstate 10, the airport has vast untapped potential for private investment," says Tony Boone, economic development manager for the City of Sierra Vista.
Home to five higher education institutions, including one of the first nationally recognized Cyber Operations programs and one of the top ranked community colleges in the country, Sierra Vista offers another business advantage with its highly skilled, educated workforce.
University of Arizona Sierra Vista boasts one of the nation's top Cyber  Operations programs. The National Security Agency recently designated U of A's Cyber Operations program as a Center of Academic Excellence in Cyber Operations—a designation shared by only 20 cyber programs in the nation.  Students emerge from the program with the knowledge, skills, and abilities to operate in the challenging environment of cyber space.
With its main campus located next door to U of A Sierra Vista, Cochise College was named the second-best community college in the country in 2017 for its affordability, return on investment, and student success rate. Cochise College serves over 11,000 students and offers 90 degrees and technical certificates, including in-demand degrees like registered nursing, cyber security, aviation, and engineering.
Learn more about Sierra Vista at SierraVistaAZBusiness.com.