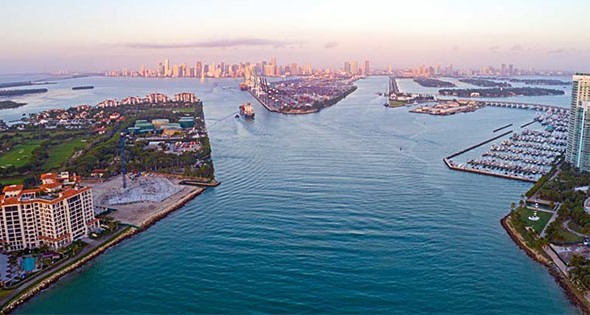 FLORIDA: The Future is Here
03 Dec, 2018
Florida is at the top of the economic food chain for many reasons, location and climate being two of the best. Fueled by a world-class infrastructure, a young, educated and diverse workforce, global gateways, a state of the art high-speed technology backbone, and one of the most business-friendly environments in the country it is not surprising the state is continuing to grow.
Consistently ranked one of the best states for business, Florida is committed to keeping regulatory requirements and business taxes low. That, along with a strong economy and zero personal state income tax, makes it a great place to do business. In Florida, taxes have been cut more than 80 times, saving taxpayers over $7.5 billion. Ranked 4th in the nation for high-tech employment by CompTIA, Florida boasts nearly 237,000 high-tech workers. The sunshine state is home to the nation's 3rd largest workforce, totaling more than 10 million. With 12 public universities, 6 major medical schools, and numerous private colleges and universities the schools work closely with the business community to build programs that reflect the needs of Florida's industries.
In workforce training Florida's customized programs and incentives help companies become operational and profitable in less time and with lower costs. Florida's multi-modal infrastructure of rail, airports, seaports and spaceports supports more than 19.9 million residents and over 100 million tourists each year
Hardee County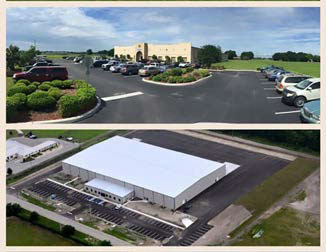 Located just 60 miles from two of the state's largest seaports and 75 miles from two of Florida's International Airports, Hardee County is centrally located for companies to take root and thrive. With an estimated workforce of 1.5 million within 50 miles, the county combines the benefits of a rural community and an aggressive economic development culture. Hardee County provides a competitive advantage for the industries of agriculture, energy, manufacturing, mining, and technology. Resources available for agribusiness include the IFAS Ona Range Station, IFAS Extension Office, and Farm Bureau. Because the county has deep roots in agriculture, its citizens and financial institutions have a wealth of knowledge related to Florida's agriculture. Another benefit of being centrally located in Florida is easy access to Florida's multiple electrical companies: City of Wauchula, Duke Power and Peace River Electric Cooperative supplied by Duke, Florida Power and Light, Seminole and two merchant producers, Invenergy and Vandola Power. Natural Gas transmission companies include Peoples, Gulfstream and Florida Natural Gas along with Sebring. From electric power plants and transmission line distribution to natural gas transmission/distribution capacity Hardee County welcomes energy producers and industries needing power reliability. Partnering together, the Hardee County Industrial Development Authority and Economic Development Authority created a shovel ready Commerce Park that fosters manufacturing and light industrial companies. The county's Commerce Park includes broadband availability and close proximity to rail and major highways. Hardee County's Technology Park is located on Hwy 17. The building was purchased and renovated by the Industrial Development Authority to foster and support the technology industry. It has redundant power coming from the grid, an allotment of power from the sub-station, and 100 kilowatts of capacity of PRECO's 1825 kilowatt generator located adjacent to PRECO's Wauchula substation; making it virtually impossible for the power to go down. The County's Broadband system covers the entire geographical area. This system was constructed early in 2011 and provides superior broadband service at extremely competitive rates to its citizens. As a result of this initiative, Hardee County has successfully created a direct connection to the main fiber communications network in the State and nation. A central location, vast economic resources, and a strong workforce makes Hardee County a great place to grow a company. For more information, hardeebusiness.com
Indian River County
Along the banks of Indian River Lagoon, mangroves, manatees and great blue heron populate the saltwater inlets that flow gently to the Ocean.
With picture-perfection at every turn, it's not hard to convince new companies to take a good look at all Indian River County, Fla., has to offer. As one of the Sunshine State's most popular tourist destinations for beachgoers, birdwatchers, water sports enthusiasts, history buffs, and corporate travelers – or anyone who just digs golden sands and sunny weather – it's no surprise that industrial tycoons are bringing more than their families to Indian River County – they're bringing their businesses too.
Strategically founded on Florida's historic "Treasure Coast," Indian River County was one of Spain's earliest claims in the New World, and the final resting place of a dozen Spanish ships laden with 18th-century silver – and the misadventure of gale-force hurricane winds. Resourcefully, the County has long since bolstered its defenses against the harshest perils of these severe tropical storms.
In keeping with preservation efforts, Blue Cypress Conservation Area helps sustain the region's inherent beauty and native wetland species – from exotic birds and seagrasses to dolphins and blue crab. It's 'gator country, home of the brown pelican, nesting sea turtles, and 26 miles of oceanfront beaches.
Piper Aircraft, one of the area's largest employers, has made its home in lovely Vero Beach, seat of the county, since 1957. Other major local corporations include LoPresti Aviation, M.A. Ford® High-Performance Cutting Tools, Parker Hannifin Industrial Hose Division, Nylacarb Injection Molding, Triton Submarines, Float-On® Boat Trailers, Girard Equipment, Inc., and CVS Caremark Distribution Center. In addition, the County's flourishing citrus industry comprises 35,000 acres of grapefruit groves.
"We like to say we make airplanes, submarines and everything in between," says Helene Caseltine, County Director of Economic Development, "and that's true."
At the apex of "Florida's Research Coast," the County has just cut the ribbon on its newest educational extension: Treasure Coast Technical College. Adult education programs include nursing, phlebotomy, pharmacy tech, welding, CDL testing, building and construction, and culinary arts.
"We really want to build up our pipeline of future workers," says Caseltine. "Also new is our exciting, corporate internship program for students attending area public high schools or Indian River State College. Participants enlist in FREE 'manufacturing boot camps' and spend weeklong sessions working with specialized, local manufacturers. Through the success of this vocational program, we believe we'll present a stronger, better-qualified workforce."
It's an exhaustive training program – and an exceptional opportunity – for qualified young candidates. In this well-heeled hub of high-tech and industrial manufacturing, this is the ultimate boots-on-the-ground internship experience.
For tourists Vero Beach features a newly revitalized downtown district with art galleries, antique shops, and affordable fine dining, along with outlet malls, an airport (with some commercial flights), and Disney's Vero Beach Resort. The town of Sebastian offers world-class fishing and skydiving, while neighboring Fellsmere proudly reigns as "The Frog Leg Capital of the World." Residents and tourists in the centrally located region can easily navigate to local hotspots on GoLine, the County's FREE public bus system.
"Our location is a huge key to our growth," explains Caseltine. "It's a great spot. We're within three hours of 90 percent of Florida's entire population."
Incoming businesses can also benefit from multiple corporate incentives: no state income tax; low property rates; low building rates; tax abatement freezes (for up to 10 years); incomparable natural resources; and a trained – and trainable – workforce.
Together the tourist towns of Indian River County present a quaint, seaside oasis anchored by a vibrant, successful community of commerce. Like a glistening tide pool facing the sunrise over the Atlantic, the future of businesses in Indian River County – for big fish and small – is looking very bright indeed.
For more information on IRC, please visit indianriverchamber.com.
Plant City
Situated just 25 minutes from Tampa and about an hour from Orlando, Plant City provides an ideal location for businesses among a variety of sectors to grow and thrive. However, it's not just the location that makes Plant City attractive for business. Forward-thinking leadership, a lower-cost but high-standard of living, a growing and knowledgeable population, and a diversified economy are all contributing to Plant City's thriving reputation as a modern community.
"We're along one of the fastest growing corridors in the nation and we're seeing a lot of growth in all different areas from folks moving here from other states," says Jake Austin, President, and CEO of the Park City Economic Development Corporation (PCEDC)
While the community is more rural than the surrounding major cities, Plant City is also known as a vibrant industrial center attracting new businesses and encouraging expansion of existing ones.
"Really, the major focus, or what I call the bread and butter of Plant City, is distribution logistics and manufacturing companies, and that's what we're seeing the most of with new companies and local companies expanding," says Austin.
Since incorporating in 2015, the PCEDC has spurred close to $200 million in new capital investment, including 900 new jobs to the area. For instance, James Hardie Building Products, a local manufacturer of siding and exterior products, recently completed a $100 million expansion, and Wish Farms invested $20 million on a massive expansion of its corporate headquarters and construction of a 13,000 square foot warehouse and cold storage facility.
Austin says, "We realized that strong economic development is the best way to secure Plant City's future and sustain our quality of life for years to come." For more information, plantcityedc.com