DELAWARE: An Economy Powered by Innovation
11 Dec, 2018
"We've got private sector representatives, members of the General Assembly, Democrats and Republicans working together to improve the economic climate in the state of Delaware." Governor John Carney in a Bloomberg interview.
Delaware offers several advantages to those looking to expand or relocate and strives to be known as a state with tremendous access to intellectual capital, which supports opportunities for innovation, business partnerships, and job creation.
A Competitive Tax Structure
Delaware was ranked 4th in the nation by Forbes for lowest cost of doing business.
No sales tax
No inventory tax
No value added tax (VAT)
One of the lowest tax burdens in the MidAtlantic
Workforce
With more than 100 major universities and research universities in the area, Delaware has an educated workforce hailing from across the nation and the world. Delaware's rich history of breakthrough innovations has supported an intense concentration of major research labs, research-intensive businesses and research universities. A few stats:
Nationally, Delaware has the 4th-highest concentration of employed Ph.D.'s in health, science and engineering
More than 30% of Delawareans hold a bachelor's degree or higher
13% of Delawareans hold a Master's, Ph.D. or other terminal degree, outpacing the national average
Recent Success
After years of looking for a partner, Gov. John Carney, the Diamond State Port Corp. and United Arab Emirates-based Gulftainer Corp. finalized an agreement giving Gulftainer a long-term lease to operate the Port of Wilmington. Under the deal, Gulftainer's subsidiary, GT USA Wilmington LLC will make annual royalty payments to the state as well as making an estimated $600 million in investments to the existing port as well as developing a new container port at the former DuPont Edgemoore site.
"This historic agreement will result in significant new investment in the Port of Wilmington, which has long been one of Delaware's most important industrial job centers," Carney said.
Delaware Prosperity Partnership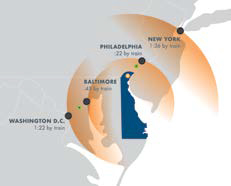 With its pro-business environment, high quality workforce and outstanding research universities, Delaware is among the strongest economies in the region and ranked first in foreign direct investment by the Information Technology and Innovation Foundation. The state's strategic location, competitive cost of doing business, and great natural beauty are attracting new business and capital investment in a number of key growth industries, including bioscience, agribusiness, fintech and information technology.
Delaware has a coveted centralized location with proximity to major airports, one of the busiest Amtrak hubs and convenient driving distance to other major cities. Northern Delaware is part of the nation's 7th largest metropolitan area and that means more than 40% of America's population is reachable within 2 hours.
Delaware is committed to making the state the best place in the nation to start and grow a business. Delaware has more than 500,000 acres of active farmland and a robust poultry industry and is also home to some of the most transformative innovations the world has experienced. High tech, science and engineering startups thrive in Delaware. The new Angel Investor Tax Credit makes beginning your high-tech or scientific enterprise even more appealing. Whatever size your business, whatever industry, whatever development stage, Delaware may have an incentive or tax credit that can help you, including performance grants, tax credits, incentives and various geographic designations including Opportunity Zones.
The Delaware Prosperity Partnership works locally, regionally, nationally and internationally as the state's lead resource to attract, retain and grow businesses; build a stronger entrepreneurial and innovation ecosystem; and to support private employers in identifying, recruiting and developing talent in the state of Delaware. Delaware focused, they are committed to advancing prosperity in Delaware and do this through partnering with all the relevant stakeholders from county economic development groups to the chambers of commerce and other community-based resources. For more information, taylor@deprosperitypartnership.com or call 302-477-7497.