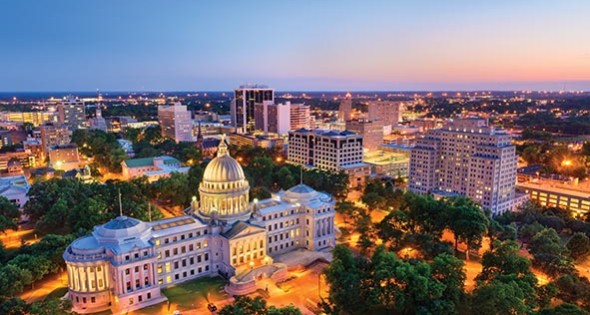 Mississippi: Growing Manufacturing Operations and More
24 Apr, 2017
By Lori Culpepper
Mississippi has a population of approximately three million and a labor force of 1.3 million. With 12.5 percent of its employment base in manufacturing, Mississippi ranks in the Top 10 in the U.S. for manufacturing's share of total state employment.
According to the Mississippi Development Authority, an independent study by a major American manufacturer found that Mississippi's favorable business climate ranked number one among 23 states where it has manufacturing operations.
Mississippi has successfully recruited many world-class companies to the state with its favorable business environment for aerospace and automotive to agribusiness and energy. Other target industries include energy, shipbuilding, tourism, healthcare and more.
A growing list of global companies call Mississippi home. Centrally positioned in the country's fastest growing region, Mississippi provides industries with a strong competitive advantage, including a highly productive workforce, a welcoming business climate and a strong network of research university partnerships.
Mississippi's highway system includes six interstate highways covering 698 miles and 14 U.S. highways. Thirty rail systems serve Mississippi with more than 2,500 miles of track. Mississippi has 76 publicly owned and four privately owned airports that provide facilities for aircraft used by individuals, industry and private operators. Mississippi is surrounded by three navigable waterways, and two deep water ports are located on the Gulf of Mexico, providing Mississippi an outlet to worldwide commerce.
Mississippi Regional Sidebar
By Rachel Hamilton
Entergy Mississippi, Inc.
Entergy Mississippi, Inc. is part of the larger Fortune 250 Entergy electric provider, headquartered in New Orleans. Entergy Mississippi's service territory covers most of the western half of the state, including Jackson, according to Ed Gardner, director of business and economic development for Entergy Mississippi.
In 2016, Continental Tires announced an investment in excess of $1.3 billion in Clinton, in the western portion of the Jackson metro area. "They will be manufacturing both passenger tires and truck tires," says Gardner. The facility is expected to create 2,500 jobs and to begin the first phase of production in 2019 with full production by 2021.
"People know they did their due diligence when they selected our service territory," Gardner says, adding, "A major company like that choosing our location in Mississippi — that really speaks volumes."
"Automotive is a big target for us," Gardner says. "Most of what we see is medium-sized manufacturing." In addition to suppliers like Continental, Mississippi is also home to a large Nissan plant employing about 6,000 workers in Canton, just north of Jackson.
"We also have a number of food processing companies because we cover the whole Mississippi Delta," says Gardner. Agriculture is, of course, a keystone industry in Mississippi. Primary metals is another primary target for the area, and forestry products is a secondary target.
Entergy is investing in the workforce in Mississippi, according to Gardner. "We have systems in place that are making sure that our [workforce] pipeline is there for our existing employers."
"Overall, Mississippi is a very cost-effective place to do business," says Gardner, noting the low cost of land, the available infrastructure. He also calls the electric utility rates "very competitive," noting that he does represent a large electric utility.
In the Entergy territory, he says, there are "seven or eight cities where the community has done due diligence" on the available land because they understand that "time to market is critical." Their goal is to be as welcoming as possible to businesses.