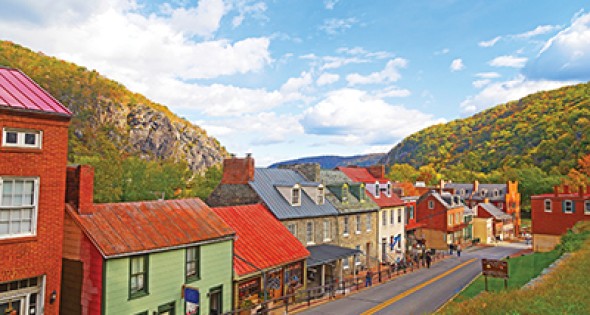 West Virginia: Gateway to Major Metropolitan Areas
24 Oct, 2017
West Virginia's location means it can provide convenient access to major metropolitan areas including Washington, DC, New York City, Baltimore, Pittsburgh, Charlotte, Raleigh, Columbus, Chicago, Lexington and Atlanta.
West Virginia is connected to the East Coast and continental U.S. by an intricate system of railways, waterways and highways. West Virginia has almost 420 miles of navigable waterways, with five navigable rivers connecting to international shipping ports. Economic hot spots have developed along the six major interstates that run through the state. Including connections with Norfolk Southern and CSX Transportation, the state has more than 1,900 route miles of railroads.
West Virginia is home to a newly constructed road-to-rail cargo transfer station, the Heartland Intermodal Gateway. Located in Prichard, the site was strategically selected since it sits one mile from the center point of the Norfolk Southern Heartland Corridor. The Gateway offers substantial cost savings for companies that ship through the facility. The facility is also projected to reduce private sector logistics costs by approximately $17.5 million annually by 2025.
West Virginia offers businesses and industries the opportunity to partner with the community and technical college system to develop specialized education and training programs. Over the last decade, West Virginia's Community and Technical Colleges have created nearly 150 new customer training programs, many in partnership with local companies and business investors.
West Virginia's diverse economy has moved beyond the history of resource extraction to include a variety of products and, including aerospace, automotive, building products, chemicals and polymers, fulfillment distribution, technology and information services, manufacturing, metals and energy.
Regional Sidebar
By Rachel Hamilton
Wayne County
"Tourism and agriculture are the two most evocative and exciting things going on right now," says Don Perdue, executive director of the Wayne County Economic Development Authority (WCEDA).
The Hatfield and McCoy Trail, a huge ATV trail system is expected to reach Wayne County by the end of 2018, Perdue says. In Genoa, a new tourism venture called Rustic Ravines is expected to open in early 2018.
Rustic Ravines has cabins, a pavilion and a party barn and will have zip lines and a large RV park, says Perdue, who notes it will probably serve many tourists on the ATV trail. "Tourism is expanding right in front of us and right now."
Historically, much of West Virginia has been coal country that imported food, but in Wayne County, "We have become deeply engaged in agriculture," Perdue says. The WCEDA's Cornerstone Project is a partnership with Refresh Appalachia to bring agriculture into the state.
"We have the No. 1 farmer's co-op in the state of West Virginia, which was only established one year ago," says Perdue of the Wayne County Farmer's Co-op headquartered in Dunlow.
Wayne County has been retraining coal miners in many fields, including in unmanned aerial vehicles (UAV)—also called drones—Perdue says. Mountwest Community and Technical College in Huntington provides training in building, maintaining and operating UAVs, "and that program is growing dramatically."
Thanks largely to the rail and highway access in the Heartland Intermodal Gateway Facility in Prichard and to the Huntington Tri-State Airport which just announced a $10 million expansion, businesses can ship globally from Wayne County.
U.S. Highway 52 connects the intermodal facility and the airport to the interstate system, but the road is currently two lanes. West Virginia has made it a priority to build four-lane highway to connect from Interstate 64 south into Virginia. If approved in October 2017, construction will begin shortly after in Wayne County, Perdue says.