Omega Valley Farmers LLC in Dorchester, Wis., announces the roll out of naturally processed dairy products that…
Over just the past 90 years, U.S. agricultural output has increased by 400 percent, and with 10 percent less land required for that result.
But demand for food is growing at the same time the supply side faces constraints in land and farming inputs, according to a McKinsey and…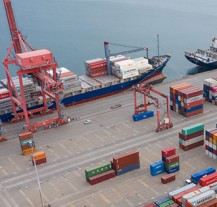 As with so many global businesses, intermodal distribution has been seriously affected by the COVID pandemic. Help is needed.
Mario Cordero, the chairman of the board of the American Association of Port Authorities, and former co-executive director of the one of the country's busiest seaports, the Port of…
Reliance on the continued accumulation and application of data, and analyzing best methods of product delivery to a more demanding customer, are two key hallmarks of logistics evolution in today's business climate.
A white paper by DHL, a logistics provider, laid out how big data analytics can provide competitive…
© 2023 Business Xpansion Journal